THE 10 BEST CHILL SONGS YOU NEED TO HEAR THIS WEEK
Photo by Matt Koffel on Unsplash
It's February, which means we're one step closer to brighter days and spring blooms. And I'm not sure about you guys, but I need that now more than ever. I'm pretty sure there's only so much darkness and cold weather a human being can take before they begin to show cracks. Lucky for us, however, there's plenty of lightness to be found in this week's edition of We Are: The Guard's Best Chill Songs. Just grab some headphones, then, as we prepare for better times ahead with the following chill tracks from San Holo, Tash, Sarcastic Sounds, Claire Rosinkranz & Clinton Kane, and beyond.
-
SAN HOLO (FEAT. BIPOLAR SUNSHINE) – FIND YOUR WAY
San Holo Season approaching. Coinciding with the announcement of his upcoming album bb u ok?, the Dutchman has shared "find your way." It's a soaring, euphoric ode to a more hopeful future that hears the bitbird founder continuing to explore a more indie crossover sound, with San shooting Bipolar Sunshine's weightless voice into the clouds.
TASH – ROCKET
If I had to describe Tash in one word, it'd no doubt be "effortless." It's clear songwriting comes to her as naturally as breathing in and out, as the Aussie act delivers once again on "Rocket." The follow-up to "The Give and the Take" is a jazzy slow jam best listened to some time after midnight, with Tash's sultry croon arching over noodling guitar licks.
SARCASTIC SOUNDS, CLAIRE ROSINKRANZ & CLINTON KANE – CHANGE UR MIND
Sometimes, it doesn't matter how much you love someone. If a relationship isn't meant to be, it quite simply isn't meant to be. Sarcastic Sounds, Claire Rosinkranz, and Clinton Kane understand this more than most on "change ur mind" – a gentle, tender ukulele composition that hears all three artists tapping into their own experiences of heartache.
SLENDERBODIES & CROOKED COLORS – SUPERPOWERFUL
It's freezing cold out there, but Los Angeles duo slenderbodies and Australian outfit Crooked Colors are transporting us to a sultry summer night on their collaborative single "superpowerful." With radiant guitar riffs and islandic beats backing a sensuous vocal vibe, "superpowerful" is a deep dive into the tropics that'll cover you in beads of sweat.
TWO LANES – PHASES
We Are: The Guard favorites TWO LANES are invigorating us ahead of the weekend with their latest single "Phases." Coming to us via San Holo's aforementioned label bitbird, "Phases" is the aural equivalent of a cleansing rain after months and months of drought, with fluid melodies and pitter, pattering beats energizing everyone who listens.
RⱯHM ⚉ – YOU AND THE EVERYTHING OF EVERYTHING
The Internet has given us a wealth of information at our fingertips. Why is it, then, most of us feel like we understand the world less and less with each passing day? RⱯHM ⚉ attempts to answer this question on "you and the everything of everything" – a song about feeling intellectually overwhelmed as rendered through a surreal collage of beats.
GOTH BABE – CANARY ISLANDS
As Nor'easter blankets large swathes of the United States in snow, Goth Babe's Griffin Washburn is sending some much-needed sunshine in our direction with the tranquil "Canary Islands." With intricate indie-pop guitar riffs meeting layers upon layers of blissed-out vocal harmonies, "Canary Islands" is a dose of Vitamin D for February days.
RUBY HAUNT – SNOW ANGEL
I think this YouTube comment from Austin Relish puts it better than I ever could: "Thank you for your music, it literally makes life much more bearable." Ruby Haunt are healing all wounds on "Snow Angel." Featured on the recent two-song EP alongside "Reverse Creek," it's a somber, atmospheric churner that feels hugely comforting in its despair.
SJOWGREN – CHANGE
The mysterious Sjowgren are reminding us to be still – if only for one and a half minutes – on their short and sweet latest single "Change." "Sit still, clouds are moving by/But you can keep your cool this time/Just sit this one and sit tight," sing the indie-pop outfit on the music-box-esque lullaby, which makes for a welcome pause to our daily routines.
SALUTE – JENNIFER
Ever since he arrived on the blogosphere seven years ago, salute has released banger after banger, with the dance producer delivering once again on "Jennifer." "'Jennifer' summarizes perfectly where I'm at sonically," writes salute of the cut, which carries with it a sense of hope as we approach the warmly vaccinated haze of summer. Bring it on.
-
Follow We Are: The Guard's Weekly Chart on Spotify for more. x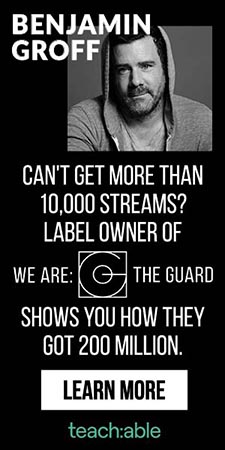 Jess Grant is a frustrated writer hailing from London, England. When she isn't tasked with disentangling her thoughts from her brain and putting them on paper, Jess can generally be found listening to The Beatles, or cooking vegetarian food.