BEST CHILL SONGS - WEEK 24
The end of the working week is almost upon us, which can only mean one thing. It's time for the latest edition of We Are: The Guard's Best Chill Songs! For those of you who are new to our little musical oasis, it's here that we gather every Friday to enjoy over 30 minutes of uninterrupted chill vibes. Join us as we relax and unwind our way into the weekend, then, by hitting play on the following chill tracks from GASHI, Flume, Raveena, Tei Shi, Jorja Smith, and more.
-
DOMINIC FIKE – AÇAÍ BOWL
Is it getting hot in here, or have I just consumed too much of Dominic Fike's "Açaí Bowl?!" The Naples wunderkind has delivered what might be the baby-making anthem of the week, month, and, yes, year with his latest single – a sizzlingly slow-burning seduction of a song that's sending body temperatures through the roof this Friday *fans self*.
GASHI – ROSES
Damn. Doomed romance has never sounded so good as it does on "Roses" by GASHI. The Africa-born, Brooklyn-raised crooner is giving me serious Romeo and Juliet vibes with this equal parts sumptuous and melancholy ode to a pair of star-crossed lovers, which comes complete with a chorus that spears the heart like a misguided Cupid's bow: "Feeling like I'm running in my head/But she don't like roses."
SLENDERBODIES – BELONG
I've spent pretty much my whole life feeling like I don't fit in, so it goes without saying that this one hit very close to home. We Are: The Guard favorites slenderbodies explore what it means to not belong on their latest single, the aptly titled "belong" – a liltingly infectious indie pop groover that actually carries with it a deeply hopeful message.
FREE NATIONALS, MAC MILLER & KALI UCHIS – TIME
Free Nationals. Mac Miller. Kali Uchis. I mean – what else do you need to know?!
We miss you, Mac.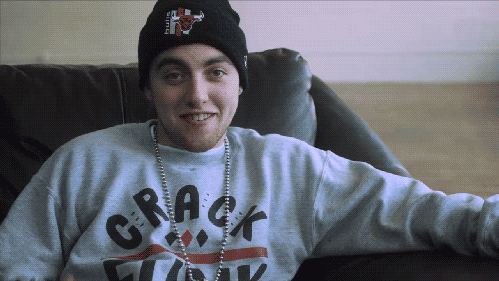 SLOW HOLLOWS – GET ALONG
It's really not hard to hear why Frank Ocean, Tyler, the Creator, and more think so much of Slow Hollows. I could get lost in the Los Angeles band's lushly Lynchian world for days on end. Case in point: "Get Along" – a hauntingly warped synth pop lullaby that finds frontman Austin Anderson making like a tragic crooner as he sings: "Sunset over simple chords/Driving right to your front door/Pick a fight with myself on the way/I'm sure you can tell that I'd beat him to hell."
THE HOUR – COMING UP FOR AIR
The Hour are the definition of mysterious. The balaclava-wearing collective prefer to keep it anonymous when it comes to their identities, although something tells me that they won't be able to stay incognito for much longer if they continue to release must-hear cuts like "Coming up for Air" – an eerie, ominous dream pop hymn that's lifted from their recent EP Mother.
FLUME (FEAT. LONDON GRAMMAR) – LET YOU KNOW
It's not even been three months since he dropped this mixtape and Flume is already treating us to new musical goodies this June. "Let You Know" finds the Sydney producer joining forces with the vocal powerhouse that is Hannah Reid, with the London Grammar frontwoman's richly emotive voice making for a perfect accompaniment to Flume's explosively twitchy synthscapes.
RAVEENA – STRONGER
Oh, Raveena. She just keeps getting more and more radiant, doesn't she?! Following on from the release of "Mama," her previously featured ode to immigrant mothers, the New York chanteuse returns this Friday with "Stronger" – a glimmering experimental soul opus about rising from the ashes of an abusive relationship: "I know you love to see me broken/You live to see me confused at my knees/Don't talk too soon/I ain't dead yet."
TEI SHI – A KISS GOODBYE
Just in time for the long summer nights, Tei Shi is back with a captivating new single "A Kiss Goodbye." The song finds Valerie Teicher reconnecting with her Latin roots, with her breathy, barely-there vocals brushing up against a balmy bossa nova instrumental that ensnares from the off. "This song is about intuition," writes Tei Shi. "Following my gut and my body more than my head."
JORJA SMITH – GOODBYES
"If you didn't say your goodbyes/Don't worry, love will power through." And so we conclude this week with a song from Walsall soul singer Jorja Smith that's guaranteed to get you in your feelings. I recommend that you have a box of tissues (or two) nearby before hitting play on this official video for Lost & Found cut "Goodbyes" – a solemn, poignant acoustic ballad that Jorja reveals that she wrote for a close friend after they lost a loved one.
-
Follow We Are: The Guard's Weekly Chart on Spotify for more chill vibes! x
Photo by Roberto Nickson on Unsplash
Jess Grant is a frustrated writer hailing from London, England. When she isn't tasked with disentangling her thoughts from her brain and putting them on paper, Jess can generally be found listening to The Beatles, or cooking vegetarian food.