BEST CHILL SONGS: THE 10 CHILL VIBES YOU NEED THIS WEEK
Photo by Lisha Riabinina on Unsplash
With Labor Day Weekend marking the official end of summer, it's time to get out the hot chocolate and knitted blankets in preparation for the colder days and darker nights ahead. Of course, no fall is complete without music, which leads me nicely on to the latest edition of We Are: The Guard's Best Chill Songs. Just light some scented candles and enjoy the following selection of chill vibes from Evann McIntosh, Ross From Friends, Ritt Momney, and seven other favorites.
-
EVANN MCINTOSH – TECTONIC PLATES
Introducing Evann McIntosh, the Derby, Kansas-based act making their debut on We Are: The Guard today with the sweepingly cinematic "TECTONIC PLATES." Even though they're only 17-years-old, Evann is showcasing an emotional maturity far beyond their age on this cut from their recent EP Character Development. Written about a love so richly potent, it feels almost selfish to keep it for yourself, "TECTONIC PLATES" is a romantic ballad that can be filed alongside Billie Eilish and Frank Ocean.
ROSS FROM FRIENDS – THE DAISY
Coinciding with the announcement of his upcoming sophomore album Tread – due out in October via Brainfeeder – the brilliantly named Ross From Friends returns this Friday with "The Daisy." Like the rest of Tread, the exceptionally warm, welcoming "The Daisy'' was created using a brand new plug-in Thresho, which the English artist built in Ableton. "Tread refers to the marks that I've been permanently leaving, both in my memories and throughout the process using Thresho," says Ross From Friends. Listen.
RITT MOMNEY – SHOW RUNNER 99
Just over a year on from being thrown into the limelight and all of its overwhelming glare with his spin on Corinne Bailey Rae's "Put Your Records On," Ritt Momney returns this Friday with "Show Runner 99." The song hears the Dallas singer-songwriter continuing to come to terms with being in the spotlight and the intense scrutiny that goes along with it, with Ritt singing about his battles with imposter syndrome and why success isn't all it's cracked up to be over a softly iridescent dreamscape.
WRABEL – LONDON
With summer slowly drawing to a close, Wrabel is yearning for the cold, rainy streets of England on his brand new single "london." Featured on his upcoming debut album these words are all for you – due out on September 24th via Big Gay Records – "london" is a soft, twanging country lilt about longing for a lover from across the pond. "Living in Los Angeles the skies are always blue/Sometimes I miss London/Sometimes I miss you," sings Wrabel, his voice going down like a snifter of hot brandy.
EXPLOSIONS IN THE SKY – CLIMBING BEAR
It's been seven years since they worked on the Al Pacino film Manglehorn, but this Friday, Explosions in the Sky are making their return to soundtracking with "Climbing Bear." Clocking in at just over three minutes, the instrumental forms part of a larger score for Big Bend: The Wild Frontier of Texas, a documentary about the National Park in the Austin band's home state. With acoustic plucks coming consumed by huge surges of percussion, "Climbing Bear" is a spine-tingling, awe-inspiring piece of music.
JERRO (FEAT. PANAMA) – LOST FOR WORDS
Having collaborated earlier this year on "Together," Jerro and Panama are joining forces once again this Friday on "Lost for Words." The latest single to be unveiled from Jerro's upcoming debut album Coming Home – due out in October via This Never Happened – "Lost for Words" is an equally emotive and energetic listen. Described by Jerro as one of the "more experimental" numbers on the album, "Lost for Words" is an impassioned swirl of arpeggios and breakbeats that hits hard between the feels.
MONOGEM – MAGIA
Los Angeles-based singer-songwriter Monogem is blossoming in more ways than one on "Magia." The latest single to be unveiled from her brand new debut album Gardenia is a blissful lullaby that doubles up as a moving pregnancy reveal. "'Magia,' which means 'magic,' is about the miraculous journey into motherhood and is dedicated to the undeniable power that every woman holds," says Monogem. With sultry rhythms underpinning her Spanish susurrations, "Magia" is a lush tribute to female growth.
YOE MASE & JACKIE MASE – DOWNWARD SPIRAL
It doesn't get much more lovely than this. Just a few months on from the release of his third album An Unfiltered Stream of Consciousness and its subsequent vinyl gatefold, Yoe Mase is returning this Friday with "Downward Spiral." The song hears Yoe teaming up with his wife Jackie to deliver a tender ode to loving someone during their time of need, with a gently rippling piano accompanying the pair as they sing to each other: "I'll be your anchor, I swear I'll save you/Out the downward spiral today."
MEADOWLARK – NIGHTSTORM
English duo Meadowlark are showcasing their haunting synergy on their latest single "Nightstorm." The follow-up to "My Light Has Gone" was born from an experiment that involved Kate McGill and Daniel Broadley separately writing their own melodic and lyrical parts. Kate and Daniel then placed these two parts on top of each other, resulting in what Meadowlark describe as a "beautiful analogy of love." And beautiful it is, with their voices encircling each other like ghosts of relationships past.
EDAPOLLO – VIEW FROM THE AEROPLANE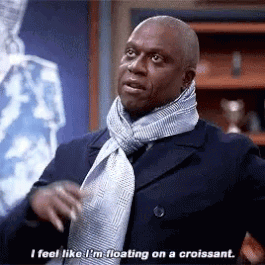 -
Why not follow We Are: The Guard on Spotify for more chill vibes? xo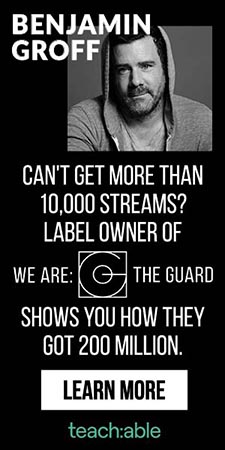 Jess Grant is a frustrated writer hailing from London, England. When she isn't tasked with disentangling her thoughts from her brain and putting them on paper, Jess can generally be found listening to The Beatles, or cooking vegetarian food.