THE BEST INDIE POP SONGS THIS SPRING (SO FAR)
Image by Stavrialena Gontzou on Unsplash
Spring has arrived, bringing warmer weather, blooming flowers, seasonal allergies, and great new indie pop songs. From Glaive's hyperpop-teen-angst, to Brooke Alexx's pop jam about her mom, we're covering a pretty wide range this week. Take some Claritin if you need, cue up these songs, and spend some much needed time outside!
MONJOLA - SMILE
If you're looking for a funky bass line, catchy chorus, and positive message to get your day started, Monjola has got you covered. His newest release, "Smile," is a self-love, feel-good anthem. On his Bandcamp profile, he shared:
"Smile is about being positive. I wrote it at the start of 2021 after I wasn't really in a good place and I guess I was getting anxious about being in lockdown. I realised that I had so much to be grateful. 'Life is sweet and love is free so you really gotta love yourself'. I emphasised self-love in this song, it's super important to love yourself especially in tough times like this."
FJ LAW - CATCHING 22
FJ Law has created a synth pop JAM once again on "catching 22." Vocal harmonies, catchy melodies, sparkly synths, and lyrics about the complexities of heartbreak play to the emerging artist's strengths. In his own words:
"The story of this song is based around a party I attended. Before she arrived I would play a psychological tennis game in my head, a back and forth of trying to decide the right thing to do… I was stuck in a catch 22. I knew it was a lose lose situation between entertaining her games or having to admit that it was over."
BROOKE ALEXX - GRACE
Nashville's Brooke Alexx appeared on my TikTok For You Page just a few days before the release of "Grace." The catchy chorus melody and story about her mom drew me, and now that the whole song is out folks, I can confirm that it is a certified bop. On "Grace," Alexx explores why she is who she is: her mother. The bridge sums up the song well as she sings "Yeah I'm my mother's daughter / So glad I get the honor / Yeah I'm my mother's daughter /Turns out I'm a little like Grace." It's touching, sticks in your head, and her voice is honest and powerful.
GLAIVE - I WANNA SLAM MY HEAD AGAINST THE WALL
The Glaive-and-Wheathan combo is a strong one, and they've done it again on new release "i wanna slam my head against the wall." Rolling Stone said it up best: "The 16 year old musician is proof that the kids are alright - sort of." Mixing jazzy acoustic guitars with hyperpop maximalism creates a really exciting sonic experience. Lyrically, the song reminds me of the complexity and angst of the music from the early 2000s-2010s emo phase that we all inevitably dipped our toes into.
BEN KESSLER - EVERYTHING TO EVERYONE
On "Everything to Everyone," Ben Kessler explores themes of self identity and losing himself. On the chorus, he sings "I'm over drinking / Getting faded to fade in / I wanna be someone / While tryna be everything to everyone." Off of his new EP, "Everything to Everyone" displays exactly what we love about his music: clear vocals and thought provoking lyrics skillfully supported by clever production choices.
CHLOE TANG - VOICEMAILS
Chloe Tang's "Voicemails" details how hard it is to fully let go. Though she "followed protocol the second that [she] cut it off," she finds herself returning to the voicemails this person left her, as she misses their voice. With her vocals and lyrics at the forefront, Chloe Tang shines on "Voicemails."   
ISAIA HURON - SELF!
Ready for a new favorite song? With driving drums and bass, reverby background vocals, romantic lyrics, and a catchy hook, Isaia Huron's "Self!" is an indie pop dream come true. The Nashville drummer-turned-singer released his first project in 2020 and has only grown and developed since.
---
As always, check back next week for our favorite indie pop release, and be sure to follow our Weekly Chart playlist to keep up with new finds!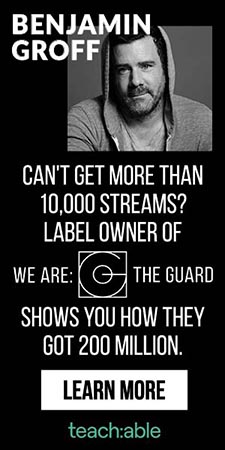 Arielle Tindel is from Cleveland, Ohio. She recently graduated from Berklee College of Music with degrees in Music Business Marketing and Songwriting. In her free time, Arielle can be found gardening or playing bass.