THE 10 BEST INDIE SONGS YOU NEED TO HEAR THIS WEEK
Listen to @KillerMike pic.twitter.com/NuFwCo2ORs

— RAGE AGAINST THE MACHINE (@RATM) May 30, 2020
Check out this week's edition of We Are: The Guard's Best Indie Songs, featuring BYSTS, Bright Eyes, 100 gecs, and more.
-
BYSTS – 16MM LOVER
Introducing BYSTS, the mysterious Los Angeles duo who are beckoning us into the deep end on "16mm Lover." With doom metal guitars prowling like black jaguars around the mesmeric vocals of frontwoman Stefanie Marlow, "16mm Lover" is a droning fever dream that'll devour the whole contents of your brain space, before spitting you back out an entirely new person. Dive in.
BRIGHT EYES – ONE AND DONE
Some men just want to watch the world burn. And some men just want to write a song about it. Listen as Bright Eyes deliver a swan song for humankind on the eerily prophetic "One and Done." "Around here we've been wondering what tomorrow's going to sing/On the final field recording from the loud Anthropocene," quivers Conor Oberst on the string-laced cinematic, evoking images of besuited survivors waltzing their way into the grand apocalypse.
100 GECS – STUPID HORSE (REMIX FEAT. GFOTY & COUNT BALDOR)
St. Louis genre-moshers 100 gecs continue to immerse us in their glitched-out nightmarescape on this remix of "stupid horse." Gone are the two-tone guitars of the original, replaced instead with a bonkers, banging techno production courtesy of Count Baldor, with PC Music's GFOTY also bringing a fresh set of lyrics to this deep-fried memeparty: "Stupid goat, I just fell out of the boat/Stole the money in your bank account, oh, no!"
CIGARETTES AFTER SEX – YOU'RE ALL I WANT
Cigarettes After Sex are slow-dancing across the lunar surface on their latest single "You're All I Want." Perhaps it's all this talk of NASA and Space X, but something tells me you'll be left moon-eyed from the moment you press play on this most recent offering from the El Paso dream-pop band, with frontman Greg Gonzalez and his whisper-soft coo making for quite the copilot on our journey to the stars.
IONNALEE – VIOLENT PLAYGROUND (KRONOLOGI VERSION) (NITZER EBB COVER)
This is the kind of tune that locks you in and never lets you go. Over an unrelenting, pulsating synth bass and smashings of metallic percussion, listen as ionnalee aims straight for our internal rhythm sections with this cover of Nitzer Ebb's "Violent Playground." Not a single person is safe from this searching battleship groover, which is taken from ionnalee's ongoing unreleased materials project KRONOLOGI.
DAN CROLL – SO DARK
Dan Croll is born to make music. His natural ear for melody is an utter gift to behold, with the British troubadour showcasing it in full on "So Dark." A delightful Beatles-esque ditty inspired by Dan's move to Los Angeles and his search for – and ultimate discovery of – like-minded friends, "So Dark" is a truly joyous listen that feels like a ray of sunshine in these tempestuous times.
SEVDALIZA – JOANNA
Unrequited love is like a vulture that slowly eats away at you until you're a husk of a human being, and it's Sevdaliza who's studying her bodily remains on the mesmerizing "Joanna." "Evil personified/She prays on the dead/Desert woman/Veiled in silence/I was so wrong," trembles the Iranian chanteuse on the follow-up to "Lamp Lady" – a potent, perfumed stringed requiem to her hollow soul that transfixes from the off.
BOY PABLO – HEY GIRL
There's nothing quite like the head-swirling chemical rush of a first love, and Norway's boy pablo is reverse engineering that feeling for us all to enjoy on "hey girl." With infectious indie riffs and strokes of disco synths interweaving with boy pablo's young, lighthearted vocals, "hey girl" is a room-spinning carousel of sight and sound that'll light up every bit of your dopamine circuits.
CLUB INTL (FEAT. JOHN EATHERLY & MADELINE FOLLIN) – CRUSH
Johnny Jewel – Chromatics frontman and all-around purveyor of bleary-eyed musical wonder – returns with his brand new supergroup Club Intl. John Eatherly of Public Access T.V. and Madeline Follin of Cults also bring their talents to this fluorescent pop marvel, with smears of synths lighting up the night sky like burning phosphor as John sings of being impaled by the electrode glow of a recently developed crush.
KATZÙ OSO – IN TOO DEEP
After such a dark, depressing few days, this glittering groover quite frankly couldn't come soon enough. Katzù Oso's Paul Hernandez is scooping us up and transporting us to his dazzling discoworld on "In Too Deep." With bejeweled synths and laser-beam riffs cutting across the dance floor of our minds, while Katzù's reverb-smeared vocals pull us deeper and deeper, don't be surprised if you never wish to find the exit from this Studio 54 head dream.
-
Follow We Are: The Guard's Weekly Chart for more. x
Photo by Miguel Bruna on Unsplash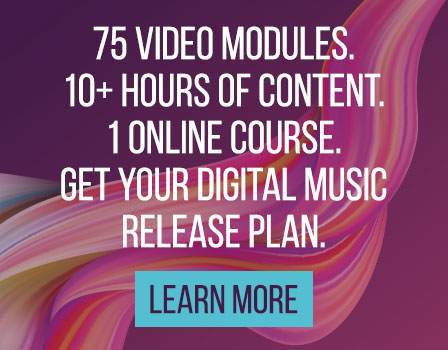 Jess Grant is a frustrated writer hailing from London, England. When she isn't tasked with disentangling her thoughts from her brain and putting them on paper, Jess can generally be found listening to The Beatles, or cooking vegetarian food.