BEST INDIE SONGS - WEEK 31
I'm going to go ahead and say it: Chance the Rapper and Death Cab for Cutie is the most ambitious crossover event in musical history. Like, even more ambitious than JAY Z and Linkin Park dropping "Numb / Encore" that one time. If I could, I'd feature "Do You Remember" 10 times over in this playlist, but, alas: There's quite simply too much music for us to get through this Monday morning for that. On that note, as the end of July fast approaches, let's see the month out in style with the latest edition of We Are: The Guard's Best Indie Songs, featuring Lykke Li, Clairo, The 1975, Hobo Johnson, Bat for Lashes, and more.
-
LYKKE LI – NEON
Lykke Li is sending us into the late-summer sunset with "neon." The three-and-a-half-minute bop hears the Swedish chanteuse continuing to hone in on the sensuous melancholy first presented on her undervalued 2018 album so sad so sexy, with Lykke's heartbroken narrative swaying over a despairingly dancy electro-pop production.
CLAIRO – SOFIA
Ahead of the release of her debut album Immunity next month, Clairo has shared "Sofia." The follow-up to the excellent "Bags" and "Closer to You" hears the 20-year-old queer artist coming to terms with her sexuality over a distorted guitar riff and crunchy drums, with Clairo's voice sounding nothing short of angelically bittersweet as she sings: "Sofia, know that you and I/Shouldn't feel like a crime."
TR/ST – IRIS
Coinciding with the announcement of The Destroyer - 2 – the follow-up to the incredible The Destroyer - 1 released earlier this year –  TR/ST has shared "Iris." It's an equal parts pristine and punishing listen that Robert Alfons describes as "a very important moment on the record," with synth bass throbbing intensely beneath TR/ST as he pushes his voice to its outer reaches in the dazzlingly wide-screen chorus.
KONGOS – YOU ARE STRANGE
South African outfit KONGOS are getting freaky on their latest single "You Are Strange." Comprising of brothers Dylan Kongos, Daniel Kongos, Jesse Kongos, and Johnny Kongos, the quartet's newest offering is a peculiarly groovy tribute to weirdos and oddballs everywhere, with an eerily funky psychedelic stomp backing frontman Dylan as he declares: "'Cause you are strange/You make my brain rearrange."
THE 1975 – 1975
This moment belongs to Greta Thunberg and Greta Thunberg only.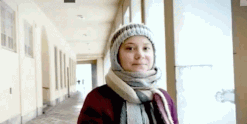 HOBO JOHNSON (FEAT. ELOHIM) – UGLYKID
We Are: The Guard favorites Hobo Johnson and Elohim are making for a perfectly odd match made in heaven on "Uglykid." The latest single to be unveiled from Hobo's forthcoming album The Fall of Hobo Johnson is a charmingly lovesick affair, with jazzy trumpets backing Elohim as she sweetly sings of her love for her collaborator despite his repeated exclamations of "I'm an ugly kid/Ugly enough to not wanna exist."
MARIKA HACKMAN – ALL NIGHT
Marika Hackman continues to build up to the release of Any Human Friend by sharing "all night." The British queer artist has one thing, and one thing only on her mind on the follow-up to the brilliant "i'm not where you are" and "the one," with the song's deeply carnal lyrics coming hidden between Marika's mellifluous, Beatles-esque melodies.
BAT FOR LASHES – FEEL FOR YOU
Following on from the release of the cinematic video for "Kids in the Dark," Bat for Lashes returns today with "Feel for You." The latest single to be unveiled from Natasha Khan's forthcoming album Lost Girls is a sexy club banger, with Bat for Lashes continuing to explore her love for everything 80s over a tropical disco beat that's sure to heat up dance floors this summer.
DEMOB HAPPY – AUTOPORTRAIT
British three-piece Demob Happy are back and bringing the noise on their latest single "Autoportrait." It's a tenacious desert-rock roller coaster that's packed full of unrelenting riffs, hooks, and snarling, incessant swagger, with frontman Matthew Marcantonio revealing that it was the title that came before the rest of the song: "It forced my hand into writing something more honest than I ever would, like coercing a confession out of myself over insecurities that I'd rather deny."
POP ETC – LOVEFOOL (THE CARDIGANS COVER)
POP ETC are taking me back to my childhood with this cover of "Lovefool" by The Cardigans. Listen as the Brooklyn-via-Berkeley trio put a heart-stirringly lovely spin on the 90s classic – which propelled The Cardigans to international success after it appeared in Baz Luhrmann's Romeo + Juliet in 1996 – with bossa nova acoustic guitars acting as a delicate backdrop to frontman Chris Chu's near-whispered vocals.
-
Follow We Are: The Guard's Weekly Chart on Spotify for more. x
Photo by Brandon Hoogenboom on Unsplash
Jess Grant is a frustrated writer hailing from London, England. When she isn't tasked with disentangling her thoughts from her brain and putting them on paper, Jess can generally be found listening to The Beatles, or cooking vegetarian food.