THE 10 BEST INDIE SONGS YOU NEED TO HEAR THIS WEEK
Photo by Natan Yakobs on Unsplash
No one, I repeat no one, should go to a concert and never come home again. During such a volatile time in live music, the Astroworld Festival incident over the weekend reminded us of the importance of looking after and being there for our fellow fans. To quote that video of Linkin Park going viral across social media: "When someone falls, what do you do? Pick! Them! Up!" RIP to all.
No, THIS is exactly what's supposed to be happening in a mosh pit https://t.co/fZQH0QiFuR pic.twitter.com/kWQdVBiShp

— Kari /// Linkin.Bert (@bombalurina03) November 6, 2021
Check out the latest edition of We Are: The Guard's Best Indie Songs, featuring Frances Forever, Foals, Gracie Gray, and lots more.
-
FRANCES FOREVER – CERTIFIED FOOL
They recently dropped their debut EP paranoia party, a six-song set that included the viral smash hit "space girl," and today, Boston's Frances Forever is back with "Certified Fool." With sparkling synths dancing atop thick, thudding drums, "Certified Fool" is a power-pop anthem straight out of an 80s alt college radio. Frances, meanwhile, tops the whole thing off with a vocal line that could melt the stars from the sky, with the TikTok sensation singing about the endless pains of adulting.
FOALS – WAKE ME UP
Foals is getting funky, and I'm very much here for it, on "Wake Me Up." While the British act's previous two albums Everything Not Saved Will Be Lost: Part One and Part Two found Foals coming to terms with the apocalypse, "Wake Me Up" hears Yannis Philippakis and co deploying a more upbeat narrative. Written during the depths of lockdown, "Wake Me Up" is pure Studio 54 escapism, with euphoric gang vocals and groovy guitar riffs backing Yannis as he sings about dancing through his dreams.
GRACIE GRAY – ALIENLOVER
Gracie Gray taps into the creativity of the subconscious on her roaming latest single "alienlover." Featured on her forthcoming sophomore album anna, "alienlover" came to Gracie during a dream about an alien falling in love with a human being from afar. With her spectral, unearthly vocals cutting through the wall of distorted guitars like a radio dispatch from an alternate universe, "alienlover" is an ambling piece of lo-fi grunge-pop that can be filed alongside the likes of Grouper and Mazzy Star.
RADIOHEAD – FOLLOW ME AROUND
Ever since it was performed during Meeting People Is Easy in 1998, "Follow Me Around" has become the stuff of legend among Radiohead stans. Now, 23 years on from that soundcheck in Japan, the British outfit is finally sharing an official studio version of "Follow Me Around." Featured on their recent reissue Kid A Mnesia, "Follow Me Around" is the same scratchy acoustic drawl fans first fell in love with over two decades ago, with Thom Yorke giving some serious MTV Unplugged vocal angst.
MADI DIAZ – CRYING IN PUBLIC (MUNA REMIX)
Saddest Factory Records signees MUNA is taking Madi Diaz's broken-hearted ass to the club on this dizzying remix of "Crying in Public." While the History of a Feeling original resembled a gut-wrenching, Americana-tinged ballad, listen as MUNA turns Madi's tears into sweat and "Crying in Public" into a hyperpop banger straight out of Charli XCX and Caroline Polachek's wheelhouse. "It's like I'm crying disco-ball tears at the club with everyone I've ever loved," Madi says of the technicolor remix.
SERENA ISIOMA – CRYING IN THE CLUB
From "Crying in Public," to "Crying in the Club." Like Madi Diaz and MUNA, Chicago's Serena Isioma is finding therapy on the dance floor on their heady latest single. "I don't wanna die by myself aye/The way I'm living life isn't healthy," Serena sings as synths rapidly swirl around them at a mile a minute. "Sometimеs I need to cry I'm overwhelmed ayе/Please help me." An equal part call for help and moment of transcendental catharsis, "Crying in the Club" sent this listener into quite the tailspin.
ELEPHANT CASTLE – ROCKET TO THE MOON
Elephant Castle's Phil Danyew is giving Jeff Bezos a run for his money on his brand new single "Rocket to the Moon." "Sometimes Earth is hard," Elephant Castle says. "'Rocket to the Moon' is a spacey fantasy about leaving gravity behind for a more harmonious existence on the moon." With the former Foster the People touring band member's falsetto vocals orbiting a lo-fi, punchy psychedelic groove, "Rocket to the Moon" is very much the aural equivalent of buckling up and blasting into the cosmos.
NIKO RUBIO – ALL MINE
A few months on from winning us over with her debut EP Wish You Were Here, a six-song collection of beaming indie-rock bangers, Niko Rubio is back today with "All Mine." "I wrote it in the heat of my wonderful relationship, and it brings me so much joy to share this beautiful story of shameless love to your ears," the Los Angeles musician says of the cut. With Graham Coxon-esque distortion churning beneath Niko's giddy desire, "All Mine" is another radiant anthem for California dreamers everywhere.
PLUS (FEAT. SON LITTLE) – FEEL SO HEAVY
Meet Plus, the Los Angeles producer making his debut on the blogosphere this Monday with the gritty "Feel So Heavy." A collaboration with Philadelphia soul singer Son Little, "Feel So Heavy" is a subterranean stomp written from the perspective of a villainous character hell-bent on revenge. "Tread lightly around me/Cos I feel so heavy," rasps Son Little on the cut, with his husky voice coming backed by bombastic pianos that sound like skulking around dark alleys late at night. Crank it up.
BUNNY LOWE – NICOTINE
She's written for everyone from Kesha to Dua Lipa, but Bunny Lowe is taking her own place in the spotlight this Monday with the stomping "Nicotine." Featured on the Los Angeles starlet's forthcoming debut EP Memory Palace, "Nicotine" is a gritty piece of teenage melodrama that Bunny slips on like a well-worn leather jacket. "Get high and die for the weekend/Pink wine and antidepressants," sings Bunny over fuzz-caked guitars on the cut, a chugging anthem dedicated to all lost souls and fallen angels.
-
Follow We Are: The Guard's Weekly Chart for lots more music. xo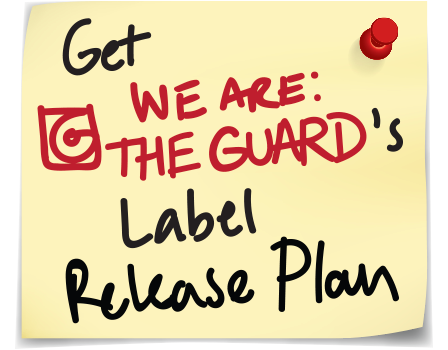 Jess Grant is a frustrated writer hailing from London, England. When she isn't tasked with disentangling her thoughts from her brain and putting them on paper, Jess can generally be found listening to The Beatles, or cooking vegetarian food.