THE BEST NEW INDIE POP SONGS IN THE WORLD THIS WEEK
It's a big week for indie pop fans. We've got new Clairo, new Caroline Polachek, and new favorites for you to discover! Whether you're looking for a chill new acoustic track, or something to hype up your summer playlist, we've got you covered. Let's dive right in!
CATIE TURNER - LOVE ON THE MOON
Getting her start on season 1 of the American Idol reboot, Catie Turner has gone on to make leap years of progress. "Love On The Moon" from her new EP Heartbroken and Milking It is a raw, personal letter to a leaving lover that's sure to make you sob. On top of soft guitar strumming and heart wrenching harmonies she sings "You're asking for space, let's make love on the moon."
CLAIRO - AMOEBA
Clairo's Sling is finally out, and "Amoeba" is everyone's favourite. "I like this song because it's a conversation between one person…being able to see how unhealthy I used to be, and celebrating some growth within a song," she says. Produced by Jack Antonoff and Clairo herself in upstate New York, this track totally has groovy retro vibes.
CONAN GRAY - PEOPLE WATCHING
Conan Gray knows how to pull at the heartstrings, and on "People Watching," he does just that. His clear vocals deliver absolutely crushing lines about loneliness. Co-written with Dan Nigro (Olivia Rodrigo's collaborator) and Julia Michaels, this session was definitely set up to break hearts.
NOA KIREL - PLEASE DON'T SUCK
Rising star Noa Kirel has one request for a love interest- "Please Don't Suck." Sampling "Mr. Sandman," it feels familiar while putting a spin on a classic. For fans of "Kiss Me More" and Dua Lipa, Noa's a must listen.
CAROLINE POLACHEK - BUNNY IS A RIDER
Caroline Polachek continues to push the envelope on pop music. With some of the coolest production we've heard in a while, and a stunning bass performance by Danny L. Harle, "Bunny Is A Rider" deserves a spot on your playlist. In her own words: "'Bunny Is a Rider" is a summer jam about being unavailable. Bunny is slippery, impossible to get ahold of. Maybe it's a fantasy, maybe it's a bad attitude. But anyone can be bunny, at least for three minutes and seventeen seconds."
LANI ROSE - MOMMA LOOK
Lani Rose is such an exciting, emerging voice in indie pop / hip hop / R&B. On "Momma Look," his stellar vocals are supported by modern production. The St. Louis songwriter has been steadily releasing singles after his 2020 EP Permanent Beta released via Terrible Records.
ALDN, RENFORSHORT - DOG EAT DOG
Angsty voices for the next generation, aldn and renforshort have teamed up for a dark pop / hyper-pop laced new track- "dog eat dog." Off of aldn's new album, greenhouse, the two trade frustrations about a relationship on the song.
There you have it - our favorite indie pop songs of the week, hand picked by our team! If you're looking for more of the best new indie music, be sure to follow our Spotify playlist:
Image Credits:
Caroline Polachek by Matthew Wordell at Treefort Music CC 2.0
Clairo by Justin Higuchi CC 2.0
Conan Gray by Lucy Films CC 3.0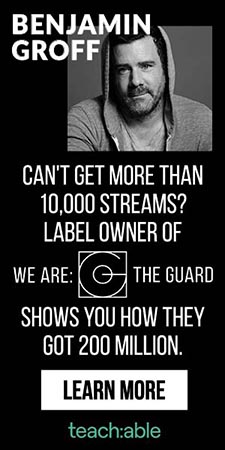 Arielle Tindel is from Cleveland, Ohio. She recently graduated from Berklee College of Music with degrees in Music Business Marketing and Songwriting. In her free time, Arielle can be found gardening or playing bass.