THE BEST NEW INDIE POP SONGS FOR FALL APPLE PICKING
Image by Skylar Jay on Unsplash
Hello again, it's Micah the WATG intern. After talking to my amazing internship supervisor and friend, Arielle, I'm back at it. Arielle and I have conversed over the phone a lot over the past couple days and while we talked about many different things, I'm not sure if I mentioned how many people I know in Boston who have been going apple picking? Is apple picking a thing for you LA folks? Anyway, if so, here is the playlist for you!
PINKPANTHERESS - "I MUST APOLOGISE"
Imagine picking apples to this song! I'd feel like a cartoon with wicked fast arms -- snatching up apples from every tree in sight. The latest single from PinkPantheress is similar to the other songs she's released, but has birthed a new sound for indie pop. It's slightly more dance-y and has breakbeats that are reminiscent of those from club music and house music, but all the while the music sits so well in a new sphere for indie pop. Her voice reminds me of Purity Ring's silken vocal style and production and the music feels so fearless and powerful. While this song is only 1:48, every second of it is basically perfect. The project is from a twenty year old based in London, England. Soon after releasing her debut single "Break it Off," she went viral on TikTok and amassed over 1 million monthly listeners on Spotify within less than a week or so. Now, PinkPantheress is at almost 10 million monthly listeners and signed to Elektra Records in 2020.
BRAKENCE - "ARGYLE"
DAMN. Shoutout to Danny Rakow (roommates at Syracuse with my cousin, Drew) for finding brakence. Brakence is literally one of the most beautiful indie-hyper-pop artists I've ever heard. This song will make you feel like picking apples is otherworldly. You won't feel like you're just picking apples, but rather gold or alien treasure. Brakence is an 18 year old producer from Columbus, Ohio who attended Ohio State University for two weeks and then dropped out. For good reason, too. His music transcends other artists that I've heard in this genre and he produces and writes everything himself. Please listen while picking apples. You won't regret it.
JULIA WOLF - "NIKES"
Julia Wolf is sick. Arielle told me about her a while back and I'm so impressed. This song is great and reminds me of a poppier, trap version of Caroline Polachek. There is a beautiful anthemic element to this song and I'm a huge sucker for anthemic music. The beat also goes so hard. Julia Wolf studied at SUNY Purchase in NY. While he had the capability to be a concert pianist, her heart was in indie pop. She currently resides in NYC with her adorable dog, Malfoy. Her debut EP Girls in Purgatory was released on October 7th.
SEB - "GOD OF THE SUNSETS"
This is my introduction to SEB and it's making me realize that I need to listen to more of his songs. They sound great. This song makes a little more sense to pick apples too (despite the other ones being perfect). I feel like listening to this song at an orchard would give you good dancy vibes, so you could dance with the apples. One would get into a rhythm of picking apples and putting them in your bag and maybe taking a bite out of one. SEB is another TikTok artist that has paved a new path for indie pop. The juxtaposition of sounds such as the lo-fi elements in his production mixed with the polished and the pristine skillfully and intentionality creates perfect imperfection.
MAGDALENA BAY - "HYSTERICAL US"
If you're trying to enter a new reality while picking apples, Magdalena Bay's "Hysterical Us" is the song for you. The arrangement almost feels a little disjointed, but when the chorus hits, the unexpected honky-tonk piano moves the song right along. It's quirky and weird, but the intentionality of it makes it loveable and fun. The Los Angeles duo has been releasing music since 2017 and are getting praised for their new album "Mercurial World" as music for an era of internet stardom. The duo sonically creates a world with their music that is so "with the times" that it will 100% be the song for you and your TikTok-making gen Z and millennial friends while picking apples. It's bright, colorful and playful and the perfection comes with how it feels like the duo isn't trying to take themselves too seriously. They are making what they feel, how they feel it, and expressing a unique feeling that transcends our world.
COIN - "CHAPSTICK"
COIN is awesome and this new song is reminiscent of a dancier version of Tame Impala. COIN is from Nashville and formed in 2012. After meeting at Belmont University, they recorded music and performed around Nashville, as well as other parts of the country until releasing their debut record in 2015. They ended up signing with Columbia Records and their career hasn't slowed down. Picking apples to COIN would be an honor if you ask me. I'd love to just bop my head walking through the rows of apple trees listening to "Chapstick."
DEL WATER GAP - "I HOPE YOU UNDERSTAND"
Del Water Gap has really made a name for himself. S. Holden Jaffe is the man behind the intricate and new sound for indie-pop. Molding and combining electronic  elements with acoustic sounds and unpredictable arrangements, but all the while still catchy and with many ear worms that have emotional hooks, Del Water Gap really sets himself apart from some of the other indie pop artists out there. His dark aesthetic, jean jackets, and dramatic shift in sound and demeanor is reminiscent of a 70s Coloradoan. His music and image triggers images of water for me with, all of the blues and blacks in his latest roll out for his self titled Del Water Gap. The song, "I Hope you Understand" is the perfect song to listen to while driving off from the apple orchard, looking at all of the amazing apples you picked.
While apple picking might be hard to come by in LA, it's an old tradition of mine- I used to do it all the time with my family. I never got the chance to listen to music while picking apples though, and this playlist of the top indie pop songs is making me want to try it myself. During my time in MA, I hope to get out of Boston and do some apple picking and listen to these new indie pop songs!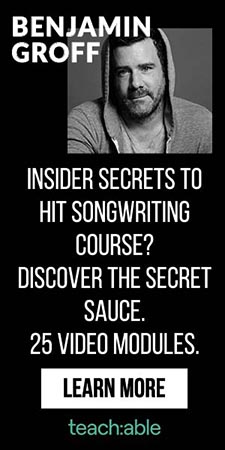 Micah Rubin is an avid music connoisseur who loves to watch movies and spend time at dinner parties. He loves The Sopranos and playing shows with his band, The Brazen Youth. His dreams and goals include wanting to bring people together through music, striving to always create an efficient and safe space for others to work and create. He hopes to become an A&R or Music Supervisor one day.