THE BEST NEW INDIE POP SONGS TO START YOUR DECEMBER
Hello! Today has been a good day! I worked out, ate an opal apple with peanut butter for breakfast, and finally was able to get 8 hours of sleep last night! I was slumped after all of the pies from Thanksgiving. I hope that everyone who reads this had a great Thanksgiving with their families and friends. I was able to spend some time with my family this past week and my dad, an avid music lover, wanted to hear some of the new tunes I've discovered recently and so I created this playlist of the Best New Indie Pop!
MURA MASA - "2GETHER"
I discovered Mura Musa in 2017 with his song "Love$ick (Feat. A$AP Rocky)" and immediately fell in love with what he was doing. "Love$ick" features a groovy cowbell-studded beat with additional auxiliary percussion moving it forward to make your head nod. One of the unique qualities about Mura Masa's production, both in "Love$ick" and new song "2gether" is how he is able to create subtle, ever-evolving layers that begin with a raw, acoustic feel and then seamlessly switches to hi-fi electronic production. Moreover, his artistry and creative ability was ahead of his time in 2017 and he continues to keep ahead of the times. This is clearly showcased in "2gether." Arguably, Mura Masa is opening another door for the future of music as well. Mura Masa, aka, Alexander Crossan is a British producer, multi-instrumentalist, songwriter and prominent DJ. His stage name comes from the Japanese swordsmith, Murmasa Sengo, and he mentioned in an interview with BBC that, like Murmasa Sengo, he wanted his music to "cut like a knife." With his latest song, "2gether," the 25 year old producer is certainly achieving his goal.
MAKK MIKKAEL - "NOTHING FITS"
Makk Mikkael is my new favorite sound for my nostalgic tendencies. In her latest track, "Nothing Fits," Makk Mikkael's minimalist reverbed-out guitar, chill drum groove, and simple bass line gives me the gripping feeling of being the main character in a season finale of a teen-angst drama. While the instrumental is powerful, Makk Mikkael rips my heart out as soon as she starts to sing. Her voice pierces through the mix like a silver needle going through a piece of cloth. Hailing from Calgary and Toronto, Makk Mikkael is a singer/songwriter who is currently working on her debut album. In an interview with Music Musings and Such, she talks about her mission to create music so whoever listens can be transported to a different world and escape their day-to-day life. For me, she achieves this goal and goes above and beyond by creating her own world that I would be more than happy to get lost in. "Nothing Fits" is a beautifully entrancing song that straddles the dream-pop and indie-pop sphere, feeding so well into a relatable message of the frustrating feeling of navigating wanting something that can't fit.
KURTIS WELLS - "FOREVER YOUNG"
This morning, I was listening to some music and I came across Kurtis Wells. His latest track "Forever Young" is a feel-good, indie-psych-pop, R&B inspired jam with prominent drums and head-turning production moments. His vocal production is reminiscent of The Weeknd- if the Weeknd made indie-pop. Like The Weeknd, the arrangement of this song is very infectious with many different vocal moments that have been getting stuck in my head. His rhythmic choices are very noticeable in all corners of the song. He even has a hook in the drum part. Kurtis Wells is a producer and singer/songwriter who is originally from Trinidad, a transient traveler to the U.S., but currently resides in Berlin, Germany where he is in the process of finding his home through his music. "Forever Young" is one song off his EP, Ricardo. In an interview with DIY Magazine, he shared that he hopes to change the lack of opportunities in the music industry in Trinidad and I believe that he is on the right path.
NICKY YOURE, DAZY - "SUNROOF"
Nicky Youre and Dazy's new song, "Sunroof" is the best song to drive to. It encapsulates very literally driving with your head out of the sunroof and having a great day. Sadly, considering it's 32 degrees here in Boston, I won't be doing this until April or May, but if you're in California, I'd highly recommend bumping this while you drive down the PCH. This song is definitely the epitome of indie pop with the catchiest chorus and immersive arrangement. Originally from Southern California, Nicky Youre is 21 and only has two songs out, but is destined to become a big name in the indie pop world. He produces and records his music with one of his hometown friends who goes by the name LAIKI who is an up and coming producer as well.
PHEM - "SILLY PUTTY"
"Silly Putty" is an angry anthem from hyperpop, indie pop/rock artist, Phem. The song has a way of getting under my skin that makes me uncomfortable, but simultaneously pulls me in through the melancholy lyrics. The metaphor of being silly putty for someone to play with is both terrifying and sad to think about. From a physical and emotional perspective, it shows a very hard reality of what some people experience. Therefore, this song is bold in its content and lends itself to reach out to others who have felt this way before in hopes to be a comfort. Whether Phem is talking from experience or creating a narrative, the story is very powerful and backed by distorted vocals, a fast tempo, and hard hitting drums.  
BUZZ - "MISFIT"
"Misfit" is an epic second release from BUZZ. Her newest single showcases an intersection between indie-pop and if euro-club music was cinematic. The vocals glide through the entire song in the chorus and the lyrics resonate perfectly with the melody. The production is so refined and reminds me of a harder hitting Caroline Polachek. The song feels like a story with an arc, but always coming back to feeling like a misfit and not fitting in. There isn't much information about who she is on the internet, but from what I gather just from her music, BUZZ is going to be prominent in the indie pop space.
PORSH BET$ - "2 THE WEEKEND"
I can literally feel the dopamine release in my brain when the drums come in, in this song. Porsh Bet$ is definitely a new obsession and a great up and coming artist for indie-pop. His vocals are soothing yet emotional and achieves giving me that lump-in-my-throat feeling. Originally from Harlem, the 21-year old singer-songwriter sent his demos to producer KoOoLkOjAk where they began working together once Porsh Bet$ moved to LA. He dropped out of school two months in and decided to pursue his career in music with no regrets. Humble and traveling through life with a good sense of self, Porsh Bet$ is setting himself up for great success.
There you have it! My favorite indie pop songs as of lately! Have a great week, stay warm, and hope you found something to kick off your December! If you're looking for more of our favorite new releases, check out our Weekly Indie A&R Chart Playlist on Spotify!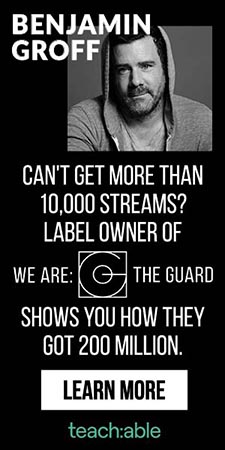 Micah Rubin is an avid music connoisseur who loves to watch movies and spend time at dinner parties. He loves The Sopranos and playing shows with his band, The Brazen Youth. His dreams and goals include wanting to bring people together through music, striving to always create an efficient and safe space for others to work and create. He hopes to become an A&R or Music Supervisor one day.