THE BEST NEW INDIE POP OF THE WEEK
Throughout the country, it's been freezing cold, snow coming down, temperatures dropping, clothes being layered. As for me, I'm in LA, where the temp is about to reach the mid-80s this week, and I'm sitting in front of a fireplace because it's 62 degrees tonight and I'm cold… believe me, the irony doesn't escape me. Nonetheless, wherever you are, warm or cold, you're gonna need some new tunes for the week, and we got you covered. Here's our round up for the best indie pop of the week!
MADDIE ZAHM - "FAT FUNNY FRIEND"
I'm excited to announce Maddie Zahm's debut on We Are: The Guard's blog! The American Idol alum's first release of the year, "Fat Funny Friend" is both earth- and heart-shattering, to say the least. As you can guess by the title, this song takes a vulnerable dip into the journey of self-realization as Zahm confronts every stereotype in the book about what one's weight means in the eyes of society: "I'm just the best friend in Hollywood movies/If I don't answer now, are they still gonna need me?/The girl gets the guy while I'm standing off-screen/So I'll wait for my cue to be comedic relief." It's no surprise that this song's blown up, and if you haven't heard it yet, this is your cue.
DEZA - "FUCVS (INTRO)"
We've got another newbie in the We Are: The Guard blog with singer/songwriter/producer Deza. "FUCVS (intro)" is a short ditty, but one that captures your attention immediately with sharp sound design, impressive vocal layer stacks, and the star of the show: a robot voice throughout repeating, "I think I have strep/And I cry in a CVS." I must say, I haven't heard a song that's made me blatantly laugh out loud in a long time. In anticipation of her upcoming project "City Sickness," this intro track is a promising start.
CLAUDIA ABENA - "GIRLFRIEND"
Claudia Abena's debut track "Girlfriend" is a sweet-as-can-be ode to the besties, the sisters before misters, the ride or dies. This R&B track is a beautiful blend of '90s R&B, with Abena's silky voice layered in painfully perfect harmonies, and contemporary R&B, with the more modern, trap-filled production. This vocal powerhouse, who's been co-signed by Mac Ayres, is taking her soulful chops from her popular Instagram and TikTok videos into the world of mainstream, recorded music, and we should all say, "Thank you, Claudia!" Take a listen to "Girlfriend," and when you're done, share it with your homegirl to spread the love.
THOMAS NG - "ONE LAST DANCE (FEAT. MILKY DAY)
If you're immersed in the #musicTok world, then the following name may be of some familiarity to you. But even if you aren't, no worries! Thomas Ng has made waves on TikTok for his interactive, lo-fi-inspired R&B music content, amassing over 1.9 million likes on the platform. In his most recent single, he collaborates with fellow artist Milky Day for a sweet slow-jam that's perfect for upcoming Valentine's Day. Grab a loved one's hand and play this one for a dance around the living room!
MILOPRODUCES - "DIRTY ROADS"
"Dirty Roads" by miloproduces is a hidden gem that I'm excited to introduce onto our indie pop playlist! Clocking in at only one minute and 32 seconds, this quick tune is just as captivating as it is fleeting. It gives me a mix of Bon Iver, Mac Ayres, and Mac DeMarco – mixing interesting electronic production elements with soulful instrumentals and Camilo's cool yet casual vocals. Show this artist-producer some love by streaming his latest single!
CHLOE SOUTHERN - "GHOST IN THE APARTMENT"
For our acoustic moment within this indie pop round-up, look no further than Chloe Southern's latest single "Ghost in the Apartment." This Colorado-native curiously explores the possibility of, you guessed it, a ghost in her apartment (and how the presence of one makes her miss the presence of someone else) over beautifully plucked guitar and luscious harmonies. It's a concept so simple yet poignant, that perhaps we should thank this mysterious spirit for serving as inspiration for her to write this…
NICK SMITH - "HOLD UP"
If "Hold Up" by Nick Smith doesn't get you up and dancing, or at least furiously bopping your head, then I'm not sure what will, quite honestly. Artist-producer Smith takes you on a journey with this dance track, ranging from high-energy moments to slowed-down breakdowns. But despite the range of sonic experiences within the track, it all remains not only cohesive, but absolutely infectious. If this is the caliber at which Nick Smith is creating, we can't wait to hear his future work!
KID TRAVIS - "BUTTERFLIES"
"Butterflies" by Kid Travis is one of those songs that you hear that makes you 1. Wonder why you haven't listened to this artist before, and 2. So happy that this song exists. In this track, Kid Travis croons about the butterflies a lover is giving him: "You know it's making a mess out of me/Never mix love with anxiety/Baby you give me butterflies/You don't even have to be alone tonight." This song is like listening to a moment in time, emanating an overwhelming feeling of nostalgia, whilst simultaneously mixing various genres. If I had to label it, I'd go for punk-tinged alt-R&B. We love a genre-defying king.
BENEE - "BEACH BOY"
If you haven't yet listened to BENEE… well, it's about time!! Aptly titled "Beach Boy," this track is as breezy as a walk along the beach. With a distinctly indie pop sound, the 22-year-old New Zealander releases this single in anticipation of her upcoming EP Lychee, coming out on March 4th. While we patiently yet not-so-patiently wait for that project, let's collectively blast "Beach Boy" while driving along the coast (and if you're not near a coast, a freeway and an active imagination will do).
AUDREY NUNA - "CHANGES"
Coming in hot from the Deluxe version of her debut album, a liquid breakfast, "changes" by AUDREY NUNA is a killer track that leaves no survivors. With a casual coolness that we could only dream of having at age 22, she boasts of her rapid come-up as an artist and the ever-increasing quality of work that she's released to date. With hard-hitting, trap-filled production, and her assertive flow, AUDREY NUNA shows that she's here for both a good time and a long time. After discovering this artist this year, I can confidently say that she's captured my attention – and I'm sure she'll capture yours as well.
I feel like this week, we've had a really nice mix of some more well-known up-and-coming artists as well as completely independent, emerging talent. If you'd like to stay up-to-date with the best new indie pop tracks each week, be sure to check out our Best New Indie Pop page every Wednesday to hear our latest faves! Stay warm my friends, I'll see you next time :).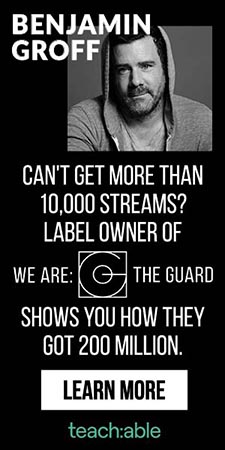 Natalie Kroh is a recent Berklee College of Music graduate born, raised, and currently residing in LA. She's an artist herself who creates music within the contemporary R&B space, but also loves discovering and listening to artists from various genres. In her free time, you'd find her making music, reading, watching movies, or exploring the city with friends.