THE BEST NEW INDIE POP OF THE WEEK
Photo by cottonbro from Pexels
Another week, another indie pop round-up!! But this week is special, because yesterday was 2/22/22 and I'm feeling very rejuvenated all of a sudden… how about you?? If you need a playlist to accompany you during this magical week, look no further! Here's some of the best indie pop we've been listening to lately!
AU/RA - PLZ DON'T WASTE MY YOUTH
I had never heard of Au/Ra until I discovered this song, and WHOA. 19-year-old Jamie Lou Stenzel is making bold moves with her latest single "plz don't waste my youth." An anthem to the fleeting nature of youth, there's an urgency in this pop-rock track that's almost palpable as Stenzel reaches to keep a hold of this moment of time in her life. As a young adult myself, this one really struck a chord with me, reminding me, and hopefully some of you, that time goes by fast, and not a moment should be wasted.
SABRINA CARPENTER - FAST TIMES
This song took me a few times of listening for me to really appreciate it, but man… it's a good one. "Fast Times" by Sabrina Carpenter is a drive down the highway of youth and living life in the moment. The entire aesthetic of the song alludes to an era of the past, but somehow feels extremely familiar. Experiencing life as a young adult, Carpenter muses on how quickly life can go by, especially when you're young and having fun! Blast this one in the car, thank me later.
SAID THE SKY, WILL ANDERSON & PARACHUTE - EMOTION SICKNESS
We're heading into our emo-punk moment of the round-up with "Emotion Sickness" by Said the Sky, Will Anderson & Parachute. Trevor Christensen, the name behind Said the Sky, comes together with Will Anderson from the renowned pop band Parachute to lament over a double-edged-sword type of love, one that gives as much as it takes. With the heavy electric guitars, blazing vocals, and powerful drums, this song is a killer pop-rock '90s throwback.
SOPHIA SCOTT - SWEETHEART
It doesn't get any sweeter than this… in Sophia Scott's latest single "Sweetheart," this LA-based country artist sings an ode to the one that got away. This crooning ballad - overladen with rich strings, twinkling piano, and twangy guitar - will give you ALL the feels as Scott sings about a lost love who still holds a dear place in her heart: "I still taste the sugar on your lips/See the honey in your tears that fell before our goodbye kiss/And even though you never felt forever in my arms/I'll always see the sweet in your heart." Someone pass me the tissues please!!
LIZZY MCALPINE - RECKLESS DRIVING (FEAT. BEN KESSLER)
Hot off the release track, Lizzy McAlpine's latest single "Reckless Driving" featuring Ben Kessler (released literally today!) is yet another hit in anticipation of her upcoming album "five seconds flat." Utilizing the analogy of driving to a relationship, McAlpine masterfully blends an acoustic singer-songwriter sound with a pop-feel as she tells an intricate story of unrequited feelings. Furthermore, previous collaborator and singer-songwriter Ben Kessler is a remarkable addition to the track, adding his unique sound and perspective to the narrative that Lizzy's began painting. She just doesn't miss, does she??
MAGGIE FOLEY - COOTIES
"Don't get me wrong, I loved you so/But mmm… gross/S***ty memories/Of you loving me with all your cooties/C-c-c-c-cooties," sings Maggie Foley in her debut single "Cooties!" This song is a FUN one that will make you dance, sing, laugh… and maybe cry when you realize that your ex also has cooties. This pop-rock track has a distinctly island-feel to it, which matches perfectly the energy of the song as Foley playfully waves "bye-bye" to a past lover. We all make mistakes you guys… so might as well embrace it with this song as your moving-on soundtrack!
SAYAKA - MAYBE (IT'LL WORK OUT)
WARNING: I can't promise you that this next tune won't make you cry. Japanese-Italian-American artist Sayaka's newest single "Maybe (It'll Work Out)" is a heartbreaking ballad chronicling a relationship that's about to become long distance, and what this might mean for the lovers. Backed by a stunning array of acoustic guitar, piano overlay, and billowing strings, Sayaka's voice soars over the instrumentation as she wonders aloud about what the future holds. It's a story that's all too familiar, but Sayaka's captured the feeling perfectly within this beautiful track.
AIMEE VANT - AIRBNB
If you haven't heard of Aimee Vant until now, you're welcome. Like, seriously… you're welcome. The 22-year-old singer-songwriter's latest single "Airbnb" is an absolute gem that I've been playing on literal repeat, and I know you will too once you take a listen. Amidst captivating synth-laden production and pristinely layered vocals, Vant paints the all-too-real picture of a fight within a relationship that causes a hiccup, but is worth working out: "Yeah, I'll lose sleep at this Airbnb so we can cool down/We're too far in not to make some time to get our heads straight now/This halfway house makes me wanna find a way for us to come around/Yeah, I'll lose sleep at this Airbnb so we can work it out."
GINETTE CLAUDETTE & MIA ARIANNAA - GUESS WHO
For all my babes out there who are feeling themselves today, please do yourself a favor and add "Guess Who" by Ginette Claudette and Mia Ariannaa to your "Bad B****" playlist. This pop-influenced R&B track is here to remind you that even after going through tough times, you can always pick yourself up and become an even better version of yourself. The first track off of her recently released EP "Mxd Feelings," NYC-native Claudette pairs up with high-energy artist Mia Ariannaa for a playful bop that'll have you singing along in no time!
DANIELLA FAITH - SEVEN
Last but certainly not least, "Seven" by Daniella Faith is a haunting, deeply introspective work within her three-song project Somebody Loves You that shines bright despite the contemplative subject matter. I just have to say: the melodic choices made in this song!! Are truly magnificent!!! This track is barren production-wise, allowing for the vocals, melodies, and messages behind the song to truly push through and take center stage. The poetic nature of this track allows for more than one listen, and is telling that Daniella Faith's artistry is one of vulnerability and honesty.
We got country!! We got singer-songwriter!! We got pop!! We got emo-punk!! You name it, we got it. That's our indie pop round-up of this week, and if you want more, you can always come back here on Wednesdays to catch up on the best new indie pop we're listening to! I'll see you next time, my friends :).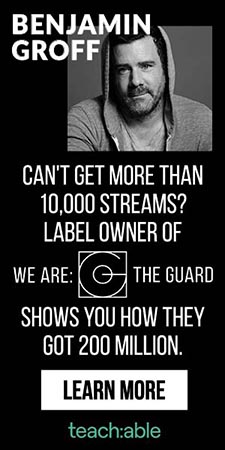 Natalie Kroh is a recent Berklee College of Music graduate born, raised, and currently residing in LA. She's an artist herself who creates music within the contemporary R&B space, but also loves discovering and listening to artists from various genres. In her free time, you'd find her making music, reading, watching movies, or exploring the city with friends.