THE BEST NEW INDIE POP OF THE WEEK
Don't we just love the weather warming up? Doesn't it just make you wanna put on your favorite playlist and take a nice walk outside as you soak up the sun? Well, if you need some new indie pop tunes for that playlist, I gotchu! We've got everything from happy and dance-y to introspective and edgy.
RILEY WELLS - FANTASY
For a little escape from the trials and tribulations of everyday life, drench your ears in "Fantasy" by Riley Wells. The shimmery house-pop track promises you a getaway with Ms. Wells herself: "Magic through my fingers/So we call it magic touch/Kiss my lips of heaven/Taste of honey, path of love". The combination of glittery electronic elements, island-feel rhythm, and Wells' buttery voice truly feels like a ~fantasy~, if I do say so myself…
DAVID DIAZ - IS ANYBODY THERE?
Behind heavy synths, '80s-inspired production, and sparkly electronic elements lies David Diaz in "Is Anybody There?". The FL-based singer-songwriter is a class act in taking songs about philosophical wonders and existential dread, and beautifully wrapping them up in upbeat R&B-pop. In his latest single "Is Anybody There?", he muses on being the type of person that overthinks the small things, and psyches himself out in the process. Take a listen to "Is Anybody There?" for a wild ride into your subconscious… or just to jam out in the car!
LIZZY MCALPINE - ORANGE SHOW SPEEDWAY
Fresh off her second album (released last Friday) is Lizzy McAlpine's "orange show speedway". Serving as the closing song on the 14-song project, this indie-rock track finds McAlpine reminiscing on a past love, and how certain things (or places) take her right back to that period of time in her life. With songs like this, it's no surprise that Lizzy McAlpine has been such a quickly rising star in the last couple of years. Go take a listen to "orange show speedway" – and while you're at it, also check out her new album five seconds flat. You won't be disappointed.
BADE - FRAGILE
"Staring at the floor/Tryna get my thoughts straight/Got a loaded headspace/Losing my faith". Turkish artist Bade's latest single "Fragile" is a spicy, hip-moving take on feeling overwhelmed and anxious. The bilingual singer masterfully blends the sounds found in various world music (the beat of reggaeton, Middle-Eastern instrumentation, and contemporary R&B flow) while also singing about a delicate and personal topic. She's already been making waves in the world music community, and deserves an immediate listen from all of you.
TRISTAN => IDFWU
"IDFWU" by tristan is the bad-bitch anthem we need to get through this week. Serving as her debut single, she's effortlessly riding the train of '90's-reminiscent pop-rock that you can hear in artists such as Olivia Rodrigo and Tate McRae. Boston-based tristan laments over a lover that leaves her feeling confused and hurt as their feelings about her waver. It's not a cute feeling, but we love that tristan takes the sadness and fills it up with heavy electric guitars and edgy belting vocals.
ANNIE ELISE & J HURLOCK - TOO SCARED TO ASK
20-year-old electronic artist-producer Annie Elise pulls out all the stops with "Too Scared to Ask", one of the tracks off of her recently released EP Breathe In, Breathe Out. This silky smooth R&B track touches on a feeling we can all relate to: having a crush and wondering if your feelings are reciprocated. Featuring additional production elements from producer j hurlock, this feel-good track can be added to any playlist of yours: workout, road trip, morning run, work-at-home soundtrack… you name it! If you want to hear more of Annie Elise, be sure to check out her EP Breathe In, Breathe Out.
OS YOUNG - OHMYGAH
Any Mac Miller fans out there? If you are, I think I may have found his reincarnate… Os Young's debut single "Ohmygah" gives major Mac (and Kendrick) vibes. The production is simple yet hard-hitting and poignant, allowing for Young's flow and vocal production to shine through in this track. Clocking in at a minute and 40 seconds, the artist/producer has made an excellent first impression in this track, and we can't wait to hear more of his future work!
MILOPRODUCES - SOMEONE NEW
We welcome miloproduces back to our indie pop round-up with his latest single "SOMEONE NEW", a lo-fi-R&B feel track that's as sweet and smooth as can be! If you're a fan of artists like Omar Apollo and Daniel Caesar, you'll find a new obsession in "SOMEONE NEW" (or honestly, any of miloproduce's music). Vibey guitar riffs, lo-fi trap beats, and Camilo's silky voice are the perfect conduit for the unapologetic feeling of moving on to someone new. Keep on the lookout for this LA-based artist-producer, because he may be onto something special.
KATE STEWART - NUMB
"Another morning/You next to me, I still feel lonely/Novocaine to my heart, it's broken/Tryin' to move but legs ain't goin' nowhere". The opening lyrics to Kate Stewart's latest single "Numb" say it all – feeling stagnant in a relationship but also not wanting to leave. The London-based singer-songwriter finds a beautiful blend of old-school and contemporary R&B in this track that she effortlessly backs with her powerful voice. As an R&B junkie myself, I'm always looking for up-and-coming artists in the genre, and following a string of impressive singles, Kate Stewart is emerging as a force to be reckoned with.
JAY ALAN - SOMETHING SLOW TO DANCE TO
As the title suggests, this sweet ditty is the perfect song to grab a partner and dance around in your living room to. "Something Slow to Dance To" by pop artist Jay Alan is a rival to classics such as "Thinking Out Loud" and "10,000 Hours", with natural instrumentation and happy-go-lucky production elements narrating this sweet love song about dancing with your partner. Alan has also released an EP this past week called Play Pretend, in which "Something Slow to Dance To" sits at track #3. Round off this week's indie pop playlist with Jay Alan – and while you're at it, take a listen to his latest project!
Didn't I tell you that we have it all here?? I love finding up-and-coming artists to share with y'all, and our indie pop round up is always popping off with the latest from our fave indie artists. If you like what you hear, check back here each week to see our latest round up! I'll see you next time :)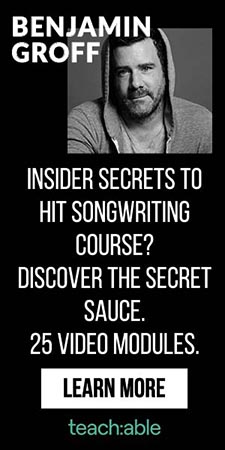 Natalie Kroh is a recent Berklee College of Music graduate born, raised, and currently residing in LA. She's an artist herself who creates music within the contemporary R&B space, but also loves discovering and listening to artists from various genres. In her free time, you'd find her making music, reading, watching movies, or exploring the city with friends.