THE BEST NEW INDIE POP TO CURE YOUR MID-WEEK SLUMP
Image by Melanie Pongratz on Unsplash
Hello again! It's 9:34 a.m. in Boston, MA. I'm currently blinking my tired eyes as I contemplate this past weekend. I had a great weekend, don't get me wrong, but I also was feeling a bit blue. Reflecting on those "Sunday Blues" and the approaching feeling of a mid-week slump, I thought it'd be good to cure it with the best new indie pop releases. So without further ado, dive into this week's picks to get you back on your feet!
HONEYWHIP - "GEORGIA PEACH (SKETCH)"
Honeywhip is the epitome of chill indie-pop. "Georgia Peach (Sketch)" is Honeywhip's latest single and it feels great. It will definitely help to soothe those lingering Sunday Blues away. With the classic indie pop guitar intro, the song progresses into a lush jam- where Honeywhip's stacked harmonies and overall production of the track never fails. Also, it doesn't hurt that the chorus is so catchy!!! This is 100% your "feel-good" track for the fall.
DORA JAR - "SCAB SONG"
Dora Jar is a budding artist from California by-way-of New York. She just started releasing music this past year and has already amassed a large following of songwriters and producers around the world. Her latest single, "Scab Song" will ground you. It puts you in a new realm of indie pop, perfectly blending in folk elements.
LITANY - "ADULT MOVIES"
Litany is a product of 90s pop music. Growing up in Yorkshire, she has steadily built an audience around the UK and around the world. On Spotify, her numbers are growing and her newest single "Adult Movies" proves why. Remember Tears for Fears? Litany grooves in a way that is reminiscent of "Everybody Wants to Rule the World," so if you thought that song felt good, wait 'till you hear this one!
BARRIE - "DIG"
Barrie's sound has never been so defined. "Dig" pushes Barrie into a whole new realm of artistry and composition. It takes on an incredibly emotional sonic adventure through the perspective of someone who is lost. If you're feeling a bit lost in the week or in the world, Barrie's "Dig" is here to say that you're not alone.
THE GREETING COMMITTEE - "MAKE OUT"
The Greeting Committee is maybe one of the most authentic new indie pop/rock bands out there. Hailing from Kansas City, MO, the band just released their first full length album since 2018- marking a brand new era for them. This song is the bop of your fall and it'd be hard to not smile while listening to this song. "Make Out" is upbeat and buzzy, with a cinematic music video to go along with it.
ANGUS MAUDE - "AUNT ACID"
Angus Maude is the newest face of Spotify's Editorial playlist Indie Pop and Chill- and I understand why. The 19 year old, self produced and recorded artist is making sophisticated indie pop from the production choices to his simple, but hard hitting lyrics.
POLLY MONEY - "WATER"
Polly Money is an artist from the UK who is melding indie pop and Latin dance into her own new sound. Her new single "Water" pulls you in more and more as the song continues. Chill meets danceable, emotions meet catchy melodies, and her voice floats atop of it all beautifully.
RAIN STAR:* . - "YONGYONG"
While I'm not sure what they're saying nor do I know a lot about K-Pop, I know that I love this song. What stands out to me about this song is the hard hitting drums that basically go throughout the entire song, yet it never gets annoying or loses steam. The song keeps going and will keep your spirits high.
99 NEIGHBORS - "EASTSIDE"
99 Neighbors are a hip-hop/indie pop outfit from Burlington, Vermont. This little northeast corner of our country gave birth to a very talented and one of a kind collective. With their new single, "Eastside" 99 Neighbors are coming back stronger than ever after the pandemic with a bop.
Thanks again for reading and listening to these artists and I hope this roundup has you feeling energized and ready to tackle the week. Looking for more of the best new music? Check out our Weekly Indie A&R Chart Spotify Playlist!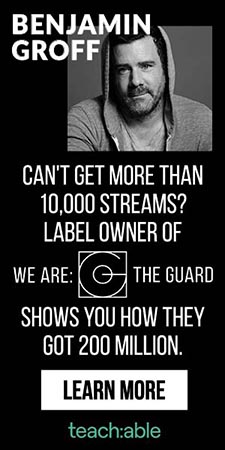 Micah Rubin is an avid music connoisseur who loves to watch movies and spend time at dinner parties. He loves The Sopranos and playing shows with his band, The Brazen Youth. His dreams and goals include wanting to bring people together through music, striving to always create an efficient and safe space for others to work and create. He hopes to become an A&R or Music Supervisor one day.