THE 8 BEST NEW INDIE RELEASES TO START YOUR WEEK
Image by averie woodard on Unsplash
Hey there! It's Arielle covering Best New Indie for the week! From familiar WATG favorites like Samia and John Errol, to new faces like Wallice and Mila Degray we've got a lot of ground to cover, so let's get right into it.
SAMIA - SHOW UP
Following her stellar album The Baby, we have been itching for more from Samia, who has  become one of our indie favorites over here. Last week, she shared a new single "Show Up" AND announced an upcoming EP. On "Show Up," she shouts out the band MUNA, and talks about being there for the people she cares about. She sings: "Nothing could ever stop my ass from showing up / To sing another song for the people I love." The music video directed by Joey Brodnax is fittingly stunning, as well.
WALLICE - DRAMAMINE
The highly anticipated Wallice Off the Rails EP has arrived and features the songs that made us fall in love with her, as well as two new ones. "Dramamine" is about fear and doubts that might appear in a relationship. Her doubled vocals deliver introspective lyrics over a driving bass line and baritone guitars.
JAPANESE BREAKFAST - PAPRIKA
To put it simply, Japanese Breakfast (Michelle Zauner) rocks. "Paprika" is the opening track of her new album, Jubilee, and it features poetry set to the sounds of a marching band. In an interview with NPR, she shared: "I was playing around with a lot of these Spitfire Albion orchestra plugins, and I had come up with this marching band thing that built up into this huge crash in the chorus."
REMI WOLF - LIZ
Remi Wolf fans have been requesting "Liz" for quite some time, as she had been performing the unreleased track live on tour. To their delight, Wolf has delivered. "Liz" is jazzy, soulful, and shows a slightly different side of Wolf while still maintaining the fun energy that she pours into her music. We're here for it.
Q - IT WON'T GET YA
Q creates modern classics by juxtaposing some of the best parts of legacy music with modern elements. This is why his album The Shave Experiment was one of our favorite releases of 2020. On June 4th, he shared a reimagined version of the album featuring new tracks including "It Won't Get Ya." With funk and disco elements, the self-written and self-produced song further proves why Q is one to keep an eye on.
BABY QUEEN, MAY-A - AMERICAN DREAM
Baby Queen is so cool and MAY-A is also so cool, so these two teaming up really is a dream come true. Situated between indie rock and pop, they fantasize about a crush on "American Dream" - just in time to be your soundtrack to long drives during hot girl summer.
MILA DEGRAY - RAGDOLL
With extremely vulnerable lyrics set to indie rock guitars, Mila Degray is about to explode. A modern homage to the pop-punk story of being bigger and better than your hometown, Mila Degray tells this story for a new generation. On Instagram, she shared "if you ever feel lost or feel out of touch with yourself because you're trying to fit in or changing yourself for people, f*ck  that man. Be yourself."
JOHN ERROL - UNBELIEVABLE
John Errol's synth driven single "Unbelievable" has arrived. With themes of imposter syndrome, questioning one's identity, and selling out, he shared that the music video "is loosely a metaphor for what it takes to navigate a career as an artist in the industry and quite literally involves a band selling their soul to the devil."
There you have it! Our favorite indie releases of the week. Check back next week for more of our top finds and be sure to follow our Weekly Indie A&R Chart Playlist- updated every Tuesday!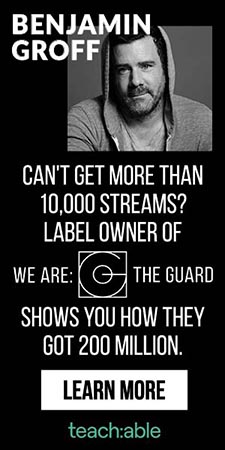 Arielle Tindel is from Cleveland, Ohio. She recently graduated from Berklee College of Music with degrees in Music Business Marketing and Songwriting. In her free time, Arielle can be found gardening or playing bass.