BEST NEW K-POP: CATCH UP WITH OUR APRIL WRAP-UP
Photo by  JYP ENTERTAINMENT Co., Ltd., Album Concept Photo
Annyeong, chingus! Who's still counting the days going by? I'm too busy counting songs to save and new releases to look forward to. The best new K-pop this month has literally been too good to skip, I can't risk missing out on anything. No pandemic, no quarantine, no boundaries, or circumstances are stopping our fave idols from creating these masterpieces of music! So, if you've got some catching up to do, you right now are in the right spot, reading the right round-up.
DAY6 – YOU MAKE ME
Day6 released their 7th mini-album The Book of Us: Negentropy - Chaos swallowed up in love, consuming us in the chaos of their lovely sound and wholehearted vocals. "You Make Me" is an emotional pop-rock song, and what I mean by emotional is that it's for all mood types. It's for the happy, it's for the heartbroken, it's for everyone to cry along to. The lyrics are a message for us to complete one another by being each other's light, hope and strength during challenging times. All the best wishes and love for the band leader, Sungjin in the military!
NU'EST – INSIDE OUT
Here's another feel-good song for the lovey-dovey out there! NU'EST will never fail to make your heart flutter like crazy. "Inside Out" is a very detailed POV of a hopeless romantic man, head-over-heels in love with *a very lucky* someone. The deep-house track is groovy and soulful, while the MV is modish and sexy. Fans are theorizing that the quintet portrays different moods- namely disgust, fear, joy, sadness, and anger, just like the characters of the same-titled Disney Pixar movie. Well, I guess it's possible for all these feelings to be felt when you're lovesick, right? What an exciting comeback!
ENHYPEN – DRUNK-DAZED
Start your "Engene" heart, we got a party to crash tonight. Enhypen is back with "Drunk-Dazed" from their latest album Border: Carnival. The EDM track is a fusion of house and synth-pop, though the lyrics and MV are quite darker than how colorful the song may sound when listened to alone. This rookie boy group is NOT the type to be babied, because these boys are more dangerous than you think. They might be real vampires and werewolves- who knows? They have the talent, the teamwork, the charisma, the complexity, and visuals all down. Bloody cheers to the 8 million views and #1 Trending Spot on YouTube!
SEVENTEEN – NOT ALONE
I hope everyone here feels the same love and togetherness that I do, with all these pandemic anthems coming one after another. "Not Alone" is Seventeen's third Japanese single. As high as the album's international sales are, the number of hearts that they're touching is countless. The MV is tear-jerking with the boys video-calling each other, playing around and all. But the lyrics are on top sentimental. I can hear their vocals hugging my loneliness away. Fans on TikTok are stitching videos of themselves passing on fan merch to one another, as an alternative get-together since we can't do concerts in person. Mingyu just came back from his short hiatus, making this era super special for Carats.
KASSY – I WILL LIGHT YOUR WAY (FEAT. CHO YOUNG SOO)
Former rapper-turned-mellow-K-pop-queen, Kassy is serenading her way to the top of Korean streaming charts. "I Will Light Your Way" is a soft-pop love song with a light orchestral instrumental track and an electronic bridge- all so refreshing and soothing to the ears. The track was produced by award-winning composer Cho Youngsoo, who's worked with top artists Davichi and T-ara. The MV cinematography has this Japanese-Indie aesthetic feel to it, perfect to stream and relax to on short coffee breaks. Personally, I love to play this kind of music while reading romcom webtoons and I highly recommend you do too (+ Kassy's other songs)!
A.C.E – DOWN FT. GREY
How lucky are we to witness this awesome collaboration between A.C.E and American EDM duo, Grey for the hit single "Down." The concept is homesy and wholesome, fun for all ages to vibe along to. Our boys-next-door get playful shooting home TikTok videos, which is very relatable because… who doesn't hang out on the app these days? The melody is an R&B bop, the lyrics are in full English, and the MV is in vertical orientation, just how we like it- hassle-free. Turn the music up and we are ready to chill! Btw, their visuals are radiant, including Byeongkwan's abs.
P1HARMONY – SCARED
We got P1Harmony in the house, stepping up the idol hip-hop game. "Scared" is a self-empowerment song, telling you to ignore the haters and just get back up on your feet! If you feel you are not enough to be the person you want to be, pump yourself up with this energizing track. Speaking of energy, these rookies are the definition of dynamism and power. Who here is into Chinese street action movies? The MV film's got that exact touch to it, intensifying the overall comeback.
AB6IX – CLOSE
One of today's hottest, AB6IX, is back to steal some hearts. MO' COMPLETE: Have A Dream is their 4th mini album with the title track "Close." The song is about loyalty and trust featuring the red thread of fate- a storyline from Chinese Mythology, popular today in manga, webtoon and anime. Everything about this comeback is creative and fantastical. The arrangement shifts from EDM beats to hip-hop to R&B, allowing each member to shine from the dance choreo, to rap, to vocals. Now that's what you call "well-rounded." If I may ask you boys, with your superior visuals flashing on our screens, how could you ask us to close our eyes?
ONF – UGLY DANCE
Title alone, I knew this song would be a fun one. Press that play button, now! The fresh and clean comeback "Ugly Dance" is an old school, funky dance track with hints of jazz and lots of dramatic synths. Get wild and follow your own body rhythm, may it be on beat or not! The City of ONF is the boy group's latest repackaged album, in which they're embracing their fun musicality and identity in each of the 14 tracks including this crazy title. The song is about being unbothered by trends and stereotyping. ONF encourages you to freely be yourself!
APINK – THANK YOU
THANK YOU APINK for the wonderful 10 years you have given the music and variety industries. These K-pop sensations have grown so much from being the white-dressed flower girls to becoming high-fashioned role models of 3rd and 4th gen idols today. Aside from their unending charms and undying talent, it's the sisterhood that has brought Chorong, Bomi, Eunji, Naeun, Namjoo and Hayoung this far. A few of their iconic hits include "Mr. Chu," "NoNoNo," "Remember," and "I'm So Sick." Let's reminisce with the girls while they recall memories in the MV shoot of their 10th Anniversary Special, "Thank You."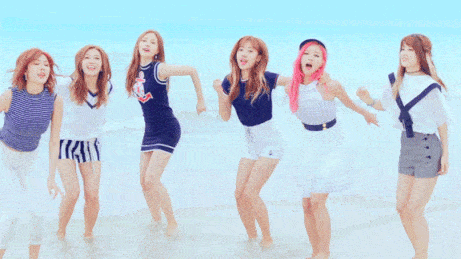 Gif by minyoongigeniudz, originally from A Cube Entertainment
---
That's a wrap! With the most beautiful voices in K-pop, let's end April on a lovely note. In the first week of May, we got legends including HIGHLIGHT and Ailee. So, don't forget to check back next Thursday! Annyeong~~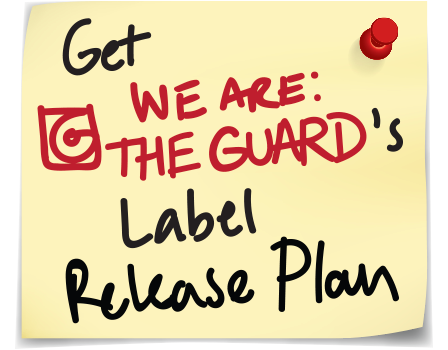 Hannah Lee is a Hallyu enthusiast from K-music to K-drama to K-food and even K-fashion. By day she takes her architectural apprenticeship, but by night she fangirls till sunrise. According to her latest MBTI test, Hannah is a perfectionist who has a lot of miscellaneous thoughts and is lazy... but passionate!