BEST NEW K-POP: MORE JANUARY COMEBACKS TO JUMPSTART THE YEAR
Momoland Teasers by MLD Entertainment CC by 4.0
Annyeonghaseyo, chingudeul! How is everyone? Well, the first few weeks of my 2022 have been crazy so far, post-holiday catching up with work and people and more work again. Is it just me, or when you're feeling super tired, do your ears get all moody too? Only the best of the best K-pop can get me through. Thank goodness, the newest comebacks this January are really serving the best of the best, jinjja (for real)!
After last week's GOT the Beat, KEP1ER and Woozi (hard to beat, right?), this week, we got back-to-back new songs from Taeyeon and Wheein, Momoland and fromis_9, Yena and Bambam and more! I mean, is this for real?!
TAEYEON (GIRL'S GENERATION) - CAN'T CONTROL MYSELF
The hype for GOT the Beat's "Step Back" is still soaring high, but this won't stop Taeyeon from laying low. Quite different from her heaven-high ballads, "Can't Control Myself" makes use of her lower tones along the mellow-rock track. Similar to the gritty sound in Rosé's "Gone," this song has that nostalgic, raw vibe to it. It's just that even in the simplest notes Taeyeon sings, her emotions come so strong, that even in the simplest production, she'd have us in tears. Anyways, to whoever holds Taeyeon's heart, you better not be playing!
WHEEIN (MAMAMOO) - MAKE ME HAPPY
Making me happy at the moment is another power-vocal idol, Mama Wheein, who is back with some light and groovy R&B. "Make Me Happy" is my definite go-to song right now, with Wheein's lovely vocals along a spring-like instrumental. The song fills my imagination with flowers, butterflies, dancing and laughter, it's just so stress-relieving. Though I've been quite sad knowing that she only has a year left in Mamamoo, the album WHEE is a step closer to great success as a solo artist and I couldn't be any prouder as a fan!
YENA - SMILEY (FEAT. BIBI)
With IZ*One members going home to their respected companies, all eyes await to see refreshing re-debuts from the Eyes On Me singers. After Eunbi, Yuri, Yujin and Wooyoung, and Hyewon, it's finally the happy virus, Yena's time to shine. This very dynamic track "Smiley" really reflects her irresistible and bright personality. The trending K-pop song has a bite of rock and rap in it, featuring popular rapper BIBI, this debut is a winner. Listening to this song makes me feel like a cheerleader, and her vocals are just so mood-boosting to hear. Who needs vitamins now that we have Yena?
BAMBAM - SLOW MO
If only time could slow down or if we had more hours in a day, we'd have more time to make good memories and live our dreams before going back to hopefully a good night's sleep. Sing it Bambam, sing it. The song is not only a love song for the romantics, but reflects what most of us have been feeling over the past couple years of the pandemic. The gentle beat and atmospheric synths are sentimental and Bambam's warm vocals feel like a hug. His solo music so far has been so touching for the fans, this man doesn't deserve us, but so much more. I'm crying!
MOMOLAND X NATTI NATASHA - YUMMY YUMMY LOVE
Breaking the winter ice is Momoland, who are turning up the heat and bringing back the funk in K-pop! Reliving their glory days, the girls have the entire stan community singing and dancing along to "Yummy Yummy Love," just like when "BBoom BBoom" and "Baam" took over the world a few years back. This song is more of an evening starter, with its smooth beat, retro-disco vibes, amazing horns and "babararam"-s from six colorful vocals. Featuring Dominican star, Natti Natasha, we got a more textureful and diverse track to play on repeat this week!
JAMIE MILLER - WISHES (SNOWDROP OST)
Here's another guest from the west, "Here's Your Perfect" singer, the sensational Jamie Miller. With an original soundtrack for Snowdrop, Jamie gives us real feels to Jung Haein and Jisoo's on-screen chemistry and heartbreaking moments in "Wishes." The sad ballad is a love song with heavy, echoing vocals and airy instrumental, as if Jamie sung his lungs out in an empty arena. I mean no spoilers, but the lyrics give hints of the North Korean agent-Freshman from the South story away with "my life goes dark when I know that I can never be your love." Now, how are we going to get that happy ending?
FROMIS_9 - DM
Hybe's Queen group, fromis_9, is on a roll with lots of new songs within the past few months. If you've already listened to "Feel Good" and "We Go," you'd notice the retro and sleek direction the girl group is steering for. Although I do miss my cheerful faves like "Love Bomb" and "DKDK," it's nice to see how much fromis_9 has grown into mature young ladies. "DM" is a mix of smooth and jazzy R&B, allowing a mix of cute and sexy choreography as well. One thing I love most about this group is their delicate and playful vocals, and this song highlights them perfectly. "DM" is a perfect comeback!
YUJU - PLAY
Now active as a solo artist, Yuju has the freedom to try out whatever she likes with her amazing singing talent. Kicking off, she's gone for the sexy, atmospheric fusion of pop and R&B, adding in some oriental elements for "Play." The song executes her strong points, the long and high notes, which Yuju is well-known for in the idol scene. As the title suggests, the theatrical concept shows off her exemplary dancing skills, as well. She stated in interviews that she's been nervous to re-debut alone, but as of what I see, Yuju honey, you have nothing to worry about! Chukhahaeyo (congrats)!
DRIPPIN - VILLAIN
When outrageous visuals and talent combine, we have Drippin. And while we're all in our Main Character personas, these boys play the "Villain." I am so obsessed with the funky intro that grows into this rich, sexy, and upbeat track. I personally love this boy group's rap skills too, they have charisma and power and their live stages are super exciting to watch. If their aura and presence have our full attention this comeback, then this must be it, the genre that they perfect. Congrats to their third mini-album,Villain, and great start of the year!
JINJIN & ROCKY (ASTRO) - JUST BREATHE
Just thinking about Astro alone makes my heart flutter, but when they release new music, it ascends me to heaven. The concept is killing me, playing the provincial funny oppas we all fall in love with in K-dramas, in their sweatpant outfits and all. The party dance track has the arcade feels to it, perfect to play when you're in need of awakening and energy. Being the all-rounded stars of Astro, as expected, their dance moves are very creative and fun to follow. I got so many laughs out of the MV!
AB6IX - 1, 2, 3
To complete the week, lemme recommend you new music from AB6IX. "1, 2, 3" is this week's feel-good K-pop song with it's mix of modern and soulful pop, somewhat reminding me of The Jackson 5's "ABC." All four members' vocals are just so beautiful and nice to listen to. Their positive energy in this song is contagious, and they couldn't have released this at a better time than today. From the bridge towards the end of the song, your mood will swing high. I'm glad to recommend this healing song with you, chingudeul! It's a must share.
Zero sad and eleven happy songs for the week! Thank you January, the K-pop scene is thriving, just how I want to come home to. Adjust your playlists, chingudeul and happy listening. See ya on next week's Best New K-pop here on We Are: The Guard, annyeong!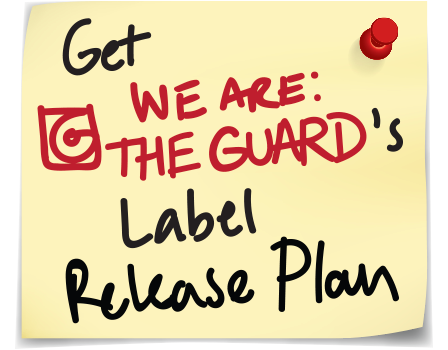 Hannah Lee is a Pinoy Hallyu fan from K-music to K-drama. By day she takes her architectural apprenticeship, but by night she fangirls till sunrise. With a long list of faves, she strongly believes in Big Bang supremacy!