BEST NEW K-POP: FOR FEELS OUT OF THIS WORLD
Chingudeul (friends)! For this week's round-up, we got a full house of the biggest names in K-pop. Your idol, my idol, everyone's idol, EXO is really back. We also got Twice, NCT 127, rappers Ravi and BM, plus a few rookies flying in. This week's music is outrageously out of this world, so get your feels ready and let's get it!
EXO - DON'T FIGHT THE FEELING
No matter how far EXO flies out to, their music will always be closest to our hearts. Back with Lay, Xiumin and D.O, the boys are exploding high spirits and positivity everywhere with their seventh EP and title song "Don't Fight The Feeling!" This mood-booster of a track is an electro pop bop with splashes of soul and streaks of color. The impact of their lighthearted voices just hits different after missing the boys for some time. You will feel the song fill up your heart and home with good vibes. And can we talk about their beaming visuals? Ahhhhhh! I'm screaming! These feels, we can't fight!
TWICE - ALCOHOL-FREE
The queens of all seasons, Twice, are back just in time for the summer! Now the party REALLY begins. Switchin' up style to a sexy latin groove, "Alcohol-Free," produced by JYP himself, will have you wrecked and thirsty for more. These girls are owning the tropical bossa nova feels from the jazz sound, to the vibrant colors, to their alluring dance moves. The lyrics mention too many drinks, but their half-breathy vocals are enough for me to pass out. Well, stream this to turn on the summer heat! And if you can't go out just yet, allow the girls to bring the seaside to you.
NCT 127 X AMOEBA CULTURE - SAVE
I love how NCT is always game for collabs, especially when it's for a cause- from promoting health and fitness, to children's learning, to saving the environment. Just as how the world advances everyday, NCT 127's music is always new and futuristic, but they won't be leaving any species from mother earth behind. I wish I could be a tree and maybe the boys could take me for a spaceship ride. Well, working with Korean hip hop label Amoeba Culture for "Save" was a total reset! Just NCT doing their job, saving you, saving me, saving the earth.
N.FLYING - MOONSHOT
Leaping to the moon in celebration of their first full studio album since 2015 is FNC rock band, N.FLYING! Thankfully, the boys renewed their contracts this year, earning us more time to witness their magical music. "If you wanna change, be not afraid" is what the six member band chants to get you up on your feet. Is it working? The indie pop rock track "Moonshot" starts off with an easy beat and rhythm guitar which accelerate into upbeat bluesy swing feels. Their vocals and rap are as captivating as their charming visuals, I'm falling in love with this band, to the moon and back.
RAVI - CARDIGAN (FEAT. WONSTEIN)
No summer heat won't stop us from longing for some warm love. TV personality, K-hiphop icon and VIXX rapper, Ravi, released his newest album Roses. I've never heard such a romantic rap track like "Cardigan," giving off feels so dreamy and heart-fluttering. Ravi's voice is one of the deepest in K-pop, it goes so smoothly well with the reggae tune and groovy beat, that the combined sounds will melt in your ears. Wonstein's artistry is beyond human capability, they produced a timeless masterpiece. If you're searching for summer love, this is the one to jam to.
GHOST9 - UP ALL NIGHT
Rookies Ghost9 are not just your typical boys-next-door. These flower boys turn their adventurous imaginations into bright and colorful reality, to keep you "Up All Night." With their fourth EP Now: When We Are in Love, the nine-member boy group is back shortly after their last comeback in March. If you miss power pop music, this is totally the genre's comeback in K-pop. The song is a lovely description of fluttery feelings and how beautiful the world becomes when one falls in love. Oh boys, little do you know, you are the ones keeping Ghosties up all night!
HA SUNGWOON - SNEAKERS
Are you up for another imaginary trip to euphoria? Put them "Sneakers" on and press play. Summer is not only for beach and club music though, this season won't leave happy healing tracks out. Former Wanna One and Hotshot member, Sungwoon's voice will radiate sunshine into your life. The track is a fun fusion of upbeat soul and dream pop, something fun to sing-along to! Fans are loving how all-round the solo artist can be, as he fits each genre and concept he steps a foot in. His talent is natural and his enthusiasm is sincere, he's just so loveable!
WEI - BYE BYE BYE
A funky and lush vacation it is with WEi. The six member rookie boy group is glowing and hotter than the weather for "Bye Bye Bye!" But don't worry, this ain't a goodbye song to love, but to the troubles and worries that you need to let go of this summer. Set yourself free from the stress and turn the volume up to this jam along with other tracks from IDENTITY: Action. The members showcased too much talent this time, writing original lyrics with the help of MosPick, hitmaker producer who's worked for Cube artists and IZ*One.
EPEX - LOCKDOWN
Whoah! A jaw-dropping debut coming through, excuse me! EPEX is C9 Entertainment's newest rookie boy group of 8 members, formerly known as C9 Rookies. "Lockdown," from BIPOLAR Pt. 1: Prelude of Anxiety, is a strong hip-hop track with a modulating flow throughout the song. The vulnerable lyrics are inspired by these trying times and the emotion in the boys voices are overflowing, it's electrifying. They mention the pandemic, wars, social media- all these factors that trigger anxiety and fear. The feels are relatable, so let it out with this song. Thank you EPEX, for standing up to the world!
BM (KARD) - BROKEN ME
Spirits up and hands down if you've waited for more after "Better Myself" and "Bad Manners."  Co-ed group KARD's dancer-rapper-producer, Big Matthew "BM", released an emotional track "Broken Me." His brokenness and sorrow have turned into verses of a story we all need to hear. His flair to write something similar to what we go through at one point in life is a reminder that you are not alone. The song is composed in English and shifts from slow trap verses to a rock-influenced chorus. I swear I don't wish for BM's suffering, but his pain is one I can get addicted to.
--------
Go farther out of this world to check out BTS' "Butter Cooler Remix" and Blackpink's live audio from Blackpink Livestream Concert: The Show. Don't forget the final performances of Stray Kids, ATEEZ and iKON on Kingdom. And if you remember 2nd gen dancing icons, Infinite's Hoya and B.A.P's Zelo, they are both back in the K-pop scene with solo music!
You got it? Don't fight the feels anymore. There's no reason to not obsess with us. Come back next Thursday for more of the best new K-pop from UP10TION and Bambam! Annyeong!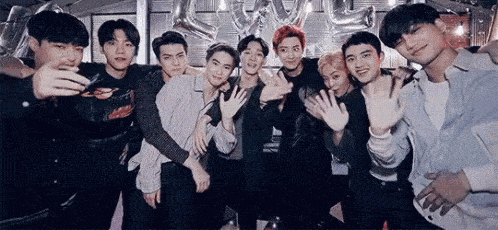 GIF by ThisGuyFawkes
Image Credits
KAI by Great Treasure, CC BY 4.0
DAHYUN by SHAQ, CC BY 4.0
TAEYONG by Only Ũ, CC BY SA 2.0
LAY by Excentrique, CC BY 4.0
Hannah Lee is a Hallyu enthusiast from K-music to K-drama to K-food and even K-fashion. By day she takes her architectural apprenticeship, but by night she fangirls till sunrise. According to her latest MBTI test, Hannah is a perfectionist who has a lot of miscellaneous thoughts and is lazy... but passionate!