BEST NEW K-POP: THE QUEENS AND KINGS OF HEARTS ARE BACK
Annyeonghaseyo, chingudeul (hello, friends)! In this week's top ten of the best new K-pop, we have only one girl group reigning over nine other male artists. Roll out the red carpet, their Queendom has come as every k-pop fan's will be done! The boys are quite the royalties themselves, prepare your hearts to hear from the best right now. Manse (all hail)!
RED VELVET - QUEENDOM
Red Velvet's been serving the K-pop kingdom for seven years now, already?! It's about time they open their own. Sixth EP, Queendom, is their craved grand comeback since 2019, when "Psycho" was everyone's favorite and pretty much expected to be last year's Song of the Year (possibly rigged). Girl power title track "Queendom" is a vibrant mix of electropop and house with an explosive doo-bee-dop hook and celestial music video. Their pretty vocals and playful melody bring us home to that missed sound from tracks like "Russian Roulette" and "Peek-A-Boo." Finally, something for people in and out of the ReVeluv fandom to celebrate!
TXT - LO$ER=LO♡ER
It's just so touching how TXT recognizes so many hearts with their relatable content, no matter how heart-breaking they can be. Just as in this punk-pop track "LO$ER=LO♡ER" from their repackaged second studio album, The Chaos Chapter: Fight or Escape, they emit rebellious yet mood-boosting energy. They carry out angst, confidence, and all these mixed feelings so well. Fans theorize the plot follows 1991 film, Thelma & Louise, a tragic story of friends escaping the world. Mind-blowingly, could this be the prequel to "0X1=LOVESONG?"
TEN & YANGYANG (WAYV) - LOW LOW
And today we got ourselves another sub-unit of a sub-unit of NCT, called WayV-TEN&YANGYANG, bringing us high high with "Low Low." Killing the Western hip-hop sound, WayV just proved how more diverse they can be after pop-rock track "Paint Me Naked" and dramatic ballad "Back To You." The song creates this free and breezy atmosphere, good to play on the road and very TikTok viral-worthy. If you can't get enough, you can check out Doyoung and Haechan's "Maniac" after this. Just don't keep Ten and Yangyang's love on the low, low.
STRAY KIDS - DOMINO
On the countdown to their upcoming album, No Easy, the Stray Kids have been releasing teaser after teaser from the lightest to the darkest of concepts ever. But "Domino" in particular has caught the most attention lately with almost 3-million views on YouTube. The boys have gone wild on this hardcore beat. While JYP boy groups are well-known for their hip-hop swag, I'm crowning SKZ the most aggressive! They really shine when they rap, not the conventional K-pop idol rap, but really rap, while eating Dominos and taking domination.
CIX - WAVE
The K-pop scene can be quite overwhelming sometimes with boomtastic (wait, is this a word?) party tracks, so it's nice to release stress and take a breather with easy-going tracks like CIX's "Wave." The mid-tempo EDM track allows your body to freely sway and bop along to the jazzy synths and feel-good beat. Though CIX is known for their strong and charismatic image, their vocals and rap this time are refreshing. Plus the boat-scenes in the music video are so cute and funny, I'm all smiles here, really.
KIM JONG KOOK X ATEEZ - BE MY LOVER
If you find the guy with an amazing bod familiar, he's on Running Man and apparently a K-pop idol from the 90s! Here he is with ATEEZ, whose fandom also massively grows day by day. "Be My Lover" is an old-school summer bop full of fun and fanboying, as this must be a dream-come-true for ATEEZ to sing with Kim Jong Kook. The happy tension between the singer and boy group's vocals are so exciting! The sing-along type of melody will grow on you before the song ends. I just hope they could've released this earlier in the summer.
PARK JIHOON - GALLERY
With the K-drama At A Distance, Spring is Green viral everywhere, singer-actor Park Jihoon's uprising to superstardom is nonstop. Smart move is to use the perfect timing to release new music, and "Gallery" is AMAZING. The tropical-disco track is the grooviest song this week and fun for all ages to enjoy. You can hear the love and effort he puts into singing with his warm vocals, plus his charming visuals and funky style are a dancing work of art! Attention and appreciation, deserved.
GRAY - PARTY FOR THE NIGHT (FEAT. LOCO & LEE HI)
One of the most iconic and undeniably good-looking rappers in K-hiphop is Gray who's been releasing back-to-back hits with big names such as Zion.T and YUMDDA. This week, rapstar Loco and vocal queen Lee Hi backed-up Gray on "Party For The Night," which came out very lit as expected. The rhythm in the rappers bars are so creative and high-spirited. Lee Hi opens her mouth and glitters of soul pour out endlessly. The vibes of this easy R&B-hop track are luxurious and rich. Cool, cool, cool!
JMIN - DEDICATION (FEAT. JAY PARK)
"Shit's a bop" as Jay Park says, and I agree. Summer hip-hop beats are always the best. I love how bright and cheerful the vibes of "Dedication" are while the piano on beat is quite nostalgic of 2000s western hip-hop. Jmin is one of Jay Park's newest recruits under H1GHER Label, and I think he started off on the right foot very well with this uplifting song and ecstatic energy. His fun and colorful tones alone are remarkable enough. So I'm looking forward to more! Chukhahaeyo (congratulations)!
PENTAGON - CERBERUS
As strong as the three-headed dog we know from Greek mythology, "Cerberus" comes in the form of the three monster maknaes (youngest) from idol group Pentagon! Maknae-line Yuto, Kino and Wooseok do the bad boy and Joker-concept so well, they must've enjoyed the freedom to go all-out for the video shoot. The heavy beat and edgy rock style they add to hip-hop for this track is insane and satisfyingly chaotic. Their vocals and raspiness make me speechless! They've changed the game in the idol rap scene.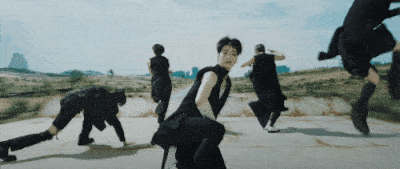 Gif by HYBE LABELS
Hearing from Red Velvet and TXT again, I feel as if this heavy load of stress was lifted off my shoulders. I hope you guys have your comfort in this week's best new K-pop as well. Plus, more royalties are on their way to save your days. Next week, we'll have a full album from the Stray Kids and solo debut from IZ*One's Kwon Eunbi! For now, annyeong!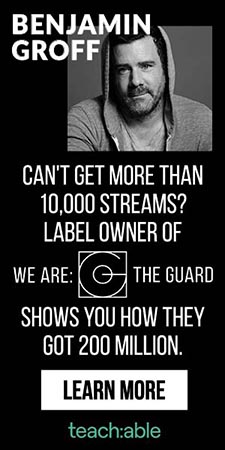 Hannah Lee is a Hallyu enthusiast from K-music to K-drama to K-food and even K-fashion. By day she takes her architectural apprenticeship, but by night she fangirls till sunrise. According to her latest MBTI test, Hannah is a perfectionist who has a lot of miscellaneous thoughts and is lazy... but passionate!