BEST NEW K-POP: WHO TO HEAR AND WHAT TO SING THIS SEPTEMBER
A-yo, chingudeul! Why is everyone up and excited, our non K-pop friends may ask? We are literally moments away from one of 2021's biggest events in K-pop. And yes, we are talking about Blackpink Lisa's solo debut! So gather everyone you know (virtually please, as much as possible) and countdown with us. To keep this energy flowing, how about we listen to the latest of this week's Best New K-pop!
STAYC - STEREOTYPE
"So Bad" and "ASAP" were sensational, but "Stereotype" is our new favorite! Sumin, Sieun, Isa, Seeun, Yoon, and J sing about having unique charms and being different, 'coz aren't we all? They really bloom with their natural singing style and down-to-earth vibes. Their bubblegum, technopop foundation flourished even more with the lighter and melodic instrumental, and I found my heart pounding during the bridge. Realtalk, debuting from a smaller company can be risky, promotion-wise. But STAYC proved that with talent, passion, hard work, genuine support and awesome sound, K-pop idol dreams do come true!
LEE HI - SAVIOR (FEAT. B.I)
Lee Hi and Kim Hanbin's (aka B.I) unconditional friendship is admirable. With a simple "sing with me," a masterpiece is made. If you appreciated "No One," you will most definitely love "Savior." The R&B track has a subtle yet amusing sound to it, with the mellow jazz instrumental and playful rap. Even the small things, like Lee Hi's breath and the pause drop before B.I's part, add buzz and tension. The besties sing of giving each other the will to live, thus being each other's "Savior," how beautiful!
OMEGA X - WHAT'S GOIN' ON
Omega X, what's good? Noise music was a trend in 2013-ish K-pop with distorted melodies, industrial beats and buzzy synths, and groups including NCT, have been bringing this back. With "What's Going On," Omega X makes the genre all worth vibing to, even more. Not only are their looks fierce, but they stand out with aggressive rap and wildly-ranged vocals. The eleven-member boy group just debuted last June, yet their fandom and listeners are growing to almost 3-million on YouTube! Chukhahaeyo (congrats)!
YOUNG K (DAY6) - GUARD YOU
Now for some alternative rock, we have Day6's rapper-singer-bassist Young K. Nothing can be any more dreamier than Young K in "Guard You." His lyrics alone express the hot boyfriend-material he is. Starting the song emo with "even if someday only scars remain, I'll hug you till the end," the My Day fandom well-theorized the song to be for the fans, as Young K will be 'guarding' the country in his October military enlistment. So, I'll be in my room, crying to this song all night long.
LOONA - NOT FRIENDS (PROD. RYAN JHUN)
HeeJin, Kim Lip, JinSoul and Yves of LOONA are badass, but not overly aggressive and just right, in the action-filled "Not Friends." The R&B track has chic Latin flavor in the groove and catchy guitar loop, giving these classy bar vibes to the song. Quite different from their upbeat 'comfort zone,' this collaboration with Ryan Jhun perfectly showcased the girls' versatility. They don't even need to dance because their charismatic vocals alone are on point. Girl crush alert!
IM (MONSTA X) - LOOP (WELCOME TO MY BAVERSE)
Monster maknae Im Changkyun's "Loop" is a trap track with minimal variation yet deep energy. Putting the K-pop idol-role aside, we all love an honest artist who speaks his mind through his music. One fan moved the Monbebe fandom, commenting that the line "Purple in my head" sounds like "people in my head," which can actually be Changkyun's play with words as he raps about the anxiety he experienced during his training. In his viral interview with Baverse Studio, he advised aspiring idols to pursue music with the love for it, and not for fame.
A.C.E - CHANGER
Is it just me or A.C.E has been spoiling us with new music, almost monthly? Well thank you Jun, Donghun, Wow, Byeongkwan and Chan for reading our minds because we cannot get enough. The perfect mix of dream and electro pop gives us "Changer," topped with the boys' ethereal vocals and an emotional group chorus to sing along to. Flashing supporting messages from fans, this song is for the Choice fandom, to whom they sing "You have the right, shine beautifully."
ASTRO - ALIVE
Similar to the feeling Shaun's latest "I'll Find You," this song gives this African musical adventure to the ears. Astro's "Alive" is a light-hearted mix of dream pop and tropical EDM but fully highlights their captivating vocals. If you're looking for healing K-pop or a mood-booster, this is the perfect song to get you motivated. No wonder the fantastical atmosphere, they define love as a "a happiness that can't come again, I think I like it," and we love this feeling too, ASTRO!
PURPLE KISS - ZOMBIE
Going back to the gayo side of K-pop that we all love, here is Purple Kiss with "Zombie!" Well actually, this song is another limitless mash-up of genres including rhythmic rock and disco, topped with a poppish-leaning melody of power vocals and unique rap. With the addictive glitchy "zombie-bie-bie-bie" post chorus, Purple Kiss will have you on LSS in no time. The wild city-girl and Harley Quinn concept is classic and they are killing it. #StanPurpleKiss!
LISA (BLACKPINK) - LALISA (TEASER)
Are you still with me? Because by the time this is posted, we will be around a good 12 hours away from Lisa's solo debut! Before Blackpink ever debuted, Lisa was introduced to the K-pop scene as a trainee of YG Entertainment with the tagline, "Who's that girl?" And just a few months ago, Lisa herself teased us damn well with an instagram story asking "What's my name?" The answer to these questions is hella hot. So let's witness her debut altogether on Sept. 10th, 1PM Korean time, and be back with me next week to obsess over the banger we know "Lalisa" will be!
-----
What more surprises will await you? ATEEZ and Mamamoo! Don't forget to check back for next week's Best New K-pop, right here on We Are: The Guard! Stay safe chingudeul, annyeong!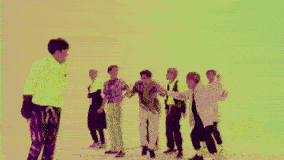 Gif by Caio Azevedo
Hannah Lee is a Hallyu enthusiast from K-music to K-drama to K-food and even K-fashion. By day she takes her architectural apprenticeship, but by night she fangirls till sunrise. According to her latest MBTI test, Hannah is a perfectionist who has a lot of miscellaneous thoughts and is lazy... but passionate!