BEST NEW K-POP: 10 SONGS TO WRAP A CRAZY SEPTEMBER
Knock knock! (Who's there?) Itzy! (Itzy, who?)
Itzy last week of September! Annyeong, chingudeul… sorry for that. But wasn't it just yesterday, when we were on gangsta mode and cracking our backs to "Mafia In the Morning?" Even BTS, AB6IX and the Cosmic Girls are all unbelievably back, and so I'm doing my best to keep sane while choosing just ten of the newest songs in K-pop. But now, I'm realizing that this genre simply exists to drive us crazy. If you already are (most likely you surely are), then good. Stay insane and stan the following:
ITZY - LOCO
ITZY is literally "Loco" for this! The song is a bomb of pazazz, dropped on this massive banger of an instrumental. It's a festive mix of pop and hip-hop, with Latin and Hindi here and there, all working together. I just feel the need to say that with this comeback, ITZY is the standard! Their performance is pure charisma and power, from Ryujin's radiance to Lia's vocals, and their energy is freaking contagious. Along with "Swipe" and the rest of their CRAZY IN LOVE album, this is the perfect way to start the day. Oh, and if you plan to go Red Velvet "Psycho"-mode into using this song to confess your crazy love for someone, I recommend that you follow Yeji's choreo as well. Hwaiting!
COLDPLAY X BTS - MY UNIVERSE
Now could any collaboration with BTS be more unreal and fulfilling than this? After their 32-million viewed unplugged cover of "Fix You," the kings of K-pop met honorable British rock band, Coldplay, for "My Universe." This dreamy electropop track is everything, I swear to the celestial gods you will feel at peace. It's so cool to vividly hear both artists' styles in one song, BTS' emotional spark from "Spring Day" and Coldplay's euphoric effect from "Yellow" and all of their songs, actually. Fun fact is, for Chuseok (Korean Thanksgiving), BTS gifted Coldplay with modernised hanboks, how adorable!
WJSN (COSMIC GIRLS) - LET ME IN
Speaking of the celestial gods, the goddesses are back! It's been a while, so allow me to introduce WJSN (read as Wuju Sonyeo or simply Cosmic Girls), a 13-member Korean-Chinese girl group from Starship-Yuehua Entertainments, popular for their flexible stunts. The K-line just released "Let Me In" via Universe Music and this love song shouts WJSN all the way. The feels of soaring and flying with the wind, in a purple sky filled with pink clouds, the song feels like spring in autumn, very refreshing. And their vocals will send you straight to heaven.
KEY (SHINEE) - BAD LOVE
A few weeks ago, we wrecked our minds to "Hate that…'' while there was more coming. Key's newest album, BAD LOVE, was originally planned for release in July, until he revealed that production wasn't going his way. Sadly, he admitted that his comedic personality is actually taken for granted behind cameras, and that his musicality is not taken seriously. Thank god, our man stood up to the corporate crap and pushed through with his ambition. "Bad Love," quite different from his group's theatrical comfort zone, he finally unleashed his inner diva and Michael Jackson through this dreamy retropop track. The song's a masterpiece.
AB6IX - CHERRY
The day has actually come, that we witness AB6IX do their brightest and most cheerful song yet ever. To MO'COMPLETE, their most colorful album yet ever, our eyes and ears have some adjusting to do. AB6IX usually goes for the darker concepts, may it be hardcore, sexy and slick, or sad and mysterious- and they've been hiding the funk within for two years now! "Cherry'' is the ultimate mo'town party track so far this fall season in K-pop. Trivia? Born idol Daehwi, the cutie in green, composed the song himself and worked on the lyrics with Woojin, the other cutie with cherry red hair.
CIIPHER - BLIND
Rain's kiddos are killin' it! His latest boy group, Ciipher, returned strongly for their first comeback since debut, titled "Blind" which is a self-produced song about well, falling blindly in love. Stop it guys, I'm blushing! The track is an upbeat fusion of rock and hip-hop, with a beautiful touch of orchestra. This style reminds me of Block B, and they totally went against the norms of traditional K-pop. Following their footsteps, this idol rookie group is an exciting stand-out to me, with their unique and rockstar charms.
DO HAN SE (VICTION)  - TAKE OVER
From G-dragon to Dawn, a new descendant of "arts and rap" in K-pop has been born. Viction's Do Hanse is not your regular idol, no more. It's electro-hop, club, drag and vogue all in one, something rare not only in K-pop, but in the international music scene, am I right? (You can always reach out to We Are: The Guard when you have cool artists in mind!) His godzilla-rapping skills alone are amazing, but this music video introduced what Hanse is all about. "Take Over" by Hanse won my heart this week.
DOWOON (DAY6) - OUT OF THE BLUE (DUET WITH SONG HEEJIN)
As a huge fan of rom com K-dramas and slice-of-life webtoons, I am thrilled to share with you "Out of The Blue" by Day6 drummer and maknae Dowoon, alongside former GOODDAY's Heejin. Yes, the music video is filled with adorable animations and the song has these easy afternoon break feels, but there's more to the song than it's bubbly and lightheartedness. Dowoon shared his charmingly deep voice to spread boosters of moral support and positivity in this song about finding your pace and taking steps towards your goals. Are online classes or work from home stressing you out? This is the fuel you need.
HOT ISSUE - ICONS
Are they hot? -Yes. Are they an issue? -of a magazine? They should be! Hot Issue is bringing the moombahton back in K-pop in the most perfect timing because I've been missing this sound! Haven't we all? I have the bridge on loop right now and just thinking of how Yewon's vocals send soundwaves to my brain gives me chills! The song actually reminds me of CLC's "Helicopter," yet it's hard to believe that Hot issue just debuted last April because they know damn well how to work and snap. I am ready to join their fandom, as in right now.
CL - LOVER LIKE ME
By next month, former 2ne1's Queen CL will finally release her very first solo studio album in 14 years of a banging career. Well, "Spicy" was a major success with 14M views in one month, followed by her surprise appearance on the 2021 Met Gala floor. Now "Lover Like Me" brings back the hopeless romantic side of CL. The song is a western-influenced R&B track and rather than flexing her rap, she's belting off beautiful vocals that we've missed for so long! It's good to know that she's officially back and here to stay. Stay hyped for ALPHA, chingudeul!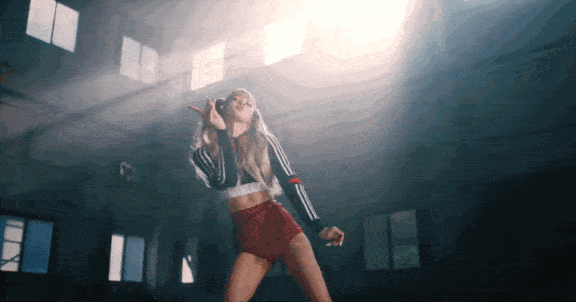 Looking back on this month's K-pop, September was too crazy-good to give us Megan Thee Stallion's slice of butter, Lisa's record-breaking solo debut, Yoseob's first solo album in 12 years, to fromis_9 and Stayc's first wins. My attachment issues to our fave idols this month are waving, but there's so much to look forward to in October! We got Twice, aespa, Got7's Youngjae and lots more. So stay tuned till next week, chingus. Annyeong for now!
Hannah Lee is a Hallyu enthusiast from K-music to K-drama to K-food and even K-fashion. By day she takes her architectural apprenticeship, but by night she fangirls till sunrise. According to her latest MBTI test, Hannah is a perfectionist who has a lot of miscellaneous thoughts and is lazy... but passionate!