BEST NEW KPOP: GET READY FOR THE HOTTEST AND NEWEST K-POP DE MAYO
Photo by JYP ENTERTAINMENT Co., Ltd., Guess Who Album Image Day Poster
Annyeong, stan community and chingus! Another month means another wave of the newest music in K-pop! With the weather warming up, we got the warmest to the hottest latest hits for you. We got mafias, we got girl bosses, we got flower boys, we got romance and drama- everything you like! Let's start the month of May right with some energizers listed below.
ITZY – MAFIA IN THE MORNING
From cowgirl gangsters to real mafias, Guess Who? It's ITZYYYYYYYYY~ The power and poise that these girls hold intensify each comeback. "Ma.Fi.A. In the Morning'' is a hip hop track with shiny beats, swaggin' rap and ear-tickling vocals. The stereophonic effects with sounds panning from your left ear to the right brings more chills, as if you're actually in the girls' territory. Fun fact, the Mafia Game is a popular yet timeless game in South Korea- making this concept as loveable as the girls make it! Well, hands up to the 65.3 million views! I'd surrender to ITZY anytime.
HIGHLIGHT – NOT THE END
I grew up listening to these oppas and I'm telling you that their music is to live for. HIGHLIGHT, formerly known as B2ST (Beast), was the real game-changer and one of the top trendsetters of 2nd gen K-pop. Today, they relive their glory days with their latest album The Blowing and title track "Not the End." The spring track is a mix of light EDM and pop, with extra emphasis on their heartfelt vocals and piano, making the overall song very emotional. "I'm still here" are lyrics that fans wish to sing back to the legendary boy group, showering it with over 8 million views in just one day.
HOT ISSUE - GRATATA
I see 2021 Best New Female Artist of the Year nominations coming up for these newest hot talks of the town. "Honest Outstanding Terrific Issue," or simply Hot Issue, is the name of the 7-member rookie girl group who just debuted with "Gratata." Killing the shooter concept, they are attacking us with massive rap skills on top of their smooth vocals, sharp moves, and girl boss visuals. The debut song alone is a deserving hit, it's a brassy fusion of electro-hop and festive party music. The group is starting off strong with over 5 million views in less than a week, now that's a record.
SUMIN + ZION.T – CREAMPPANG
Literally sweeter the second time around, "Creamppang" (cream bread) is Sumin and Zion.T's 2nd self-produced collaboration after last year's "Dirty Love." The track's got that indie R&B pop vibe to it, perfect for a chill evening party. Their light and unique vocal harmonization on top of electric snaps and relaxed beats make the song sound so cute and fun. Yet, the lyrics can be taken quite sexy or however your ears and brain sense it to be. The endless hangover concept is not only funny, realistic and (hopefully not) relatable but oddly aesthetic for a MV. Congratulations and Happy 10th Year Debut Anniversary to the legendary Zion.T!
EAEON – DON'T (FEAT. RM OF BTS)
Another extraordinary voice in the Korean indie scene is eAeon, who is back with "Don't" featuring idol rapper, RM. This R&B track is a heartbreaking one. Whether you've experienced a breakup or not, I think you can definitely hear the sadness and regret one would feel in eAeon's voice. The overall sound is cold and cloudy with the singer's airy vocals and atmospheric instrumental effects which bring more drama to contemplate on. RM's rap is of course supreme, and with the ARMY tagged along, the song is building the audience it deserves. Kudos to the MV actors as well, it all feels so real!
BUMKEY – THE LADY (FEAT. MOONBYUL OF MAMAMOO)
K-R&B royalty Bumkey teamed up with singer-rapper Moonbyul for a soulful jazz track. "The Lady" is a love song of a man's appreciation for his lucky lady. With the beautiful piano and smooth arrangement from their vocals to rap back to harmonization, I think I could use a drink and listen to this all night. The range of talent and style that these two artists hold is so colorful and diverse, no one saw this collaboration coming. Even apart from Mamamoo, our Moonstar shines perfectly! And that one second-long sexy scat, when Bumkey sang, "Ba-ba-ba-ba-baby~", I felt that.
YESUNG – BEAUTIFUL NIGHT
The CEO of K-pop vocals is undeniably Super Junior's Yesung, who just released a mini-album and title track, "Beautiful Night." The retro jazz-pop song showcases his undying charisma and developed vocal skills built over the years. The energy is high throughout the entire arrangement as his sole voice is uplifting and the fun saxophone drops are gratifying! The breezy vibes make you want to dance under the moon and stars. Well, the MV setting does remind me of La La Land with the yellow bright colors under the blue night sky. Congrats, the song topped iTunes Top Albums charts in 21 regions worldwide!
BEN – BECAUSE I AM A WOMAN
Ben, Queen of K-drama OST, is known for her effortlessly high and long notes in soundtracks from Oh My Venus and Hotel de Luna. Today, Korea is loving her remake of the 2001 hit "Because I am a Woman," and pushing her to the top of music charts. Ben's take on the love song is minimalistic yet her voice is so complex. The original track is the debut single of 1st gen K-pop trio, KISS. If you've ever read on the internet the story of a couple in which the woman goes blind, and the man sacrifices his eyes for her, this is the MV that story comes from.
PUNCH – WE'RE BREAKING UP
Next empress to Ben in K-drama OST and mellow K-pop is no other than Punch! For "We're Breaking Up," her melody is quite pop-leaning and R&B-ish, in hybrid with an acoustic and tranquil instrumental, creating an overall unique sound for an uprising hit. Though the breakup lyrics can be quite sore, her sweet voice makes the song less painful to grasp. I think this song is fit to play when you've pacified from the sobbing phase but still miss your special one. Light a scented candle, take a calming bath and vibe along with this. Ben's voice is so soothing, you'll eventually heal!
NCT DREAM - DINOSAURS A TO Z
Any mommas in the house? Turn on some K-pop x Pinkfong for your babies and start 'em young! We got NCT Dream teaching us ABCs in wildlife action. The NCT sub-unit is preparing for their upcoming first full-length album Hot Sauce, so this sudden surprise is quite a fun tease to the excited fans! The maknae line of the 23-member boy group was rebranded last year as all the members have reached the adult age in Korea. But, with this kind of kiddie content, who will believe that these babies are fully grown now? Anyways, regardless of age, starting the day with NCT will be a total refresher!
-----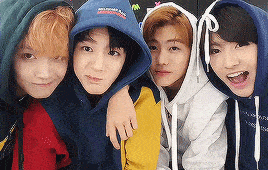 Gif by ijeolmi_hyuck, originally by SM Entertainment Co., Ltd.
We got the first week of May down with the perfect music. So keep going! Wherever you are, keep striving throughout each day. Put 'em speakers on, play some Highlight, ITZY, or even NCT Dream and allow them to power you up. We got you and we will get through this! More of the best new K-pop is coming up next week, so 'till then- Hwaiting!~
Hannah Lee is a Hallyu enthusiast from K-music to K-drama to K-food and even K-fashion. By day she takes her architectural apprenticeship, but by night she fangirls till sunrise. According to her latest MBTI test, Hannah is a perfectionist who has a lot of miscellaneous thoughts and is lazy... but passionate!