THE BEST NEW MUSIC ACCORDING TO OUR FAVORITE TIKTOK MUSIC INFLUENCERS
TikTok is a lot of things. It's an app for funny videos, educational content on a wide array of subjects, the center for new dance trends, a place for small businesses to find new customers, and a great place to discover new music.
A few of the top TikTok creators have risen to the occasion in creating a sort of spin on a music blog with their content. Finding the best new artists, a great new playlist, or a song you may have missed on New Music Friday has never been faster or easier thanks to these TikTok creators.
We chatted with some of our favorite TikTok music influencers, curators, and reviewers to hear about how they got started, as well as their favorite new artist finds.
WE ARE: THE GUARD: Tell us about yourself and your background in music!
DEV LEMONS: I'm Devon, a current senior at Emerson College studying film and television. In my free time, I teach myself music theory through YouTube videos, music theory articles/websites, listening to and analyzing music, and talking to my friends at Berklee School of Music. My background in music is 100% self-taught. Songpsych's mission is to take the pretentiousness out of learning music theory by making educational content breaking down the music theory and psychology behind popular songs. I also make my own music under the artist name "Dev Lemons"
WE ARE: THE GUARD: What's your favorite release of the year thus far and why?
DEV LEMONS: My favorite release of 2021 so far is Rhye's new album, "Home," for sure. Rhye hasn't released anything in 7 years and really came in hot with this one. It's really cool to see how their sound has evolved from the last album. This piece feels more cohesive, and you can really tell that Rhye has taken more inspiration from other genres. I also love how the melody from the intro track of the project is sprinkled throughout the album, it's very clever. My favorite song from the album is "Holy."
WATG: Who's an emerging artist you're excited for in 2021?
DL: REMI WOLF!!!!!!!!!!!! I am obsessed with her!!! So excited to keep up with her stuff. I'm also excited to see what 100 gecs is gonna put out next. Really hoping that Death Grips comes out with another project this year too. Also super stoked to keep up with Amber Mark's music! It's impossible for me to just pick one emerging artist. But if I haaaad to I'd go with Remi Wolf.
REMI WOLF - PHOTO ID
WATG: How do you typically discover music and what catches your ear?
DL: Word of mouth is such a powerful tool. Honestly, I'm most inclined to check something out if one of my friends recommends it. I also like to keep up with what Fantano recommends. TikTok recommends me a ton of great tunes too. I also tend to find a lot of new songs through YouTube and "Discover Weekly" type playlists.
Click here to follow songpsych and stream Dev's music!
WATG: Tell us about yourself and your background in music!
CARLA TURI: Music has always been a constant in my life. I've been enamored with the way music makes me feel since I was a kid. Discovering artists before they rise to success has been this sort of strong suit that I never really acknowledged, though I knew I wanted to be apart of that success at one point in my life, and not just on the sidelines. I also played the flute throughout middle and high school which helped me understand it from a musicians perspective.
There was no music business program at my college, so I majored in Communication & got a couple music related internships under my belt. Upon graduating, I started working at a local digital media production company and creative studio as an Assistant Producer and then made my way to be the Director of Ops & Communication where I handled social media, artist communication, day to day op's, and talent booking & discovery for our live acoustic session series on YouTube. I now work at a music distribution company doing social media & marketing in St. Petersburg, Florida.
I started making TikToks in the middle of the pandemic sharing my playlists, current favorite songs & albums, & music recommendations not knowing it would take off in the way it has. I've turned it into this sort of discovery platform for independent musicians which has been really rewarding, since I genuinely just love to share quality tunes with people who will appreciate them as much as I do. I've built this small community of music lovers and it's been really beautiful to bring people together through our shared love for music, especially during this challenging & isolating time of no live shows.
WATG: What's your favorite release of the year thus far and why?
CT: Jack Symes just released a gorgeous track called "Wait." that has been in heavy rotation recently. He's also releasing a new album soon that I'm really stoked on. He's a wonderful storyteller and sings these acoustic ballads that really tug on my heart strings. I want everyone to know about him!
JACK SYMES - WAIT
WATG: Who's an emerging artist you're excited for in 2021?
CT: I think this is going to be a really great year for Runnner. Similar to Jack Syme's indie/folk-ish vibe (who need's genres?), his music is so sincere and heartbreaking at the same time. He's not afraid to let his voice crack, and his lyrics are so personal yet so universal. I just want everyone to listen to him and appreciate his music as much as I do!!! I still can't believe he's so unknown but I'm kind of basking in it. If you like Del Water Gap, Pinegrove, or even Andy Shauf, I think you'll really dig Runnner. Listen to "Ur Name on a Grain of Rice" and come back to me.
WATG: How do you typically discover music and what catches your ear?
CT: I find music in so many places, it's hard to keep up. I'm a really big fan of NPR's "All Song's Considered" podcast hosted by Bob Boilen (the creator of NPR's Tiny Desk). I swear we have the same taste, everything he talks about I can't get enough of. I also look towards friends whom's taste I value, and of course Spotify. I go down the Spotify rabbit hole of what my friends, friends, friends, are listening to. I also have a submission form where musicians submit their music to me, which I've been finding a lot of good tunes in.
Follow Carla's Songs in Rotation Playlist here!
WATG: Tell us about yourself and your background in music!
K: Ayo! I am Creator K, founder/curator at Show & Tell - a platform for sharing stories and connecting through music, because sharing is caring. I have always wanted to do something more with music than simply be a listener, because I owe a lot of my development as a human being to the songs and artists I've listened to over the years. With S&T, I'm taking my passion of sharing music to the next level. Apart from regularly-curated Spotify playlists, with both artists you know and love and artists you might not have heard yet, S&T has a podcast that taps into mind of creators operating in various disciplines, plus a social media account that is always good for a good laugh and (surprise, surprise) music recommendations. So, what's good? Nice to meet you!
WATG: What's your favorite release of the year thus far and why?
K: First off, let it be known that I am TERRIBLE at limiting myself to one item when given these kinds of prompts. In an effort to challenge myself, I will offer up one release that people might not have gotten to - Rome Fortune's "FREEk". It's a steamy banger of a hip hop record, in which Rome's raunchy delivery floats on top of very cosmic & bassy production. If you're looking for deep lyricism, this isn't for you, but if you're looking for something raw that'll fog up your car windows, give it a spin.
WATG: Who's an emerging artist you're excited for in 2021?
K: Kenny Mason and redveil are artists who both had great years in 2020, in terms of putting out a complete body of work and gaining a lot of attention and recognition from it, and I expect that upward trajectory to continue, well, up! Another name to pay attention to, in my humble opinion, is KALLITECHNIS, a sweet-sounding vocalist who is a vibe on both r&b and dance cuts. She's been doing her thing for a while now and already has a large catalog of tunes, but I anticipate 2021 to be the year she really starts traveling into people's ears.
KENNY MASON - MUCH MONEY
WATG: How do you typically discover music and what catches your ear?
K: I have to pay respects to one of the OGs for me, SoundCloud, which I still use today to find new music. The feed isn't something I use as often as I did a few years ago, but going through artists' liked tracks is a really dope way to find new jams. The first thing that catches my ear is the production - if it's simple or complex, what the percussion sounds like, how it makes me feel, etc. If that perks up my ears within the first 5-7 seconds, I'm locked in. From there, I love to listen to any minor details in the sound design, as well as how the vocalist (if there is one) delivers their words and energy.
Keep up with Show & Tell here!
WATG: Tell us about yourself and your background in music!
AXEL TANNER: I was born and raised in Pasadena, CA and have been surrounded by music my entire life. I discovered my passion for music production about five years ago and just recently pivoted to full-time music curator after my TikTok platform popped a bit. With so much new music fighting for your attention and streaming algorithms guiding your music taste based off of past listening experiences, I realized just how hard it is to truly branch out and discover new artists, songs, and genres.  I guess that's where I come in.  I love to share my new music discoveries and daily listening habits through the form of TikTok content, playlists, and eventually podcasts.  I feel super blessed to have this community of music fans who resonate with the music I personally enjoy and trust my recommendations.  I understand just how powerful music can be, so it's super rewarding being able to potentially introduce someone to their new favorite artist or song.
WATG: What's your favorite release of the year thus far and why?
AT: My favorite release of the year is definitely the Brent Faiyaz DO NOT LISTEN project he just dropped. I love how unique and creative he was in the rollout.  When I found out about that Dropbox link, that was the most excited I've been about a new release in awhile. It also helped that all three songs were FIRE.
WATG: Who's an emerging artist you're excited for in 2021?
AT: Man, there's so many. The three emerging artists that I'm most excited for are Flozigg, Trev Deshon, and BredMan.  Besides the fact that they're genuinely always in my rotation, I love the individual teams they've surrounded themselves with.  Combine that with the quality music they're putting out and I think 2021 is going to be a big year for all three.
FLOZIGG - JULY
WATG: How do you typically discover music and what catches your ear?
AT: That Spotify algorithm is something serious. I like to put together small playlists of 10-15 songs with unique overall vibes, then refresh the 5 "recommended" songs at the bottom of the playlist that Spotify gives you. My TikTok comments are also super clutch. Whenever I ask for recommendations, I end up discovering a ton of new artists so shoutout to my community!
Follow Axel's playlists here! Also, be on the lookout for an upcoming podcast.
-
Are TikTok Music Influencers the future of blogs? They just might be.These TikTok creators are really doing us all a huge favor in condensing the best new music into short videos. Be sure to check out their playlists, and if you're looking for the best new songs and trends from the app, check out our TikTok Playlist below (and you could follow us, too if you're feeling it)!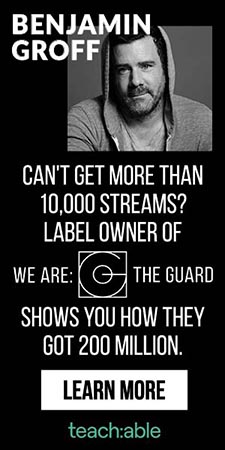 Arielle Tindel is from Cleveland, Ohio. She recently graduated from Berklee College of Music with degrees in Music Business Marketing and Songwriting. In her free time, Arielle can be found gardening or playing bass.