BEST NEW TRACK: MXMS HAUNT AND HEAL THIS HALLOWEEN SEASON WITH "DEATH ROW (POST PARDON)"
As an inventor and purveyor of the funeral-pop genre, MXMS comes alive during the Halloween season. It's just as well. While we love our "bury a friends," our "Psycho Killers," and yes, even our "Monster Mashes," no satanic Spotify playlist is truly complete without the works of Me and My Shadow's Ariel Levitan and Jeremy Dawson. With the countdown to Halloween officially on, then, MXMS is once again rising from the dead this October with a new acoustic spin on their song "Death Row" – "death row (post pardon)" – out now on We Are: The Guard.
MXMS - DEATH ROW (POST PARDON)
From their covers to their originals like "What's My Name" – a song that documents Levitan's experience with childhood bullying and suicide ideation – MXMS has long explored despair, trauma, and mental crises through their music. Despite dealing with such haunted subject matters, however, their end products are never not beautiful. Listening to MXMS is like having the duo reach inside of you and pull out a dark, blackened mass. Levitan and Dawson then take that inky ball of angst and throw it up into the air, letting it rain down in glittering fireworks.
MXMS does bangers, too. This much is evident on their song "Death Row," which originally dropped on We Are: The Guard in October 2019. With its eruptive samples and big, bold industrial beats, "Death Row" is comparable to a Kanye West circa The Life of Pablo cut as immersed in a gothic inferno. Levitan, meanwhile, presides over the whole thing like a consummate femme fatale, singing from the perspective of "a crazy young female drug addict who has no fear of death and runs wild and free in the madness of her self-created delusional world."
With Halloween fast approaching, MXMS is returning to their pained roots this Wednesday with a new acoustic version of "Death Row" – "death row (post pardon)." While the original hit like a bombastic flare – packed full of empowerment and lip-curling murderous intent – on this piano-streaked take, the titular "death row" sounds like an affliction. A weight Levitan is doomed to bear forevermore. It's also a testament to their songwriting that, even when stripped down to its sadcore, "death row (post pardon)" is still so stunning when held up to the unforgiving light.
While Halloween is a brand and aesthetic for some, for MXMS, Halloween is a way of life. A means of survival. Sometimes, by letting the darkness in, it becomes easier to find the light. Although "death row (post pardon)" lives in the shadows and back alleys, by documenting their distress and transforming their suffering into sound, Ariel Levitan and Jeremy Dawson are slowly stepping into the break of day. As we hold out for further original music from MXMS, then, allow "death row (post pardon)" to haunt you this Halloween season. Maybe even heal you, too.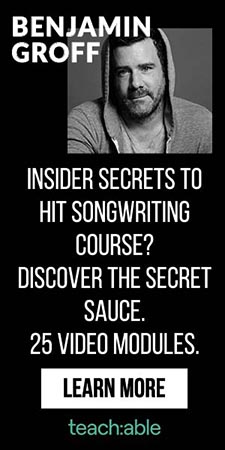 Jess Grant is a frustrated writer hailing from London, England. When she isn't tasked with disentangling her thoughts from her brain and putting them on paper, Jess can generally be found listening to The Beatles, or cooking vegetarian food.