THE BEST OF TIKTOK WEEK OF JANUARY 18
Image by Solen Feyissa on Unpslash
Ah, another week… Another crazy, stressful week. Lockdown continues. Politics make you want to peel your eyeballs. Time's gone all wonky, which is part of the reason We Are: The Guard are here to help you keep track.
Here on Week 3 of 2021, it seems like the new music's getting underway in earnest. As is often the case with TikTok, though, the hits come from all over. Some are from 2012. Others are from the past few days. Taken together, there should be a little something for everybody. There's even a sea shanty!
OLIVIA RODRIGO - DRIVERS LICENSE
The newest single from the star of High School Musical: The Series: The Musical isn't just blowing up on TikTok. "Drivers license" must be resonating with its sad girl confessional vibes, as it set a record on Spotify for most streams for a non-holiday song in a single day.
"Drivers license" even managed to grab a comment from Taylor Swift on Instagram. This isn't the first time the Swift-y has gotten the Swift Seal of Approval. Her cover of Swift's "Cruel Summer" also earned a comment - "THE TALENT. Love this!!"
Judging from "drivers license" and its reception, it seems Rodrigo would've blown up even without The Queen Of Pop's approval. With a voice like an angel and weepie minor key piano bed, "drivers license" perfectly conveys the excitement and heartbreak of life and love.
YUNG GRAVY - OOPS!
Let's be real - music doesn't need to be super serious to blow up on TikTok. In fact, it's better when it's not. We all get more than enough doom and gloom and bad news pretty much everywhere we look, anytime we open our eyes. Sometimes we just want a sick beat and a flow to make you smile.
"Oops!" from Minnesota rapper/singer Yung Gravy is just the thing to bring the grins for a few minutes, with Gravy's hilarious misadventures flowin' smooth and catchy over a boom bap beat. All things '90s have been coming back around for a hot minute now. Yung Gravy delivers some vintage Digital Underground/Humpty Hump vibes on "oops!" and We Are: The Guard are here for it.
UNGHETO MATHIEU - PLASTIC
Speaking of Digital Underground and Humpty Hump, he gets a shoutout on the new single from Ungheto Mathieu even though the young rapper probably wasn't born when Humpty was making his cameo on Drexel's Case.
It doesn't matter, everything on "Plastic" is fire, even if you don't get all the references, No matter how old you are, you should recognize the hook from Aqua's "Barbie Girl." This is the battle cry of Mathieu's "happy trap," marrying bright colors and major key melodies with Trap's hard, drilling rhythms. This is good news for anyone who feels like Trap leaves you with a codeine hangover.
BLACKBEAR - DIRTY LAUNDRY
Time is even weirder on TikTok than it is during lockdown. Brand new sounds end up running face-first into hits from several years ago. Such is the case with "dirty laundry" - a hit from 2015 from singer/songwriter/producer Mat Minto, who makes music under the name blackbear.
It's a testament to Minto's songwriting and production - honed writing for everyone from Justin Bieber to producing for G-Eazy to featuring with Machine Gun Kelly. On his own time, he produces slick, catchy synthpop, as heard on "dirty laundry," which hits that sweet spot between upbeat and lowdown, 8-bit bassline, fingersnaps, and a hip-hop beat beneath a story of girls and drugs. Blackbear just wants to come clean, and he's using TikTok to do it.
YUNG BABY TATE - I AM (FEAT. FLO MILLI)
Some of the biggest rappers of the past few years have been ladies..We've had a fair share of bad bs and real freaks. It's nice to hear some positivity from a badass lady rapper who also could serve as a role model, like we hear on "I Am" an anthem of owning your own stuff and knowing what you're worth.
Yung Baby Tate's been leading the pack of empowered, powerful women of rap for a couple of years now. Her 2019 album Girls was referred to as "being full of titles for girl superheroes." She's keeping that going with "I Am," this time with a little help from Flo Milli.
NICKI MINAJ - I'M LEGIT (FEAT. CIARA)
Now that we've had our fill of wholesomeness and healthy role models, let's take a moment to rep for the other side. And if you're looking for a track of slightly cocky, slightly boastful girlpower hip-hop, Nicki Minaj is and remains the queen.
"I'm Legit" is like the less humble, less demure "I Woke Up Like This." But, hey, the message is still the same. You got it, now rock it! The guest spot from Ciara seals the deal with her clipped Martian assassin flow.
THE LONGEST JOHNS - WELLERMAN
For the last few weeks, I've noticed that sea shanties have been trending on social media, but was never sure why, apart from maybe just being one more sign that people had finally lost their minds after the stress of the last few years. Well, that may be the case, but sea shanties are actually trending on TikTok!
Sea shanties first came to TikTok's attention thanks to Scottish singer Nathan Evans. First he broke "The Scotsman." But the real fervor started when he unearthed "Wellerman."
Listen to the version of "Wellerman" by The Long Johns and it's not hard to understand why: The rich harmonies sound like sunlight on the darkest depths.
That's all for this week's TikTok roundup! Check out our updated playlist to hear these songs and more trending on the app.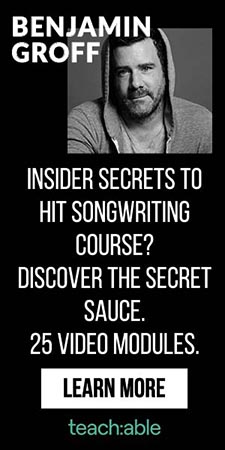 J. Simpson occupies the intersection between criticism, creativity, and academia. Based out of Portland, Or., he is the author of Forestpunk, an online journal/brand studying the traces of horror, supernatural, and the occult through music, fashion and culture. He plays in the dreamfolk band Meta-Pinnacle with his partner Lily H. Valentine, with whom he also co-founded Bitstar Productions, a visual arts collective focused on elevating Pop Culture to High Art.