THE BEST SONGS ON TIKTOK WEEK OF JANUARY 30
Image by SCREEN POST on Unsplash
Another week come and gone as we prepare to bid adieu to the first month of 2021. It seems we're still shaking off the jitters of a VERY long year and a VERY long election cycle, for those of us in the United States. Good feelings and hope are beginning to emerge, like daffodils breaking through the permafrost of late winter, but people still seem a bit shaky, a little hysterical.
TikTok is the perfect channel for these times. It's like a billion worlds strung together like snowglobes on a string of pearls. It's full of people making do, getting by, and some much-needed connection when it seems like quarantine is never going to end.
SABRINA CARPENTER - SKIN
A beef and a mystery are always a sure way to sell a Pop track. Who's she talking about? Is this a breakup song? A clapback?
21-year old singer/songwriter Sabrina Carpenter really doesn't need any controversy to sell the merits of "Skin," a weepy new synthpop banger, with Carpenter's heartbreaking soprano cresting like a sunrise over glistening, glowering sub-bass. "Skin" is, in fact, not referencing one person or event, in particular, but more of a composite of peoples, places, and things. It was, however, created in response to fellow TikTok viral superstar Oliva Rodrigo's similarly heartbreaking/heartbroken "Driver's License."
BECKY G - SHOWER
One of the best things about TikTok as a music discovery tool is it's not confined to the charts and pop music promotion cycle like virtually every other major music network on Earth. Sometimes TikTok gets a bee in its bonnet and pulls out a dusty groove, reminding us that pop music has a shelf life of longer than six months.
"Shower" was initially released to rave reviews in 2014. Nearly everything Becky G's ever released has been rapturously received. Heck, she had Cher in a music video before she was 18! "Shower" doesn't need any special guest stars to be worthy of obsession, though. Becky G's vocals blossom with life and hope, singing of someone giving her life, "singing in the shower," over a truly addictive background of children's choirs, soaring strings, and handclaps. It's heartfelt and upbeat, a stellar combination.
ERICA BANKS - BUSS IT
Hits on TikTok don't just depend on the music. They often involve some sort of challenge or trend to make it go viral. Thus it's so with Erica Banks' "Buss It," a low-down bellyscraper of a hip hop anthem.
The "Buss It challenge" usually involves a sudden, spontaneous glow-up in a heartbeat, like some kind of Sailor Moon transformation over a filthy bass beat and a sample of Nelly's "Hot In Here." Visuals are not required to get into "Buss It." But it could inspire you to have a reason to actually put on real clothes.
XILO - AESTHETIC
What's a viral playlist without at least one lofi beat? Especially one as chill as "Aesthetic" from North Carolina's Xilo. "Aesthetic" is about making something beautiful out of unfortunate events.
It makes an excellent soundtrack for making pretty things - makeup collaborations, elegant calligraphy, chocolate fountains that will make you drool. "Aesthetic" is all about making the best of whatever life throws your way.
UPSAHL - DRUGS FEAT. TWO FEET
A lot of the tracks that end up blowing up on TikTok feel vaguely wholesome. They're soundtracks for teens goofing off, having fun, bolstering self-esteem. They're nice. It'll give you a warm, fuzzy feeling.
Those of us who are used to harder fare need a palate cleanser at times. Something lowdown and nasty - something real. "Drugs'" bouncy, plucky indie rock doesn't sound particularly grim - it's rather lush, in fact, with its crystalline echoes and background chorus, like Ursula's poor unfortunate souls in The Little Mermaid. Upsahl is here for one thing and one thing only - drugs. She's not looking to network, to make friends or fall in love. Just some illicit substance to take the pain away.
TAI VERDES - DRUGS
Listening to music on TikTok brings a special sort of deja vu, especially if you're flicking through the videos. You'll hear the same 5-second hook over and over and over and over and over again. It gets sort of hypnotizing, bizarre and mesmerizing, like an infinite hall of mirrors.
Listening to "Drugs" by Tai Verdes on the tail of Upsahl is an uncanny experience - "is there an echo here?" It's truly a viral experience, 3 or 4 notes in the chorus the same but otherwise totally different. Verdes' version is the more wholesome of the two, sticking to the soft stuff. The videos are more than entertaining and might make you feel like you're buzzed, as you watch Spider Man perform magic tricks or clever weirdos make homemade Jiffy Pop.
BONEY M - RASPUTIN
Possibly the best thing about life with social media and endless streaming services is that absolutely everything and anything can be in, at any time. That means that obscure Afro-Carribean avant-disco can even become world famous, as is the case with Boney M and their truly eclectic Eastern European "Rasputin."
It's like Abba meets Tchaikovsky in Eurovision Song Contest: The Story of Fire Saga. In Russia, the disco dances you!
That about wraps up another week of TikTok singles. Make sure to subscribe to our We Are The Guard TikTok playlist on Spotify to stay up-to-date on what's pouring out of the underground!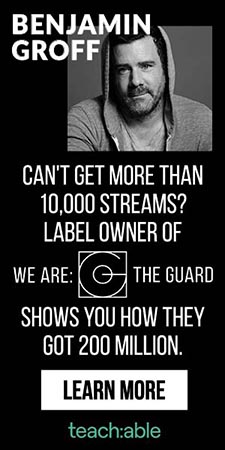 J. Simpson occupies the intersection between criticism, creativity, and academia. Based out of Portland, Or., he is the author of Forestpunk, an online journal/brand studying the traces of horror, supernatural, and the occult through music, fashion and culture. He plays in the dreamfolk band Meta-Pinnacle with his partner Lily H. Valentine, with whom he also co-founded Bitstar Productions, a visual arts collective focused on elevating Pop Culture to High Art.