THIS WEEK'S TOP SONGS ON TIKTOK - 4/1
Image by Crystal Jo on Unsplash
Good afternoon, Guardians! How're you holding up? Everybody good? Spring fever is rough at the best of times. It's got us all going extra batty this year in the quarantine that will never end. At this point, a winter at the Overlook Hotel seems like kids' stuff, and we all saw how that turned out!
Have no fear! There's still TikTok, the most surreal social network since the early days of Tumblr. This week, people're vibing to a Rusted Root remix, letting Soulja Boy's "She Make It Clap" loop endlessly and glowing up to Lucian.
Here are the best TikTok hits for this week!
TAI VERDES - STUCK IN THE MIDDLE
One well-known trick for getting likes and follows on TikTok is to use a trending sound as a background sound for whatever video you're making. Once a track gets beyond a certain level of popularity the videos have increasingly less and less to do with the song itself.
Seeing as how Tai Verdes' "Stuck In The Middle" is one of this week's hottest tracks, you can hear Verdes' plucky player's anthem soundtrack everything from renovating a short bus into a tiny home to a chirpy-voiced beauty influencer giving her followers the Single White Female treatment.
If you ever want to know why you burp all the time, spend some time scrolling through the "Stuck In The Middle" videos.
VIBE STREET - SEND ME ON MY WAY
Every week I get bigger I think "I can't stretch anymore..." and then I do!!! Women are warriors. ##highriskpregnancy ##firsttimemom ##triplets
TikTok is best when it's surreal. Surrealism may be the only way to make a remix of Rusted Root's "Send Me on My Way" vaguely stomachable. Here, you can see triplet baby bumps and someone grinding up a gluestick in a pestle.
SOULJA BOY - SHE MAKE IT CLAP
One of the secrets of a successful sound on TikTok is how loopable it is. Videos loop ad infinitum, so it better be real good or it's gonna get real bad, real fast.
It doesn't even matter what the video contains when Soulja Boy's "She Make It Clap" plays. Soulja's low-slung bass and mellow trap beats are made for looping. You could listen to those bars all day and they'd never get old.
Soulja Boy, thank you for your service!
VANESSA CARLTON - ONE THOUSAND MILES
#bridalstylist #weddingdresses #wedding
Looking to turn your life into an 80s sitcom? Vanessa Calton's jaunty, bouncy "One Thousand Miles" is just the thing. So far, TikTokkers have used Carlton's piano ballad to soundtrack a watermelon pregnancy, grotesquely surreal facemasks, momzillas, "inspirational" quotes, and more!
LUCIAN - DO MY THING (FEAT. PHILOSOFIE)
It's not a week on TikTok without a glow-up video. This week, it's Lucian's "Do My Thing," in which beauty influencers showcase their morning and evening routines and daydream about the upcoming summer over "Do My Thing"'s bouncy island beat. Or how to make a hardboiled egg for your phone.
CONKARAH - BANANA (FEAT. SHAGGY)
As we're fond of saying on We Are: The Guard's best of TikTok, one of the best things about discovering music on TikTok is it isn't beholde to Pop music cycles. A song from 2000 is as likely to trend as the latest Pop banger. Or one from 1920 for that matter.
This week, TikTokkers have taken to the old and the even older by embracing Conkarah's remake/remodel of Harry Bellafonte's "The Day-O Song." Shaggy's reggaeton flow even sounds fresh and reinvigorated, as a result. Oh shoot, do we need a Shaggy revival?
STATIC GOON - ORANGATANGABANGIN
You know a track's got to be good if the unwieldy #orangatangabangin is actually trending! TikTokkers are proving themselves to have good taste, with Static Goon having an old school West Coast vibe. If you're looking for some booty bass to ghost ride your whip, "Orangatangabangin" could be your soundtrack!
BRUNO MARS - TALKING TO THE MOON
The last few weeks there have been trends of TikTokkers singing along to songs with ridiculously complex vocals. It's no mistake that Bruno Mars scaled to the heights of popularity with one of the smoothest and most soulful voices on the planet. Obviously, mere mortals are going to have a hard time scaling to that summit.
For "Talking To The Moon," they're augmented with a little help from technology. They're using TikTok's space echo to help reach la luna, sometimes with a little dash of alien vibrato as garnish.
FRANK OCEAN - IVY
It's appropriate that anything off of Frank Ocean's Blond would come back around, trending again and again and again. Frank Ocean is not chained to Pop hype cycles. That album, and its twin Endless, seem less like they were written in the studio and scripted with some PR team and more like they descended on wings of light from some extra-dimensional drift.
This week, people on TikTok are using Ocean's smooth-and-soulful "Ivy" to illustrate the ways they're growing up - from building DIY end tables to putting out personals for their kid brother. It'll make you feel better about quarantine, letting you pretend your bedroom is just some after hours disco that never closes.
---
That about does it for another week of the best of TikTok! Make sure to follow us to see behind-the-scenes videos and interviews with We Are: The Guard artists, excerpts from our playlists, and more!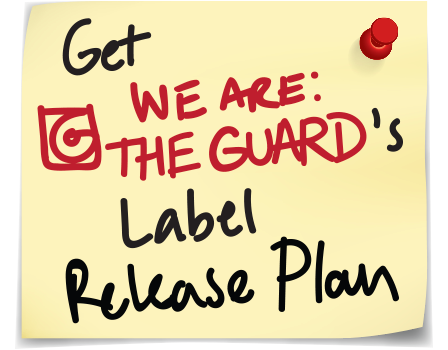 J. Simpson occupies the intersection between criticism, creativity, and academia. Based out of Portland, Or., he is the author of Forestpunk, an online journal/brand studying the traces of horror, supernatural, and the occult through music, fashion and culture. He plays in the dreamfolk band Meta-Pinnacle with his partner Lily H. Valentine, with whom he also co-founded Bitstar Productions, a visual arts collective focused on elevating Pop Culture to High Art.