BEST PUNK ROCK LOVE SONGS
Punk love can (and does) take pretty much every different shape and size and kink and hair color and piercing location you could ever possibly dream of. It's not as easy to nail down as some of the more normative-- let's get down to bizness-- jams of pop or rap or dance music. Plus, it's less than ideal love-making music, unless that's your idea of a good time. Too fast. WHAT DO I KNOW?! Ain't no Marvin Gaye is all I'm saying.
Punk rock love can't be held back by your preconceived notions and traditional ideas, man. Tell Mom and Dad to kick their notions of what you should and shouldn't be doing with your body to the curb. Life's too short to not love the punk rock way. Hard, fast and maybe even a little bit sarcastic.
We've put our heads together and compiled some of Punk Rock's greatest love songs. From the forlorn to the violent and everything in between, there's a little bit of something for everyone here.  Pop a safety pin through your nose, spit in someone's face and bang away to these ten tracks.
THE BOUNCING SOULS - HOPELESS ROMANTIC
Romantic Lyric: But I gave you my heart and if you turned away /  I guess I'd be screwed, but… /I'm a hopeless romantic
The New Jersey quartet have a string of barroom anthems, but none of them seem to ring truer than "Hopeless Romantic." Here Greg Attonito preaches about a love that's just probably not going to work out. I don't know if these lyrics are romantic or the antithesis of, but it seems like he's ready to pick himself up off the ground and find someone else to fall hopelessly in love with after being someone as hopeless as the song seems to demonstrate.  I don't know, seems kind of nice to me. 
THE EXPLOITED - SEX AND VIOLENCE
Romantic Lyric: Sex and violence
I mean, Sex and Violence… what else is there, really?  Now, this is the perfect punk rock getting-down-to-that-aforementioned-bizness jam. But now the real questions is: are you and your equally fuck-the-establishment-based significant other able to pound away through all five minutes of this one? Or finish a little bit short.  Just keep it going to to the beat.  Have fun. Stay safe, kids.
THE BUZZCOCKS - ORGASM ADDICT
Romantic Lyric: Sneaking in the back door with dirty magazines /
Now your mother wants to know 'bout all those stains on your jeans
Sometimes you need to practice a little self-love instead of just immediately going out and looking for a partner.  The Buzzcocks' "Orgasm Addict" is the quintessential masturbation anthem. Sure, we could have gone with Pete Shelley and co's "Ever Fallen in Love," which echoes a lot of sentiments already contained on this list of love-unattainable, but it feels so much more punk to go with the one a little more left of center… and about touching yourself.
THE ATARIS - SAN DIMAS HIGH SCHOOL FOOTBALL RULES
Romantic Lyric:: I only wish that this could be / Just dump your boyfriend and go out with me / I swear I'd treat you like a queen.
Emo and pop-punk is nothing if not a bunch of forlorn dudes hoping for love that's not there. We could have gone with literally a thousand different songs from a hundred bands on this one, but we really dig The Ataris' Bill & Ted's Excellent Adventure named tune.  Plus, it's fun as hell and while you're screaming along, maybe you forget just for one moment that you're not gonna get that girl no matter how much you complain about it.
NOFX - MONOSYLLABIC GIRL
Romantic Lyric: I take her to the university, she says huh / I take her to anniversary, she says one /
I take her to jewelry store / I say diamonds, she says pearl / Oh everyone knows I'm in love /
With a monosyllabic girl
Fuck NOFX. They are dickheads, shitwads and assholes through and through. And proud of it, mind you.  Leave it to Fat Mike, El Jefe, Melvin and Sandin to write the worlds most condescending love song. Monosyllabic is shorthand for not that bright, which is not the nicest thing to say about someone you're in love with. Hey, at least it's love, right?  That's got to count for something.
THE STOOGES - I WANNA BE YOUR DOG
Romantic Lyric: And now I'm ready to feel your hand / And lose my heart on the burning sands
Yeah, baby. Now we're getting kinky.  Shove Iggy to the ground, put a collar on him and make him lick your boots. The Stooges were pretty radical for 1969, but this track is hot as hell. Whatever goes in the bedroom is fine by us as long as it makes you happy, no kink shaming here. Actually the opposite of kink shaming, this shit is getting us all bothered under the collar ourselves. The Stooges are dealing with shifting gender norms and sexual fluidity. What's more punk rock than that? 
THE AQUABATS - RED SWEATER
Romantic Lyric: You're my girl, I'm your man. I don't care if we live in a garbage can. I'm your man, you're my gal, I'm so glad that we are pals
Aw, this one's just lovely. Finally, a track that's actually genuine in this world of sarcasm, anger and not-gonna-happens. But then again the Aquabats are the sole act here representing the genre of ska, which always skewed a little bit more friendly than punk rock ever did. This one's a sweet little tune sung by the MC Bat Commander about falling in love with your one and only. Hey, if you can spend the rest of your life in a garbage can with someone, what else even matters?
SUICIDE MACHINES - NEW GIRL
Romantic Lyric: You're the type of girl that any guy would die for
Excitement! New love! Shouting it from the rooftop! Or at least rub it in the face of your ex! Nothing is more rewarding of a feeling than showing up to the function with a new girl on your arm, bragging about how much better things are now. Really makes that old, washed-up ex seethe with jealousy. Of course, that's the point. The Suicide Machines' "New Girl" is twenty years old, but if this song came out now it would be largely about Instagram posts, and I FEEL THAT.
DEAD MILKMEN - PUNK ROCK GIRL
Romantic Lyric: Give me a chance / (Punk rock girl), let's go slam dance / We'll dress like Minnie Pearl / Just you and me, punk rock girl
Silly, fun, honest, romantic… the Dead Milkmen's "Punk Rock Girl" checks all the boxes.  While there is certainly a level of irony on display here, we've also got one of the greatest punk rock love songs ever written.  I can imagine couples all across the country falling in love this exact same way as told about in the lyrics.  Maybe even putting this song on and learning all the words together. Cuter than I'm sure the Dead Milkmen ever intended.
BLINK 182 - ALL THE SMALL THINGS
Romantic Lyric: Say it ain't so, I will not go / Turn the lights off, carry me home / Keep your head still, I'll be your thrill / The night will go on, my little windmill
Sometimes you don't need to make grandiose gestures to prove that your love is real. Blink-182 have got their eye set on the little things, basically saying that they matter over anything else.  As a married man myself, I find this track incredibly endearing. Alright, well now I'm going to stop writing this list and go tell my wife I love her. Thanks, Mark, Tom, and Travis. When I get laid I'll dedicate it to you.
Photo by Kevin Grieve on Unsplash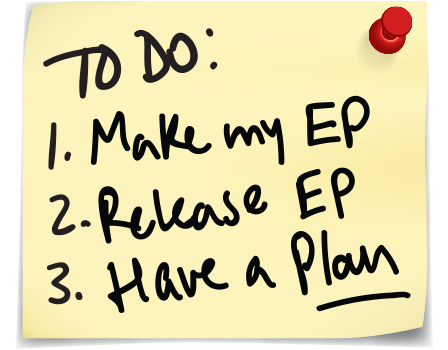 From deep within the murky depths of the Los Angeles River emerged a creature: 50% raver, 50% comedian, 10% Robotcop. Kurt Kroeber doesn't own a dog, operates Soundbleed (the world's only dance party comedy talk show rave), and is down to party with you. Come up some time and say "Hey dude!" But definitely make sure to casually drop the secret Illuminati password.