THE BEST SONGS ON TIKTOK THIS WEEK 2/2
Photo by Josh Rose on Unsplash
Greetings Guardians! Welcome to another installation of We Are: The Guard's viral round-up, where we obsessively trawl all of social media to bring you the hottest, freshest music no matter where it may be found.
As we enter into February, love is in the air, with Valentine's Day being right around the corner (or Groundhog's Day, if that gets you goin'). Many of this week's hottest tracks on TikTok involve love and romance in some ways. Or maybe you're just here to hear about Billy Joel jazz hands.
Either way, here's this week's best music of TikTok!
BILLY JOEL - ZANZIBAR
Holy smokes, we're on course for 2021 to be even more surreal and bizarre than 2020 (although hopefully in a less dystopian, sinister way). Last week we had people freaking out over Boney M's eurodisco smash "Rasputin." This week, teens on TikTok are discovering the joys of The Piano Man himself, Billy Joel.
With "Zanzibar" being the most recent retro hit to get its own dance challenge, making its post-Herb Alpert/Chuck Mangione trumpets and Steely Dan keyboard pop hip with the under-50 set for probably the first time ever. The originator of the dance, @Maxmith_ even got a shout from the man himself, when Billy Joel reposted Maxmith's dance to his Instagram stories.
If you're looking for a soundtrack for jazz hands and borrowing the old ma's car, throw "Zanzibar" on your playlist!
SZA - GOOD DAYS
February is officially here. You know what that means - no, not a bunch of holidays no one gives a toss about (Groundhog's Day, President's Day). No, the other holiday - February means Valentine's Day - all red roses and slow jams. For many of us, we're still not able to be together with our sweeties (although that day gets closer all the time), meaning we're going to have a lot of distance snuggles and virtual cuddle parties. "Good Days" by SZA makes for the perfect sonic Valentine.
A lot of TikTokkers are getting creative with it, too, using SZA's sultry, satiny sonics to show their love for all kinds of stuff, from HBO's Euphoria to the Grand Tetons in Wyoming.
POLO FROST - BEST EVER (FEAT. AYO & TEO)
Let's be real, we don't always go on TikTok looking for the heights of culture and sophistication. Sometimes we're just in it for the memes, for the cat videos, for the dance challenges that manage to hit that sweet spot between cringe and awe like a tightrope walker.
Sometimes you just wanna get dumb and blow off some steam. Enter "Best Ever" from Polo Frost, featuring guest spots from Ayo & Teo. It's a (notso)humblebrag about his skills in the bedroom, with its duets full of skibunnies in bikinis and besties breakdancing like they're having a seizure. Add this one to your makeout mixtapes if you're looking to heat things up. Warning: may induce laughter.
JUSTIN TIMBERLAKE - SEXYBACK
Oh, dang, TikTok's bringing SexyBack back! What year is it? What's going on?
"SexyBack"'s got some great dance duets, too - one part slick, one part hilarious! Of course, JT never really goes out of fashion, he's bound to have something or 'nother trending at any given moment. "SexyBack" remains a clear career highlight, though. Any reason to bring "SexyBack" back is a good reason!
HOOBASTANK - THE REASON
Is the fact that Hoobastank's trending a sign that we're starting to scrape the bottom of the streaming barrel, nearly a year into lockdown? Will we see "Beer Barrel Polka" and your Aunt Milly's voice memo trending next week? (actually, send that along. It's been a while since we've caught up with Aunt Milly!)
Either way, a lot of tatted up dudebros are using "The Reason" to show off their sensitive side, while others are just using it to get emo. We're not perfect people either, so we can relate. It's nice to see someone sharing some realness and vulnerability on social media, too, instead of a perfectly glammed out, coiffed, and curated image.
YN JAY, LOUIE RAY - TRIPLE S
TikTok's not just for novelty tunes and synchronized dancing, like some kind of global K-Pop training academy. Legit good new music comes out of TikTok "Triple S" is a straight up banger, smooth, sultry, lowdown, finding that perfect equilibrium between dirty and romantic. "Triple S" is guaranteed to drop some drawers this February. Or it could just be used to soundtrack space buns, loaded tots, or angsty teens cussing out their Mom.
YUSEI - AESTHETIC GIRL
"Aesthetic Girl" by Yusei is tailor made for social media. It's got a lofi beat, so chilled it could reverse global warming. It's like the musical equivalent of a sparkle sticker emoji. TikTokkers are using it to soundtrack all of their glow-ups, from redecorating their bedroom or trying to cuties trying to figure out how to flirt.
CAMILO - ROPA CARA
One of the nice things about TikTok as a way to discover new music is it's less indebted to the written word than music blogs or magazines. If English is your first language, no matter how big your ears or how broad your tastes you're just less likely to come across music from other countries and cultures. Which is a damn shame, as there's been a ton of fire coming out of places like Korea, all different parts of Africa, or in this case Colombia.
"Ropa Cara" features a smooth cumbia beat and jazzy bassline, over which Camilo raps in Spanish. Not sure what he's saying, but he frequently intones designer names like "Gucci" and "Prada." "Ropa Cara" will make you feel more fabulous no matter what language you speak.
DUOMO - WILDEST DREAMS
When Taylor Swift was first emerging with her country girl next door persona back in the day, who would've thought that her music would one day be used to score an elegant dance sequence in a romantic period drama? If there's one thing we learned from A Knight's Tale, other than the sad fact that Heath Ledger was just too hot for this world, is that all sorts of songs work as a baroque orchestral rendition.
Enter "Wildest Dreams" from Duomo, a soaring string orchestration of the Taylor Swift original for Netflix's newest romance Bridgerton. It's just the thing to end our playlist on a romantic note, getting us ready for Valentine's Day, however we may be celebrating.
That about does it for this week's edition of the best viral music. Each week, we obsessively pour over TikTok, Instagram, Twitter, and anywhere else where.
Be sure to follow along with our playlist, too!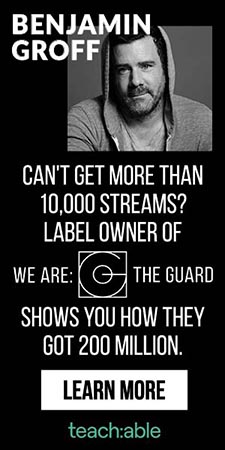 J. Simpson occupies the intersection between criticism, creativity, and academia. Based out of Portland, Or., he is the author of Forestpunk, an online journal/brand studying the traces of horror, supernatural, and the occult through music, fashion and culture. He plays in the dreamfolk band Meta-Pinnacle with his partner Lily H. Valentine, with whom he also co-founded Bitstar Productions, a visual arts collective focused on elevating Pop Culture to High Art.