THE BEST SONGS OF TIKTOK THIS WEEK
What's happenin' TikTokkers? Y'all holding up okay out there? Thriving during quarantine? Or barely surviving? Both are quite understandable. Each day brings us a little closer to sanity, to a sane and functional world. The last 4 years have left us a little shaken not to mention stirred, however, and that's not even to mention the stress of being locked in our houses for almost a year now, with all of the tolls its taken.
Some days we get ambitious, cleaning the entire house and signing up for virtual courses we may or may not attend. Other times, there are whole weeks when we stay in our pajamas. Unsurprisingly, social media plays a major part in all of it.
So whether you're having a great time remembering all your favorite emo songs on TikTok or doomscrolling, trying to forget that Valentine's Day in just a few days, you likely found some form of inspiration on social media. If you didn't, if you're still hiding out like the Groundhog - it's no worries! We Are: The Guard got you!
JEFFERSON AIRPLANE - SOMEBODY TO LOVE
Oh gosh...
Valentine's Day is in just a few days. That means most of us are looking for somebody to love in some way, shape, or form, even if it's our own sweeties. And since we're living in the perpetual isolation of quarantine, it means a lot of us will be turning our search online.
"Somebody To Love"'s classic brain-melting psychedelic histrionics makes for the perfect soundtrack for social distancing and isolation. Even better, on TikTok you can see and hear all the different mutations and permutations of the original, from teenage garage rock covers to dirty techno remixes, EU style.
Unfortunately, no one's duetted with Jim Carrey's epic karaoke version from The Cable Guy yet.
LIFE WITHOUT BUILDINGS - THE LEANOVER
As I've stated for the last several weeks on We Are: The Guard's TikTok roundups, one of my favorite aspects of the network as a musical discovery tool is how it acknowledges old and new music alike. While each week's top TikTok posts include plenty of lowdown dirty modern hip-hop, polished indie pop, rising singer/songwriters and the like, it seems each week there's at least one older song that gets rediscovered from some viral influencer.
The rediscovery of the excellent Scottish post-punk band Life Without Buildings' twee "The Leanover." Speculating on the reason for the single's resurgence and sudden popularity, Life Without Building's Lucy Habron suggests that the "opening humming lends itself to an exaggerated satisfied smile as TikTokers lip-sync along to the track, casting themselves in the lead role of their own mini music videos."
Life Without Buildings have always been great. The popularity of "The Leanover" raises hopes that maybe social media might actually be able to inspire us, introduce us to under-appreciated music and art, and make life just a little more interesting and fun instead of ushering in a dystopian hellscape.
DUNCAN LAURENCE - ARCADE
What's a week on TikTok without at least one sappy sadboi anthem? There's still a global pandemic going on. Most of us are separated from our friends and loved ones and anyone we don't live with.
This week's soundtrack to distance, isolation, and longing is Duncan Laurence's gorgeous "Arcade," with Laurence's James Blake-esque falsetto scoring everything from inside jokes between besties to photoshoots about the isolation of COVID-19. It even makes a short animation about a penguin in a propeller plane surprisingly tear-jerking.
JESSIE J - PRICE TAG
Okay, let's be real. We don't go on TikTok simply for sociological observations. Or even to find the craziest, most boundary-pushing art rock or modern classical music. The short format of the viral video network lends itself more fully to certain kinds of music and certain kinds of content - short, sharp poppy songs and people having fun and being weird, respectively.
This week TikTok's rediscovered Jessie J's "Price Tag," as the source for their duets. Not just any version of "Price Tag," either, but a performance from Top Of The Pops from 2011, in true TikTok crate-digging fashion. "Price Tag"'s custom cut for TikTok duets, with its choreography-referencing lyrics, anti-capitalist spirit, and a kind of bouncy white girl soul that'll fill the void left by Sia's recent fall from grace.
PARAMORE - STILL INTO YOU
This one ticks all the boxes of the previous TikTok singles. It's an old favorite. It's a particular version. And it expresses both longing and romance, simultaneously.
"Still Into You" by Paramore proves a few things
  - Emo will never die
  - Scene kids with funny colored hair are alive and well on TikTok
Watching androgynous youth lip syncing to "Still Into You" helps to give us new fond memories of Paramore, after the realizations came to light of the struggles Hayley Williams was going through at the time. After all, that's sort of what art's for, isn't it? To make something meaningful out of suffering.
THE KID LAROI - WITHOUT YOU
Love's not all sunshine, roses, and rainbows. So of course with just a few days before Valentine's Day we're going to get some content expressing the bitter side of romance.
"Without You" by The Kid Laroi fills this role quite nicely with its angsty acoustic emo. "You can't make a wife out of a hoe-oe." Unsurprisingly, many are using "Without You" to take the piss, leaving all kinds of bitterly hilarious sarcastic remarks. KingMoxu's choreography and burning captions officially wins the internet this week, though.
KEVIN MACLEOD - MONKEYS SPINNING MONKEYS
Like we said up top, TikTok is not the pinnacle of high culture and society. Nor should it be. We can always subscribe to The Criterion Channel and MUBI if we need to pretend we're cultural and impress the friends that aren't coming over anyway. And, let's be real again, I'm sure we all watch our fill of super serious documentaries, read down and depressing literature (even if it's just the headlines), listen to "important music," and so on. Lord knows we've all got enough time on our hands.
Sometimes we just want to watch stupid pranks. We want to see people get owned and pranked and possibly maybe injure themselves (but not too badly.) Kevin Macleod's "Monkeys Spinning Monkeys" is the perfectly wacky soundtrack for such hyjinks. If you really want to deep dive into the madness brought on by endless quarantine, take a deep dive through "Monkeys Spinning Monkey"'s duets, where you'll see some repeating "baby skateboard" over and over and over for a solid minute; a kitty crying to take a bath; a wife send her husband into the store to look for "Oochie Cooch 3000," over Macleod's post-Ren and Stimpy zaniness.
That about does it for another week's roundup of the best music on TikTok. Don't forget to follow We Are: The Guard on TikTok for the best in indie, hip-hop, playlists, weirdness, and behind-the-scenes footage with our guards!
Also, be sure to check out our playlist of the top songs from TikTok, updated weekly!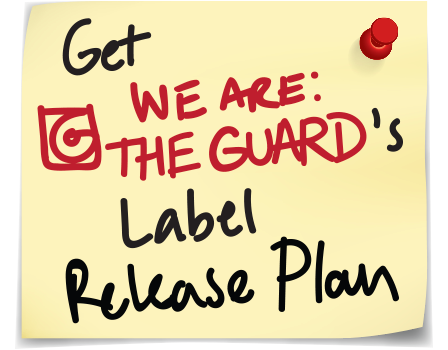 J. Simpson occupies the intersection between criticism, creativity, and academia. Based out of Portland, Or., he is the author of Forestpunk, an online journal/brand studying the traces of horror, supernatural, and the occult through music, fashion and culture. He plays in the dreamfolk band Meta-Pinnacle with his partner Lily H. Valentine, with whom he also co-founded Bitstar Productions, a visual arts collective focused on elevating Pop Culture to High Art.