THE BEST SONGS FROM TIKTOK WEEK OF 3/26
Image by Sergey Tarasov on Unsplash
What's happening Guardians? Hope this finds you well. Many of us are starting to go stir crazy, no doubt, as spring is springing all over the Northern Hemisphere. We're coming close to a close of lockdown, as well, which makes spring fever even worse than it normally is.
Falling behind on new music? Fear not! As usual, we're bringing you the best new songs from TikTok! Without further ado…
SIX - HAUS OF HOLBERLIN
Corsets Can Be Soo Dangerous
Beauty standards are weird. On one hand, they're pretty much all problematic in some way, shape, or form. And yet, we all want to look good, to feel cute, hot, rugged, powerful - whatever you're going for. We all want to feel attractive to whoever our intended audience is.
It can be tough to both critique and take part in a beauty standard, at the same time. TikTok's a good format for this, actually. The predominantly visual aesthetic obviously lends itself to the attractive, obviously. Yet the live action and short clip format means that you can satirize movements you're skeptical of, while simultaneously acknowledging that you're also into it.
"Haus of Holberlin" is this week's newest dance craze, showcasing glamoristas with a thirst for period costumes to pull out their corsets and cinchers. "So what the makeup contains lead poison/at least your complexion brings all the boys in."
Pro tip: you don't have to literally poison yourself to be attractive!
SILK SONIC (BRUNO MARS, ANDERSON .PAAK) - LEAVE THE DOOR OPEN
Silk Sonic, the new duo of Bruno Mars and Anderson .Paak, has got to be this year's hottest and most highly-anticipated release. You know an act's got clout when they're invited to perform at the Grammy's before their album's even out!
The fervor got even higher and brighter when Silk Sonic released their lead single "Leave The Door Open'' earlier this month. It finds both Mars and .Paak leaning more heavily into pure '70s pop hedonism than either have dared to go before. Add in some tasty '70s funky fashion and Silk Sonic's debut is nearly as highly anticipated as the end of lockdown.
DUA LIPA - BLOW YOUR MIND (MWAHCHALLENGE)
She trusts me @pierson
Loving someone is complicated. Exponentially show if you're sharing a life in any regard. They're going to ride on your last nerve, at times. They're going to hurt your feelings, possibly on the regular. If you've loved someone for any span of time, romance and irritation are close bedfellows.
This duality is explored and expressed on the "Blow Your Mind (mwahchallenge)" this week by Dua Lipa, in which cute couples catch each other (and some sneak in a kiss). Frankly, it's adorable. Flip through this trend if you want to see cuties in matching sweatshirts, kittens hugging, or other things to get your dopamine flowing!
BEYONCE - COUNTDOWN
Here's a classic! Let's be real, for all of the things TikTok's good for, dance challenges and duets are where it's really at. This week here's a chance to rediscover one of the best as Beyonce's "Countdown" cycles back around into the trends.
Maybe it's because we're getting close to the finish line of lockdown. Or maybe because we've had an additional year to practice the complicated dance moves. Either way, "Countdown" sounds as good as it ever did, and the moves are still fly.
MIKE POSNER - PLEASE DON'T GO
'Baby please don't go' but make it more JOGES @haloiialay ##fypdongggggggg ##fyp
Here's a challenge to show your love for your besties. This week, a lot of TikTokkers are using Mike Posner's smooth bop. And apparently a lot of couples, of all configurations, choose to show their devotion riding scooters!
CARDI B - UP
@dixiedamelio dc @theemyanicole
"Up" is unstoppable, like anything Cardi B touches. It's been trending for weeks on TikTok and doesn't show any signs of slowing. "Up's" got as many dance challenges as you'd expect, ranging from the explicit to the martial. Even better, though, is when someone uses the soundtrack simply because it's popular. Twerking and thrusting are interrupted by grinding glass ASMR, self-defense videos, angry fathers, and slacklining.
You truly don't know what you're going to get with the "Up" trend!
LIZZ ROBINETT - RENAI CIRCULATION
TikTok dearly lovest tracks that transform your life into some kawaii anime intro. Here's this week's edition - the English translation of "Renai Circulation" by Lizz Robinett. We would absolutely watch most of these shows - from feeding baby wolves at a national park to mom-daughter duets to demonic twin siblings.
And while we're down for a '90s anime revival, could we leave the bucket hats in the past please?
CHASE B - FOR ME
Sometimes a song ends up trending just because it has a sick beat. Such is the case for "For Me," whose beginning bounce and low-down bass is tailor-made for sinuous slinkiness. Chase B's doin' it for me, too.
BEACH BUNNY - CLOUD 9
two groups, both equally amazing :)
Closing out this week with another one trend that explores confusing, conflicting emotions - in this case, when someone or something is bad for you but you still have some good memories or feelings about them.
One thing that we can take away from the "Cloud 9" trend is that Middle School sucked. For nearly everybody.
----
That about does it for another week of viral TikTok hits! Make sure to follow our We Are: The Guard TikTok for behind-the-scenes footage from our label, interviews with up-and-coming indie artists, excerpts from our playlists, and more!
Also, be sure to keep track of these top TikTok Songs by following our playlist!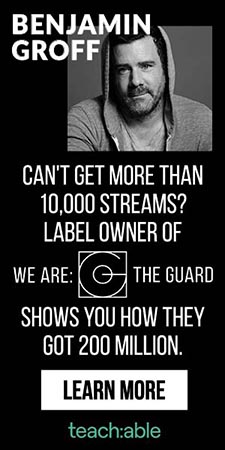 J. Simpson occupies the intersection between criticism, creativity, and academia. Based out of Portland, Or., he is the author of Forestpunk, an online journal/brand studying the traces of horror, supernatural, and the occult through music, fashion and culture. He plays in the dreamfolk band Meta-Pinnacle with his partner Lily H. Valentine, with whom he also co-founded Bitstar Productions, a visual arts collective focused on elevating Pop Culture to High Art.