THE BEST SONGS OF TIKTOK THIS WEEK - 4/14
Image by Taan Huyn on Unsplash
Hey there, Guardians? How y'all feelin'? Holding up okay? We're at an interesting crossroads at the moment. Covid vaccinations continue apace in North America and the end of lockdown is imminent for many of us. This makes the waiting even more nerve-shredding, somehow. Don't fret! Hang on! Just a wee bit longer now!
This week, people seem to be feeling it on TikTok. There's plenty of cabin fever on display, with people creating their own videos for Gnarls Barkley's "Crazy" (complete with a singing seal!); there's groovy slime; and, of course, there are tear-jerking, heart wrenching stories of tearful reunions and some memorials for those who've been lost.
Read on for this week's top viral hits on TikTok hits!
GNARLS BARKLEY - CRAZY
Not my best moment

♬ Gnarls Barkley Crazy Stephen Kramer Glickman - Gustavo Rocque
It's been a long year. It was a long four years before that, too. Many of us were starting to crack up before being locked in the house for a year. 13 months into a global pandemic, it's full-blown "talking to the moldy milk"-level psychosis.
This week, people're flying their freak flag on TikTok to Gnarls Barkley's evergreen hit "Crazy." Some showcase their subdermal spider implant body mods, while some share crazy post-breakup moments. Others showcase their dancing like no one's looking. If you've ever wanted to watch a seal (not Seal) sing into a microphone, spend some time scrolling this sound.
THE BEE GEES - MORE THAN A WOMAN
OMG, "More Than a Woman" is trending! Does this mean people have finally remembered the genius that is Short Circuit. Eh, maybe not. We've not yet seen any sign of Johnny 5 on the "More Then a Woman" page, you've got lots of folks showcasing their fabulousness to the Bee Gees' solid gold soul. And plenty of scented candles and fruity beverages, of course.
TRAPAHOLICS - FEEL THE GROOVE
Sometimes you just need a soundtrack for your smooth, funky life. "Feel the Groove's" funk guitars make whatever you're filming sound like Venice Beach in the early 80s. Considering that "Feel the Groove" is trending this week, that could be anything from slimy honey to ice cream reviews to minivans. TikTok is like the greatest, weirdest late night infomercial this side of UHF.
JAMES BLAKE - GODSPEED
James Blake turns on the waterworks at the best of times. After a year of anxiety, separation, stress - forget about it.
This week, people on TikTok are using James Blakes' tender piano-led "Godspeed" to showcase everything from military homecomings to parents bonding with their newborns. Unfortunately, not everybody was able to last long enough to be reunited in the flesh. There are plenty of testimonials and homages to lost loved ones. Bring Kleenex.
CHARLI XCX - UNLOCK IT (FEAT. KIM PETRAS, JAY PARK)
When you're dealing with so much, it's easy to get excited about little things. And then, of course, once a sound is trending it starts to snowball. This week, people're getting really excited about shopping at Wal-Mart and eating a pickle wrapped in a fruit roll-up to finding a random slide in the middle of Cleveland. Now that's worthy of a synthpop banger, for sure!
TAYLOR SWIFT - MR. PERFECTLY FINE (TAYLOR'S VERSION)
truly happy for her but when is it my turn???? ##relationships ##dating ##talkingstage ##college ##fyp ##TheChallengeAllStars

♬ Mr. Perfectly Fine (Taylor's Version) (From The Vault) - Taylor Swift
Some things are harder for some than others. Sometimes seeing people's humblebrags (or even just their minor accomplishments, if you're in the wrong headspace) can feel like a slap in the face.
This last week, Taylor Swift released her most recent "Taylor's Version" re-recording her iconic 2008 album Fearless. This week, people are using some of the back-biting "Mr. Perfectly Fine," with its reminder that there are winners and losers in the war of love. And being the loser sucks.
Let this be your regular reminder to not compare your day-to-day to other's highlight reel.
AURORA - RUNAWAY
field
With so much in-your-face poppiness on the fyp, it's refreshing to hear something quiet and subtle. This week people have been using Aurora's nearly-Celtic sounding "Runaway" to transform their lives into something a bit more fantastic, a little more magical. Everything about Aurora is magical. Hopefully people take the opportunity of this trend to discover Aurora, who is magic personified.
KIMIKO GLENN, JESSIE MUELLER, KEALA SETTLE - WHEN HE SEES ME
Some moments in life are larger than life. Sometimes you need big, Broadway-worty sentiments to express your heart. This week, TikTokkers are using "When He Sees Me" from the Waitress soundtrack to express how scary it is to be vulnerable, to truly be seen by someone you care about.
It's worth it, even though it's hard!
That about does it for another week of viral hits on TikTok! Make sure to follow We Are: The Guard on the Tok for behind-the-scenes footage from artists on our label as well as some choice cuts from our playlists. See you next week!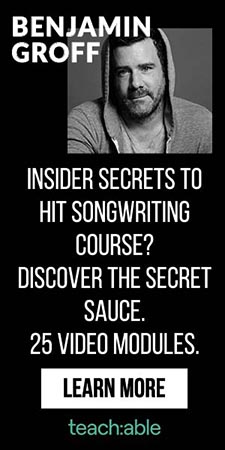 J. Simpson occupies the intersection between criticism, creativity, and academia. Based out of Portland, Or., he is the author of Forestpunk, an online journal/brand studying the traces of horror, supernatural, and the occult through music, fashion and culture. He plays in the dreamfolk band Meta-Pinnacle with his partner Lily H. Valentine, with whom he also co-founded Bitstar Productions, a visual arts collective focused on elevating Pop Culture to High Art.