THE BEST SONGS ON TIKTOK, WEEK OF 5/28
Image by Solen Feyissa Unsplash
What's good, Guardians? How was your weekend? Looking forward to the early summer? Or just being able to leave the house safely?
This week, people on TikTok have been showcasing their eagerness to resume life - resume travelling, hooking up, or dancing in a club. We've also been looking backwards, remembering the people who've made us who we are.
And plenty of ridiculousness, too, don't worry!
Here's this week's top TikTok hits!
SEB - SEASIDE_DEMO
Baby do you wanna be mine? ##fyp##foryou##boys @theocarow @bene.schulz
The internet, and social media especially, can inspire all manner of toxic comparisons. And "comparison is the thief of joy," as the saying goes. Yet sometimes, seeing people living their best lives is just the motivational boost we need.
This week, people on TikTok have been using Seb's "Seaside_demo" to share their glow-ups, their before and after pics and, most importantly, watermelons full of puppies.
THE NOISETTES - I'LL NEVER FORGET YOU
It can be easy to forget how much of a difference we make in the world, especially when many of us meet so many people in the span of a week, virtually speaking.
This last week, folks have been sharing memories of people who've moved and shaped their lives. Plus plenty of hookups and one-night stands, naturally. Could be a sign of people looking forward to the COVID restrictions lifting.
LONELY GOD - MARLBORO NIGHTS
My parents are turning a school into my house.. ##foryou ##forypupage ##tvintros
We're gearing up for another summer. This has got to be a relief for anyone who's been remote learning this last year. While getting to stay home won't seem as exciting, a reduction of the insane stress of learning during COVID alone will be quite a relief.
And, of course, we all know that school isn't the only place to learn stuff. Especially in this age of endless tutorias.
People have been making this all-too-clear this last week, using the bouncy indie rock of Lonely God's "Marlboro Nights" to show off all the things you can learn when you're not in school!
TAI VERDES - A O K
Tai Verdes is one of TikTok's native artists, that is artists who've become famous due to the platform. It's fitting that his hotly anticipated new single "A O K" would go viral instantly. It deserves it, too, with its bright, sunshiney good time vibes.
"A O K" is billed as "making everything at least 2% better." People are taking Verdes at his word, using the new single to broadcast all sorts of things that make them smile and making them even brighter. And just like any time a sound gets really popular on TikTok, it also ends up soundtracking all kinds of random videos. But hey! Now your lick mats can be at least 2% happier!
OLIVIA RODRIGO - HOPE UR OKAY
Olivia Rodrigo's another artist who TikTok really helped blast off into the stratosphere. Even with that boost her rocket-like ascent is still pretty impressive. The spiral tightened even further this last week as TikTokkers took to "Hope Ur Okay" from Rodrigo's sensational debut album Sour, which has been positively gobbling up the charts since it came out.
"Hope Ur Okay" is a hymn to misunderstood kids being raised by fundamentalist parents. It's a moving ode and a touching song, so it's got everyone up in their feels (which Olivia Rodrigo is good at.) It's a nice reminder that the world is slowly becoming a more loving and tolerant place. And also that Olivia Rodrigo is on her way to become one of the pop idols she adores.
CALVIN HARRIS - HOW DEEP IS YOUR LOVE (FEAT. DISCIPLES)
like seriously so sick of this stereotype.
We all miss going to the club. We don't miss everything about the club, though. If you've ever been around during a bachelorette party (Hen nights for the non-Americans) or anywhere around Spring Break, you've no doubt encountered "woo girls" in their natural habitat. Odds are good your ears may still be ringing.
This week, people've been using "How Deep Is Your Love" to poke fun at the "white girl dance." You'd think that "How Deep" is the greatest thing civilization has ever produced judging from the way white girls lose their stuff on the dancefloor. Or maybe they've got an audition for a bodywash commercial? Either which way, the trend is hilarious!
MIGUEL - SURE THING
Lmk how long ? ##fyp ##foryoupage
Sometimes you just need something lowdown, to capture the messy feelings life sometimes has in store. Sometimes you need something that's a little bit cool, a little bit chill, a little bit depressing. Don't worry, Miguel has you covered!
Miguel's downbeat "Sure Thing" is being used as a soundtrack for everything from parental misunderstandings to staring concerts. Consider the Swiss army knife of TikTok trends. No matter what mood you're in, "Sure Thing" is a sure bet!
That about does it for another week of viral hits on TikTok! Make sure to follow We Are: The Guard for clips from our playlists and behind-the-scenes insights from our WA:TG label! We'll see you next week!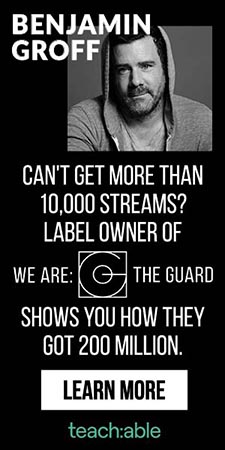 J. Simpson occupies the intersection between criticism, creativity, and academia. Based out of Portland, Or., he is the author of Forestpunk, an online journal/brand studying the traces of horror, supernatural, and the occult through music, fashion and culture. He plays in the dreamfolk band Meta-Pinnacle with his partner Lily H. Valentine, with whom he also co-founded Bitstar Productions, a visual arts collective focused on elevating Pop Culture to High Art.