THE BEST OF TIKTOK, WEEK OF 4/30
Image by Good Faces on Unsplash
How's it goin', Guardians? Getting ready for the early summer? Ready to leave your house? It feels like things're revving back up as it becomes increasingly possible to safely rejoin society. As such, there's less bittersweetness on TikTok and more party vibes.
This last week, TikTokkers suddenly remembered that Bell Biv Devoe are awesome! That Britney Spears is perfect for duets. And that you best not mess with Taylor Swift's man!
Here are some of this week's top TikTok hits that you might find on your #fyp!
SALT 'N PEPA - WHATTA MAN
Good dudes don't get enough appreciation in this society. Guys regularly hold onto a compliment for a decade - like it was a life-preserver and they, recent survivors of the Edmund Fitzgerald. That's part of what makes "Whatta Man" such a wholesome meme.
This week, people on TikTok are sharing their love for guys, all kinds of guys doing all kinds of things to Salt n Pepa's "Whatta Man". Some are epic slow-mo vids of dapper football players; others are of simple things like making pancakes, or jokingly flirting with your space. It's just pure, unadorned positivity. More of this, please!
TAYLOR SWIFT - BETTER THAN REVENGE
i tried to stop him, i really did @jj.lopezzzz
You can't have too much sweetness on social media, though. Otherwise you might get cavities! People have been stirring up beef and spilling tea to the tune of Taylor Swift's "Better Than Revenge," all of which started over one video which went viral.
Someone had the gall to steal the poster's boyfriend and then publicly brag about it on TikTok. The wronged woman made a video in response, using the cautionary lines "there are few things I do/better than revenge." I'd be careful if I were the original poster.
BUSTA RHYMES - TOUCH IT
Dang, this one goes hard! It's almost unfair to call "Touch It" a challenge as many of the videos are somewhere between black belt martial arts and painfully smooth breakdancing, all over the hyper-intricate handclapping rhythms of Busta Rhyme's "Touch It."
DRAKE - PASSIONFRUIT
Sometimes you just need a soundtrack to make your life a little slicker, a little sweeter. This week, TikTokkers are using the synthetic soul of Drake's "Passionfruit" from 2017's More Life. It even comes with instructions on how to enjoy the videos - "Y'all might want to get some drinks in you. It'll make me sound a whole lot better!"
BRITNEY SPEARS - CIRCUS
Britney's tailor-made for TikTok. Her fishhook-sharp choruses, iconic dance moves, and an immediately recognizable fashion are readymade for recreation - there's a reason she's been so popular with drag queens since dead bang.
This week, some have been sharing their own versions of Britney Spears' "Circus," after someone created a Britney Spears circus-themed pop-up. Wait, hold up - there are BRITNEY SPEARS-THEMED POP-UPS? Brb, got to reserve plane tickets…
BELL BIV DEVOE - POISON
These two! @charlidamelio @heididamelio ##BBD @617mikebiv
All things '90s have been coming back in style, lately. If you're looking for a soundtrack to show off your fly girl moves and baggy raver pants, Bell Biv Devoe's "Poison" is your jam, this week.
Let this kick off a resurgence of Bell Biv Devoe! They're one of the better arty rap groups of the early 90s - spiritual forebears of today's conscious and cloud rap. Let's bring back breakbeats but leave the bucket hats in the past!
BILLIE EILISH - BURY A FRIEND
It's harder to really interact with your music when it's all digital. Kids in the 60s through the 80s, obsessive sleuths that they were, played back their records backwards, in half-time and double-time, looking for buried secrets and hidden messages.
This week, fans are discovering an easter egg in Billie Eilish's vaguely sinister "Bury A Friend."  It's our very own "Paul Is Dead" moment. Let's hope Billie Eilish's sentiments prove to be just as unfounded.
GROOVE DELIGHT - SAN ANDREAS (RADIO EDIT)
It's good to be informed about the world. It's good to care about the world. It's good to express yourself. But sometimes you just need a smooth g-funk beat to deliver chill vibes.
This week it's "San Andreas (radio edit)" by Groove Delight, with its authentic Snoop Dogg/Dr. Dre organ. TikTokkers are using it to showcase all kinds of craziness - from Chris Hemsworth delivering a weather forecast to recreating stripper moves from Grand Theft Auto. The whole world is having a West Coast party this week!
That about does it for another edition of the best of TikTok! Make sure to follow We Are: The Guard for behind-the-scenes footage with our musicians, excerpts from our playlists, and more!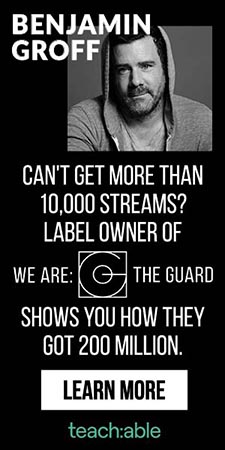 J. Simpson occupies the intersection between criticism, creativity, and academia. Based out of Portland, Or., he is the author of Forestpunk, an online journal/brand studying the traces of horror, supernatural, and the occult through music, fashion and culture. He plays in the dreamfolk band Meta-Pinnacle with his partner Lily H. Valentine, with whom he also co-founded Bitstar Productions, a visual arts collective focused on elevating Pop Culture to High Art.