THE BEST OF TIKTOK, WEEK OF 7/9
Image by Rebecca Harris on Unsplash
What's going on, Guardians? We hope you've been enjoying your summer, especially now that it's cooled off a bit. If you're in the states, we hope you got to see some fireworks for Independence Day.
If you didn't, TikTok's got you covered. Songs from this summer's musical breakout In The Heights makes an ideal soundtrack for fireworks videos. You'll also find soundtracks for people idealizing things they shouldn't, some smooth old school hiphop and even a couple of dance challenges!
Here's this week's best of TikTok!
LUCI4 - KURXXED EMERALDZ
It's been a few weeks since we've seen any major dance challenges on TikTok. This week, they're back with a twist. People on TikTok have been using the glitched out future beats of Luci4's "Kurxxed Emeraldz" to create their own twitchy hypercut dance vids. "Kurxxed Emeraldz" sounds sweet, as an added bonus, so you won't mind letting the videos loop ad infinitum.
BO BURNHAM - WHITE WOMAN'S INSTAGRAM
Bo Burnham's Inside special has been yielding a surprising number of memes, maybe because it's so danged listenable. This week it's "White Woman's Instagram," where Burnham (lovingly) dunks on Instagram cliches. It can almost serve as a fun drinking game, you should try it some time! "Latte foam art." Check. "Tiny pumpkins." Ditto. "Fuzzy comfy socks." BINGO!
On TikTok, Tokkers have been using the soundbite to mock other online cliches, like the "rugged jawline pose" for dudes. Or Kendall Jenner's entire existence.
ANTHONY RAMOS, COREY HAWKINS, MELISSA BARRERA - BLACKOUT
In The Heights was one of early summer's surprise hits. Despite the controversy around the film's depiction of Latinx residents of a NYC borough, it's still nice to see a musical catching on.
"Blackout" references fireworks, making it a good pick for 4th of July videos. And, as is often the case when something trends on TikTok, there's plenty of cute, funny, and entertaining videos also using the sound.
BEACH HOUSE - SILVER SOUL
Beach House can make anything sound magical and soulful. This last week, TikTok influencers have been using "Silver Soul" from Beach House's legendary Teen Dream album to express a range of emotions after it@djhabibeats reveals that Kendrick Lamar copped the hook, flipped it and reversed it for Good Kidd, m.A.A.d City's "Money Trees."
How can there be so much goodness in one 4-bar hook?
Now all someone needs to do is sample Kendrick, reverse it, and you'll have "Silver Soul"-ception!
SALLY SOSA, LIL DURK - STAR SONG
Songs with choreography instructions are tailor-made for dance challenges. This week it's "Star Song," with its cadle-rocking, spider-crawling, and good vibes.
If you're looking for a dose of good old positivity, "Star Song" is the perfect fit!
GUCCI MANE - ADDICTED
Hip-hop has a way of turning negatives into positives. In this case, it's Gucci Mane's "Addicted" where he lists off everything he's addicted to. This week on TikTok, people have been using the sound to list off everything they may have an unhealthy reliance on. Some of them might not be the best to brag about but, hey, self-awareness is the first step!
RODDY RICH - DOWN BELOW
There's nothing better than an underdog story. We love it when worthwhile people get what's coming to them. It reaffirms our faith in a just universe, which is all too rare of a commodity these days.
This last week Roddy Rich's "Down Below" has been the soundtrack for people inspirational stories. If you're looking for a lift, to increase your motivation or just for a daily dose of feelgood "Down Below"'s here for you!
FRAMED - LISTEN TO ME NOW
Sometimes you just need a little bit of funkiness, whether that's to capture excitement, adventure, or just to make something look cool. "Listen To Me Now"'s a perfect fit, with its looped koto sample and old school turntablism. You'll want to listen, as this break loops so seamlessly it's almost a track in and of itself! Make your own megamix and leave "Listen To Me Now" on endless loop!
That about does it for another week of TikTok hits! Make sure to follow We Are: The Guard on TikTok for even more music news, viral fun, memes, and behind-the-scenes exposes with our We Are: The Guard label!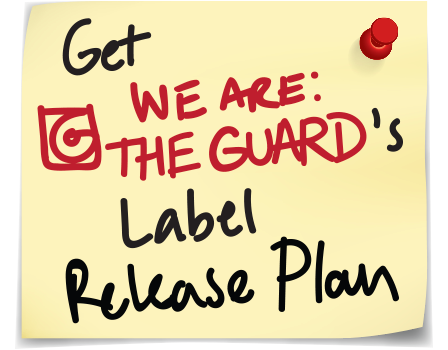 J. Simpson occupies the intersection between criticism, creativity, and academia. Based out of Portland, Or., he is the author of Forestpunk, an online journal/brand studying the traces of horror, supernatural, and the occult through music, fashion and culture. He plays in the dreamfolk band Meta-Pinnacle with his partner Lily H. Valentine, with whom he also co-founded Bitstar Productions, a visual arts collective focused on elevating Pop Culture to High Art.