THE BEST OF TIKTOK, WEEK OF 6/11
Image by Soundtrap on Unsplash
What's goin' on, Guardians? How's your week been? It seems things are finally changing. There's a lot more sweet than bitter among this week's TikTok hits. In fact, you won't need a Kleenex at all unless it's to wipe your eyes from laughing at @callmekris' hilarious toddler impressions!
Here are the top TikTok hits for the week of 6.11!
PLAYBOI CARTI - PUNK MONK
Healthy conversation and discourse is important for a healthy society. Some attitudes and opinions simply aren't worth entertaining, though. Some things are simply… wrong.
This week, people on TikTok have been using the lowdown, gnarly nastiness of Playboi Carti's "Punk Monk" as a soundtrack for people's opinions that shouldn't be considered, like not liking sushi. It even comes with its own "Too Legit To Quit" hand motions. Don't talk to me…
EMELINE & SMLE - FLOWERS & SEX
Teasing my music until TikTok blows it up part 800 ##songwriter ##music ##popmusic ##producer ##edm ##viral ##banger ##femaleartist
Let's face it…. We have different standards for different people. We might make one person jump through flaming hoops and crawl over broken concrete to prove their worth. Others will have us dropping our drawers at first knock…
Emeline & Smle's "Flowers & Sex" explores this duality, with its innocuous nursery rhyme vocals and sugary sweet beat. Sometimes you just want flowers and sex, without making a big production.
THE BACKYARDIGANS - INTO THE THICK OF IT!
The Backyardigans are back at it again! This last week, people have been resurrecting the Nickelodeon obscurity to soundtrack their journeys into the unknown… like giving a Brazilian bikini wax or making tiny coffee!
BTS - BUTTER
You know no one goes as hard as the BTS army - especially when a directive comes from the boys themselves. This week, BTS unveiled "Butter" with a virtual talent show, showcasing the talents of the different idols. If you're looking for a sound to show the world what you can do, consider the #SmoothLikeButter challenge!
DON OMAR, TEGO CALDERON - BANDOLEROS
Have you ever wanted to be a part of The Fast and the Furious? Without going to prison for street racing?
This last week, TikTokkers have been using Don Omar's "Bandoleros" while they green screen themselves into the cast of The Fast and the Furious. Some of the results are surprisingly cool. Others are simply hilarious. Either way, it's a hot song with a sick beat!
YOUNG M.A. - HELLO BABY (FEAT. FIVIO FOREIGN)
Every once in a while, you just need a sweet beat to show the world how laidback and swag you are. This week it's Young M.A.'s "Hello Baby" with a feature by Fivio Foreign. It's been used as a score for everything from a young mom cutting lines of baby formula to forging your own katana. Y'all are a bunch of cool MFers - we see you!
KEVIN MACLEOD - SNEAKY SNITCH
Shook beyond all belief ##husky ##adoptdontshop ##PepsiHalftimeChallenge
As we have often seen on our TikTok roundups, sometimes you just need some music to make your own '50s infomercials. This time 'round it's Kevin MacLeod's "Sneaky Snitch", ready to transform your hijinks into a commercial by Whammo!
And… bonus! You can watch a bunch of one of our favorite TikTokkers, @kallmekris, endless and endlessly hilarious imaginations of what it's like to have a toddler!
DIRTY HEADS - VACATION
Don't Blink! ##thecloseupking ##magickbalay ##magic ##funny ##comedy ##foryoupage ##fun ##believe ##bubbles
They say there's no one luckier than the person who loves what they do for a living. When you love your job, every day feels like a vacation.
This last week, the sweet, bouncy "Vacation" by Dirty Heads has been used to show off everything from making a watermelon slice into a soft serve cone to puppies in sunglasses. Every day's a vacation when you've got TikTok!
TAME IMPALA - THE LESS I KNOW THE BETTER
Tame Impala's music is built for adventure - bouncy basslines and funky breakbeats making you question what's over the horizon, around every corner. This week, "The Less I Know The Better" has been accompanying new chapters of TikTokkers' lives.
Of course, some are taking the song at its name and showing off things you'd probably rather not know. Wanna see some gnarly spider bites? Scroll "The Less I Know The Better."
That about does it for another week of TikTok hits! Make sure to follow We Are: The Guard on TikTok for even more indie music news, reviews, and behind-the-scenes hangs with WA:TG artists!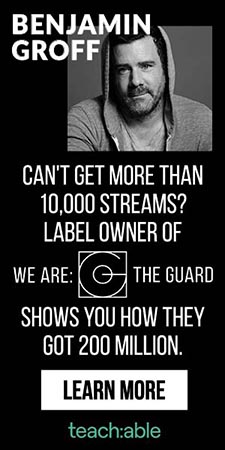 J. Simpson occupies the intersection between criticism, creativity, and academia. Based out of Portland, Or., he is the author of Forestpunk, an online journal/brand studying the traces of horror, supernatural, and the occult through music, fashion and culture. He plays in the dreamfolk band Meta-Pinnacle with his partner Lily H. Valentine, with whom he also co-founded Bitstar Productions, a visual arts collective focused on elevating Pop Culture to High Art.