BEST OF TIKTOK, WEEK OF 7/30
Image by Mateus Campos Felipe on Unsplash
What's good, Guardians? How've you been? You all been tuning into the Summer Olympics? Or just counting down the seconds until the new Billie Eilish record? Either way we hope your summer's going good, that you're all happy and healthy and holding it together to the best of your ability.
It's been another fun week this week on TikTok… There's been some new Lil Nas X so you know that's going to throw the social media world into a maelstrom. TikTokkers have also been rediscovering the joys of Nelly Furtado, Gwen Steffani, and Le Tigre this week, so if you're a fan of late 90s/early 00s music, you're about to be in ecstasy!
Here's the Best Of TikTok that we've discovered this week!
LIL NAS X - INDUSTRY BABY
After the mega-smash hit of "Montero" the internet's been collectively holding its breath waiting for Lil Nas X's next viral takeover. It was pretty much guaranteed that anything that Nas X dropped was guaranteed to dominate TikTok, no matter what. "Industry Baby" is proving that point.
That doesn't mean Lil Nas X's collab with Jack Harlow doesn't have merit. It's a bright bold beat, bristling with Spanish trumpets and diamond-tipped drill beats, well-suited for endless looping.
As is often the case with the biggest viral hits on TikTok, there's little rhyme or reason to the videos that "Industry Baby" soundtracks. It's in the background of everything from nitpicking videos about Travis Scott to weird cross-dressing skits and lots and lots of thirsty young men. 
HOANG READ - THE MAGIC BOMB
These last few weeks, there's been a trend of syncing up with sounds just as much as lyrics. This week it's Hoang Road's "The Magic Bomb," which gets its own accompanying hand movements. Is this 2021's "Too Legit To Quit?" We Are: The Guard hope so!
LE TIGRE - DECEPTACON
Are you looking for a soundtrack for feeling excited, ebullient, ostentatious? "Alright! Alright! Alright!" Give Le Tigre's "Deceptacon" a whirl this week! Le Tigre's funk-punk guitars scream enthusiasm, which is why they've been used to appreciate everything from vinyl bras to e-girl makeup to flushing a Confederate flag down the toilet.
Plus, anything that gets more people listening to Kathleen Hannah's other band is an automatic win!
REEVES JUNYA - DO YA LIKE
Reeves Junya's "Do Ya Like" drips with passion, heart, heat, and soul. It makes for the perfect soundtrack for anything someone's passionate about, whether that be a $6 million home or some much-needed body positivity or even just dunking on Kanye for the Donda debacle, which is always a popular hobby.
M.I.A. - BAD GIRLS
The ideas around what it means to be a woman have been expanding in the 21st Century, thank the Goddess, even if it's still happening frustratingly slowly at times. So here's one for the all the boss babes, the nasty women, the fabulous femmes, and all of the shades in-between. Plus, "Bad Girls" is just a banger that you should just listen to 100 times anyway!
GRETA VAN FLEET - YOU'RE THE ONE
It's always nice to have a soundtrack to express your appreciation for something or someone, whether that's your most recent boycrush or a pot-bellied pig or even raspberry chipotle sauce. Honesty, a raspberry-chipotle grilled cheese? "You're the one I neeed…"
GWEN STEFANI - LUXURIOUS
Every week there's a new sound for making yourself feel more fabulous. This week it's Gwen Steffani's "Luxurious" which has been used for everything from nose piercings to shopping sprees to a fresh dye job. Also a great opportunity to see plenty of cute, glamorous mid-2000s looks.
NELLY FURTADO - SAY IT RIGHT
We say this all the time on We Are: The Guard's Best of TikTok but the social media network truly has become one of the best places to discover under-appreciated older music. Remember Life Without Buildings? It makes scrolling TikTok just as good for exploring slow jams and big room bangers as much as funny, weird skits.
You can get a bit of both when you look through the videos for Nelly Furtado's "You're Right," with its 80s Pop sheen. A good one for your "Girls' Just Wanna Have Fun" mixtape or awkward fashion transitions.
PINK PANTHERESS - ORIGINAL SOUND
The sooner we all come to terms with it, the better ##Fyp ##foryou ##MaybellineSwipeIt ##Music
We round out this week's Viral Hits with an Original Sound from @pinkpantheress. This trend sounds somewhere between a chill lofi study beat and cotton candy bubblegum pop, so it'll fit a wide variety of moods. So far it's being used for everything to show off back to school outfits to missed connection dates.
Judging from the fact that @pinkpantheress already has over 568,000 followers on TikTok's, it's a safe bet that she's going to have a ton more people obsessed with her in the very near future!
That about does it for another week of the Best Of TikTok! Remember to follow We Are: The Guard for even more music as well as behind-the-scenes glimpses with some of the WA:TG label!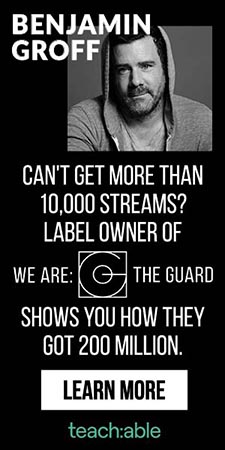 J. Simpson occupies the intersection between criticism, creativity, and academia. Based out of Portland, Or., he is the author of Forestpunk, an online journal/brand studying the traces of horror, supernatural, and the occult through music, fashion and culture. He plays in the dreamfolk band Meta-Pinnacle with his partner Lily H. Valentine, with whom he also co-founded Bitstar Productions, a visual arts collective focused on elevating Pop Culture to High Art.