THE BEST OF TIKTOK, WEEK OF 8/6
Image by Steve Gale on Unsplash
What's goin' on, Guardians? Welcome to another week of the best of TikTok, where we pour over the blossoming social media network in search of the latest, greatest viral sounds!
This week, we've got a little bit of melancholy, in the form of The Beatles' "Eleanor Rigby." There's a little bit of wistfulness, for an aging meme no less, with B.o.B.'s "Airplanes." There's even a little bit of naughty trash talking with Måneskin's "I Wanna Be Your Slave."
Read on to find out this week's top TikTok viral hits!
THE BEATLES - ELEANOR RIGBY
Sometimes it feels like this pandemic's never going to end. Never has The Beatles' most depressive orchestral pop seemed more relevant, or more devastating.
"I look at all the lonely people" - me too, Paul, me too. This week, people are using "Eleanor Rigby" to express their alienation and all of the things that make them weep. Which could be anything from Tonya Harding ice skating to wearing green.
Even better, you've got your pick of playing it straight or going with a chopped-and-screwed slowed version.
VAN MCCOY - THE HUSTLE
The fastest way across
Remember a week or two ago when people were doing that complicated eye-direction trend, like some kind of Street Fighter killer combo on steroids? This week it's "The Hustle," which TikTokkers are using as a soundtrack for dodging the crop screen for some reason.
Whatever the reason, the results are hilarious!
MÅNESKIN - I WANNA BE YOUR SLAVE
I'M OBSESSED AHHH ##måneskin ##damianodavid ##eurovision2021 ##eurovision ##fypシ
We all have things we look down on, even if it's ourselves and some of our habits and behaviours. This last week, people on TikTok have been using the electroclash of "I Wanna Be Your Slave" to vent their ire, lip syncing along about things that are "f*cking pathetic."
Might be a little mean-spirited sometimes but there's some good laughs and bits to be found. Plus, we're all allowed to dunk on ourselves a bit about having arguments with fictional characters at 3 a.m.
RIPPA DELAHOYA - PIECE OF YO LOVE
It's good to be generous. It's good to share. This last week week, the epic emotive remix of "Piece Of Yo Love" is being used as a soundtrack for all the people that love to give of themselves.
Maybe try expressing that to someone's SO in a slightly more tactful manner, though…
B.O.B. - AIRPLANES (FT. HAYLEY WILLIAMS)
Our wishlists, dreams, and fantasies are probably fairly overflowing at this point with so much of life being restricted or just plain hard to do. This makes it prime time for "Airplanes," an emotional dramatic ballad featuring Paramore's Hayley Williams.  
This particular song is due to the fact that these videos are parodying or recreating the MordeTwi meme from some years ago, a popular ship between Twilight Sparkle from My Little Pony and Mordechai from Regular Show.
Some of these videos are beyond ambitious. If you've ever wanted to see someone do a full body paint version of the original MordeTwi meme, your wait is over!
MILKY CHANCE - COLORADO
Back or front?
It's always good to have a song or two in your arsenal for when you're experiencing conflicting emotions (which is probably more the norm than the exception, these days.) This week, the soundtrack of choice is "Colorado" by Milky Chance, with its rollercoaster-referencing lyrics. You'll get plenty of thrills, too, with TikTokkers sharing their favorite agave drinks, hair-dying techniques, emoji WIPs, and other such excitements!
DESTINY'S CHILD - SO GOOD
Living well is the best revenge as we all know. It's really the only revenge as anything else just isn't worth lowering yourself or bringing your energy down. This week, you can tell the world how excellent you're doing with "So Good," by Destiny's Child, with its standout Beyonce vocals.
It's such a striking piece that even the lip syncing videos are impressive. Not to mention the original vocals. And the Pennywise videos really make this trend…
CAPITAL CITIES - SAFE AND SOUND
You can't have a week on TikTok without some sort of lo-fi chillwave banger to broadcast your chill or just as an excuse to get the heck down. This week's glo-fi banger is "Safe and Sound" by Capital Cities, an electro indie pop gem from the early 2010s.
Many of the videos are expressing how they missed this track the first time 'round. Don't worry, Capital Cities' vocal-led anthem, with its tar pit-worthy bassline, still sounds relevant nearly 10 years later.
If you're looking for a soundtrack for your bedroom dance parties, "Safe and Sound" would be a good choice!
JEALOUS GIRL - LANA DEL REY
No one ever accused Lana Del Rey of having healthy boundaries or relationships. Alright, maybe somebody has but those accusations would be in no way grounded in reality. A model of good mental health is not why we tend to turn to Ms. Del Rey. More often, it's for a soundtrack for our broken hearts, our jilted imaginations full of petty revenge.
This makes "Jealous Girl" a perfect soundtrack for those looking for a theme song for getting even. It takes two to tango, after all, and sometimes people got some karma coming. And now you have a stylish theme song to go with your just desserts!
That about does it for another week of TikTok! Make sure to follow We Are: The Guard for more viral goodness, memes, and behind-the-scenes glimpses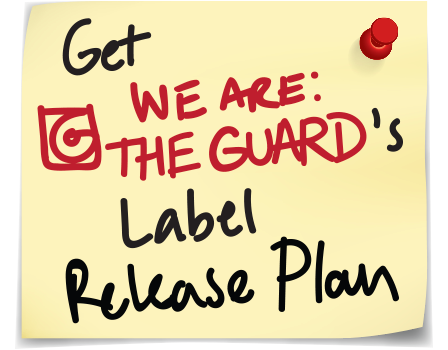 J. Simpson occupies the intersection between criticism, creativity, and academia. Based out of Portland, Or., he is the author of Forestpunk, an online journal/brand studying the traces of horror, supernatural, and the occult through music, fashion and culture. He plays in the dreamfolk band Meta-Pinnacle with his partner Lily H. Valentine, with whom he also co-founded Bitstar Productions, a visual arts collective focused on elevating Pop Culture to High Art.