BEST OF TIKTOK, WEEK OF 8/13
Image by Amelia Bartlett on Unsplash
How's it goin', Guardians? How's everyone's week been? Things cooling off where you are? Managing to stay occupied, even if your area's locking down again?
Don't worry, we've got some TikTok goodness to help keep you busy even if it's harder to get out of the house. We've got some feel good vibes from Doja Cat. We've got some feel bad vibes from Billie Eilish. We've got cats on horses and seductive sloths and colorful smoothies and many points between.
Here's the best of TikTok for this week!
MEGHAN THEE STALLION - COGNAC QUEEN
Sometimes we all need a theme song to pump us up, to make us feel like our hottest, bestest self. It's the playlist version of a super cheerleader friend - "C'mon, you got this! Now get up, put some pants on and let's go slaay!"
This last week, Meghan Thee Stallion has been that friend for countless TikTokkers with "Cognac Queen," the perfect soundtrack for when you got it and want to flaunt it.
THE KID LAROI - STAY (FT. JUSTIN BIEBER)
I may not have @maxtaylorlifts dumpy but I do have a drone.
Production values are getting insane on TikTok. Some TikTok videos look like professional music videos at this point, except even more epic.
Case in point, "Stay" by Kid Laroi. It all started with @totouchanemu started posting drone videos set to Kid Laroi's almost criminally infectious synthpop. Drone videos, dumptruck booty shaking, llamas - this video alone will get you through the rest of this week!
SR - WELCOME TO BRIXTON
Roadman Sancho ##foryou ##fyp ##gtfootball ##football ##sancho ##haaland ##viral ##fight ##roadman ##capcut ##dortmund ##coming2america ##snapchallenge ##video
British hiphop doesn't get nearly enough love in the States. 'Tis a shame, really, there's something irresistible with the stomach-dragging beats, the dreary drowsy vocals, the moody electronics hanging over the whole thing like low-hanging clouds.
SR's "Welcome To Brixton"'s murky moody melodies and snarling vocals is the choice for anyone looking for a sound to show off doing anything badass. Grand slam homeruns, slam dunks, layups, martial arts, whatever.. Plus you get to learn a bunch of British slang for your own Grime rhymes.
BILLIE EILISH - HAPPIER THAN EVER
felt.
Sometimes we just need a sound for when we're feeling dark. That's one great thing about TikTok, it's not quite as susceptible to the filtered Toxic Positivity that Instagram favors, TikTok is more open to being open, to being honest, being real.
Billie Eilish's newest, Happier Than Ever, finally dropped a few weeks ago and seems to have dropped off the radar. Not on TikTok, though, which is the perfect channel for Eilish's moody, angsty storm. It's not just wallowing, either, TikTokkers are using "Happier Than Ever"'s pyrotechnics to get their room clean, get over a breakup, or just go out and have some adventurous fun.
DOJA CAT - GET INTO IT
Yuhhhhhh dc @davidvooo ##yuhdancechallenge ##fyp ##fy
At this point, can we nominate Doja Cat as Queen of Body/Sex Positivity? Every week, her songs and sounds soundtrack millions of videos of people just wanting to look good, feel good about themselves, and have fun doing it. It's god danged wholesome, it is, a much-appreciated source of good vibes and positivity in the frequently toxic world of social media.
This week, "Get Into It"'s been the track of choice with its own dance challenge, the #yuhchallenge. A good source of some sweet choreographed dance moves, plus some of the requisite weirdness you want from a TikTok trend. You wanna see a sloth bootydropping in high heels? You've come to the right place!
DRAKE - KNOW YOURSELF
Say it again, with feeling. This week, people have been using Drake's "Know Yourself" to express incredulity, frustration… "I was running through a six with my wos… I WAS RUNNING THROUGH THE SIX WITH MY WOs!"
And if you end up sleeping with a guy that's only got a twin bed with a single pillow - RUN!
BLONDIE - HEART OF GLASS
Every few weeks a disco classic will trend on TikTok. It could be Abba, or the BeeGees, or Boney M. Frankly, it doesn't even matter why, which is good as there often doesn't seem to be any rhyme or reason to the videos (except for Boney M's "Rasputin", which remains a TikTok staple.) It doesn't matter much, as it's just a reason to let Solid Gold disco fabulousness play on repeat for an hour or so.
There's no telling what you'll find when scrolling Blondie's "Heart Of Glass." Smoothie bowls? Makeup tutorials?  Fashion shows? A cat riding bareback on a horse?
It's like the social media version of insomniac late-night infomercials, equal parts fascinating and bizarre.
SZA - LOVE GALORE (FEAT. TRAVIS SCOTT)
People will always be playing games. That means that SZA's "Love Galore" will always be relevant. It's come back around again, from her Ctrl album, after a tweet beseeching Travis Scott to collab with her again on the superbly downbeat track.
Maybe if we make enough videos featuring "Love Galore" it'll happen!
That about wraps up another week of TikTok hits! Make sure to follow We Are: The Guard for even more viral goodness, music news, and behind-the-scenes footage with our We Are: The Guard label roster!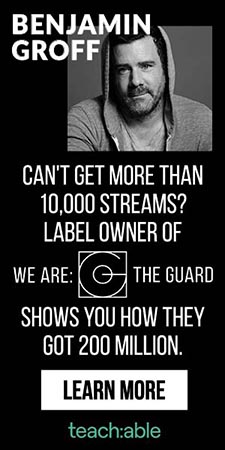 J. Simpson occupies the intersection between criticism, creativity, and academia. Based out of Portland, Or., he is the author of Forestpunk, an online journal/brand studying the traces of horror, supernatural, and the occult through music, fashion and culture. He plays in the dreamfolk band Meta-Pinnacle with his partner Lily H. Valentine, with whom he also co-founded Bitstar Productions, a visual arts collective focused on elevating Pop Culture to High Art.