BEST OF TIKTOK- WEEK OF 9/17
Image by Jeremy Bezanger on Unsplash
What's good, Guardians? Are you enjoying the sweet, sweet transitional season from Summer into Fall? Digging the bloodbath of new, interesting horror movies hitting streaming services and movie theaters? Still scratching your head over some of the looks from this week's Met Gala?
It's been a big week on TikTok, too. There's lots of good vibes circulating on TikTok this week, like the sweet declarations of love and devotion with Ellie Goulding's "Still Falling For You" or Miley Cyrus' "Twinkle Song."
There's plenty of nastiness, too, have no fear. There's the lowdown-and-dirty "Have Mercy" by Chloe, for starters, and the hilariously honest bad vibes of "Have A Bad Day" by Justus Bennett.
In short, there's a little something for everybody! So dig in and enjoy this week's Best Of TikTok!
CHLOE - HAVE MERCY
This challenge but in kuchipudi | challenge: @crayzrah
"Murder on the beat/so it's not nice Booty so big/Lord, have mercy."
This week, the people of TikTok are workin' it to Chloe's lowdown-and-dirty "Have Mercy," to show off their attitudes AND their glutes. Some have even put together choreography and dance and workout routines.
Scroll this sound to see the challenge in full-on Kachipudi regalia, as is the case of Raasibomma's video - a particular highlight.
Dad doing the challenge in matching yoga outfit deserves a shout-out, though!
#NeverStopExploring #dadsoftiktok
MILEY CYRUS - TWINKLE SONG
hahahahahaha
Looking for something to turn on the waterworks? Or ask existential questions? This week, people on TikTok have been showing their vulnerable, sensitive sides with Miley Cyrus' "Twinkle Song." "What does it MEAN???"
LUKAS GRAHAM - MAMA SAID
##greenscreen and school ruined it for me
We all know how important representation is - to see and feel seen; to feel like someone's been where we've been before. That's part of the reason for role models, to help guide us through a complicated, confusing world.
This week, people on TikTok have been using the sweet, uplifting "Mama Said" by Lukas Graham to show off some of their role models
TAYLOR SWIFT - AUGUST
Looks like we ran out of august ##august ##folklore
Much has been sad about using social media as a highlight reel for your life - how it leads to unhealthy comparisons between your insides and someone else's outsides. And while we all understand intellectually that people's online lives tend to be carefully curated, it's still easy to get emotional when we feel like we're not living up to our potential and being our best selves.
This week, people have been using Taylor Swift's "August" from Folklore to show off the highlight right
NAVOS - BELIEVE ME
ib @taraashleyj #twilight #cullens #teambrody
TikTok can be a surprisingly useful source for good advice, ProTips, lifehacks, and so on. Whether you want to learn how to braid hair, make the most of your laundry detergent, make delicious vegan food, whatever… TikTok's got you.
This week, people have been using Navos' discofied rave-up "Believe Me" to share all sorts of good tips, from sneezing on your knuckles during a fight to inflict poison damage to faking your death by pretending to climb Mount Everest.
Make sure to scope @brodywellmakers' hilarious (and accurate!) impressions of Twilight characters at the club.
And the even more hilarious "Dances To Keep Boys Away From You At The Club" by @Gibz_. Which is, frankly, just good advice.
ELLIE GOULDING - STILL FALLING FOR YOU
Social media's a great place to shout-out your loved ones, and not just in posed, plastic glamourshot portraits.
This week, people have been using Ellie Goulding's "Still Falling For You," from Bridget Jones' Diary, to show off their wedding videos; their surprise visit to their long-distance partner; their very good boy dogs.
It's just sweet and nice and almost unbearably wholesome.
JUSTUS BENNETTS - BAD DAY
you ever just wish someone as the worst day ever?? ##fyp ##badday ##viral ##studio ##nyc ##unreleasedmusic
There's been a lot of wholesomeness in this post, which is all well and good. And we'd love to pretend we're all sweetness and light and "good vibes only." But, alas, We Are: The Guard are still human, all too human. Which means not always wishing the best for people, especially when they're objectively awful.
This week, Justus Bennetts' "Bad Day" is as satisfying as a witch's curse. The litany of misfortunes aren't that terrible - file them under mild inconveniences. Save this one for when you're pissed and need to vent!
That about does it for another week of viral TikTok hits! Make sure to follow We Are: The Guard for highlights from our indie playlists and Behind The Scenes videos with the We Are: The Guard label and artists featured on our Featured Finds and singles reviews!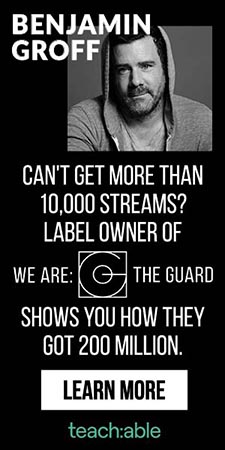 J. Simpson occupies the intersection between criticism, creativity, and academia. Based out of Portland, Or., he is the author of Forestpunk, an online journal/brand studying the traces of horror, supernatural, and the occult through music, fashion and culture. He plays in the dreamfolk band Meta-Pinnacle with his partner Lily H. Valentine, with whom he also co-founded Bitstar Productions, a visual arts collective focused on elevating Pop Culture to High Art.