BEST OF TIKTOK, WEEK OF 9/24
Image by Joshua Chun on Unsplash
Hey Guardians! How's this week treating you? Good, we hope. We here at We Are: The Guard are ecstatic as it is officially the Fall! For those of us here on the West Coast that means at least a hope of dropping below the triple digits, which would be as cool as a New England October in comparison to the blast furnace we've been enduring.
For this week's Best of TikTok, we've got a cornucopia of goodness for you - from the good vibes of Muna's "Silk Chiffon" with a little bit of help from Phoebe Bridgers and perhaps TikTok's most addictive earworm to date with Yellow Claw's G-Funk remix of "Love & War."
Here's this week's Best of TikTok! Happy Autumn to you!
MUNA - SILK CHIFFON (FT. PHOEBE BRIDGERS)
Life is heavy. Especially these past few years. Who can blame us for just looking for some good vibes, some positivity… some snippet of something good to help us actually put on clothes and get out of bed.
This last week, Muna reminds us of the small pleasures in life, with a little bit of help from Phoebe Bridgers. "Life's so fun/life's so fun/with a miniskirt/and my rollerblades on" chants like a jump rope anthem.
TikTokkers have been engaging with "Silk Chiffon" in a number of different ways. Some are taking Muna and Bridgers at their words, sharing the little joys that make life bearable. Others are subverting the text, sharing all the ways that life is less than fun… like having a panic attack in a CVS.
LIL NAS X - THATS WHAT I WANT
@lilnasx
It's good to have goals. Like Muna's rollerblades, goals give us a reason to get out of bed, something to work towards and for. They help us to pick ourselves up when the going gets tough and keep stepping.
This week on TikTok, people have been using Lil Nas X's "THATS WHAT I WANT," to share about the things they're striving for… like hanging out with a men's bodybuilding team. Or expert slack rope abilities.
Hey, anything that helps get you out of bed!
 
YELLOW CLAW - LOVE & WAR (G-FUNK MIX)
Looking for something smooth this week, to show off your solid gold soul? Some West Coast vibes for your house party that just won't quit? Give Yellow Claw's G-funk remix of "Love & War" a spin.
As an added bonus, "Love & War - G-funk Remix" has got to be one of the most listenable loops in the history of TikTok. The smooth, laidback beats, Dracos' Destiny Child-worthy vocals, that Snoop Dogg-worthy synthline. It's enough to make you glad that the next bar never comes.
BOBBY "BORIS" PICKETT - MONSTER MASH
fav day of the year HALLOWEEN ##GetYourJeansOn ##SummerMashup ##HPRadicalReuse ##fypシ ##foryou ##halloween ##halloweencostume ##halloween2021
The Fall is officially upon us. Which means one thing - the Spooky Season has officially begun! For those weird enough to not surround themselves with horror movie-related goodness year-round, that means the starting gun has fired. Let the spooky posting begin!
This week, people have been showing off their Halloween-related moves on TikTok to the timeless refrain of Bobby "Boris" Pickett's mad scientist-esque delivery of "Monster Mash," although some precocious go-getters have been posting on the challenge for over a month already.
"Monster Mash" is worthy browsing just to see where to get the good Halloween hauls, alone.
TAY MONEY - THE ASSIGNMENT
Last week was the Met Gala, the fashion world's most prestigious costume party. The Met Gala is a chance for fashionistas to show off their wildest, most extravagant looks. Like Dan Levy's jaw-dropping, talk-stopping globe outfit. HE clearly understood the assignment. Those who chose to still show up in sweats clearly didn't comprehend the memo.
This week, people on TikTok have been using Tay Money's "The Assignment" to show cases where they understood what was called for and reacted appropriately. Expect to see plenty of strong hair games, cute kids, sleeping babies, and at least one person getting a doctorate. They clearly understood the assignment!
SLEEPING AT LAST - YOU ARE ENOUGH
i miss you so much. ##bestdad
In this world, it's easy to think you've got to be a superhero to be worthy of love. That you need to be the most attractive, the most interesting, the most mentally stable and put together. Except that means we don't measure up to the mark we set for ourselves far too often.
One of this week's top TikTok hits is Sleeping At Last's "You Are Enough," where TikTokkers are using to soundtrack and shout out the people they love, who clearly are enough if not far more.
Remember, those who love us love us for our faults, not in spite of them. Love is like a soft landing pad, a shelter from the storm of this often too-harsh world. You are enough, just as you are. Let Sleeping At Last remind you of that this week.
That about does it for another week rounding up the best of TikTok! Remember to follow We Are: The Guard for behind-the-scenes footage with our We Are: The Guard label family and excerpts from some of our indie music playlists.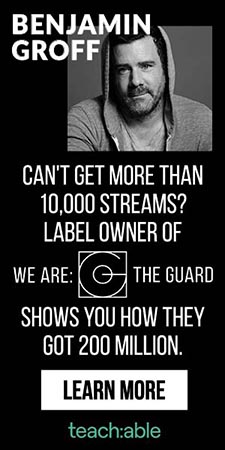 J. Simpson occupies the intersection between criticism, creativity, and academia. Based out of Portland, Or., he is the author of Forestpunk, an online journal/brand studying the traces of horror, supernatural, and the occult through music, fashion and culture. He plays in the dreamfolk band Meta-Pinnacle with his partner Lily H. Valentine, with whom he also co-founded Bitstar Productions, a visual arts collective focused on elevating Pop Culture to High Art.