BEST OF TIKTOK, WEEK OF 10/8
Image by Bruno Gomiero on Unsplash
Hey Guardians! Happy Spooky Season! Here in the Northern Hemisphere, autumn is fully underway. The trees are bursting into scarlet flame and waves of gold. The breeze is taking on a delicious chill, even here on the West Coast.
Perhaps the spookiest thing of all is the amount of sincerity, honesty, and vulnerability we're seeing on social media this week. Don't worry, though, not all of this week's TikTok viral hits will get you all up in your feels (although "The Feels" definitely will.) There's plenty of choreography on display, like the synchronized transitions of Soft Cell's "Tainted Love," and some weirdly hilarious confessionals courtesy of Billie Eilish's "Bored."
That's one thing you won't be this week on TikTok!
TWICE - THE FEELS
"The Feels" Fashion Change Short Ver.Full Release on10.01 FRI, 0AM(EST) 1PM(KST)#TWIC#E #트와이스# #TheF#eels#GetTh#eFeelsWithTWICE #TikTo#kFashionMonth
Do you ever get tired of everybody playing it cool all the time? Of people trying to hold everything back, no matter the circumstance?
Enter "The Feels" by TWICE! A new dance challenge for TikTokkers willing to let it all hang out.
There's nothing blase about this k-pop dance challenge. You will see twerking! Hand motions! Lip syncing! Costume changes! No one's holding back from "The Feels" on one of this week's most fun dance challenges.
LYN LAPID - IN MY MIND
instagram in bio ♡ ##photodump
It's been a minute since we've had a native TikTok viral hit. Some of the last few years' biggest stars got started on TikTok, we must remember - or were launched by it in any regard. Both Lil Nas X and Olivia Rodrigo were given their initial boost after having trending sounds.
That's part of what makes Lyn Lapid's "In My Mind" so pure and downright wholesome. "In My Mind" first started trending when Lapid made a post about hearing her own song on Sirius XM radio. THEN the sound started trending in its own right.
Subsequently "In My Mind" became a soundtrack for anyone looking for an emotional moment. Searching for a lost engagement ring on a moonlit beach a baby snuggling with a puppy; skateboarding babies in frog hats… The "In My Mind" trend just gives and gives and gives!
JAX - LIKE MY FATHER
I just released a song about how much my dad loves my mom. It's called Like My Father ##DaddysGirl ##originalmusic ##foryou ##LikeMyFather
Dang, what's going on? Social media, modeling all sorts of healthy models and behaviors? Maybe the rapture us finally descending…
Jax's "Like My Father" is another TikTok original - a piano-led ballad about wanting a relationship like Jax's parents - roses, slow dancing, acceptance, good communication. Just think what the world could be, if patience and understanding were the height of sexiness? Even the video of Jax hearing her song on the radio in the back of an Uber is wholesome AF.
MONTELL FISH - TALK 2 ME
People are getting real this week on TikTok. The captions for many of this week's trending videos read more like poems or philosophical tracts than memes. Some of the wisdom you'll stumble across, browsing Montell Fish's "Talk 2 Me" is "Choose Your Pain: 1. The Pain Of Discipline or 2. The Pain Of Regret." or someone else talking about the risk of trying to distract yourself from pain. This is alongside tear-jerking testimonials to sisters, besties, lovers…. Anyone you've got a message for.
BRITNEY SPEARS - LUCKY
Britney Spears has been owning social media in 2021. She's taken over from T-Swift, Ed Sheeran, even big moments like the Met Gala or the VMAs. It seems that Britney's trending on some sort of social media network every day for some reason or another.
This week it's "Lucky," with its early '00s girl group swagger. If you're just lookin to share those moments where things just worked out (or not lol), soundtrack it with "Lucky!"
SOFT CELL - TAINTED LOVE
We here at We Are: The Guard have been feeling the recent rash of choreographed sound videos - where TikTokkers time their dances and transitions in time with the music or sound effects. And we're always here for Soft Cell!
So this recent TikTok trend is checking all the boxes for us. With "Tainted Love," TikTokkers time their transitions to Soft Cell's iconic "bah, bah!" "duhduhduhduhduh"... while often sharing hilarious captions about clueless boys and obsessive women. Take my tears!
BILLIE EILISH - BORED
You're teaching me to live without it :) ##billieeilish ##fypシ
Are you looking for some reminder of how horrible things can be? The sheer, anguishing, humiliation of middle school? "Bored" by Billie Eilish's got you.
This week on TikTok, people have been using Billie Eilish's tearjerker to bring up all the painful memories, from the weirdo in middle school who rushes you at the water fountain to the gut wrenching pain of a lover walking out the door. "Bored" is a suitable soundtrack for all of it!
GEORGE MICHAEL - CARELESS WHISPER
WE COULD HAVE BEEN SO GOOD TOGETHER
People have a tendency to say things they don't mean during a breakup. "It's not you, it's me!" "I love you like an [insert family member here.]" "I just need to focus on myself for a while.
Yeah, sure.
This week on TikTok, people have been using the dulcet tones of George Michael (who doesn't get enough love online, barring Arrested Development) to illustrate the only breakup advice you really need. "Living well is the best revenge."
"Maybe it's better this way," as these post-glowup hotties are gearing up to live their best lives. Enjoy singledom and this Harry Styles fan cam.
That about wraps up another week of the Best Of TikTok! Remember to follow We Are: The Guard for even more viral hits, music news, and behind-the-scenes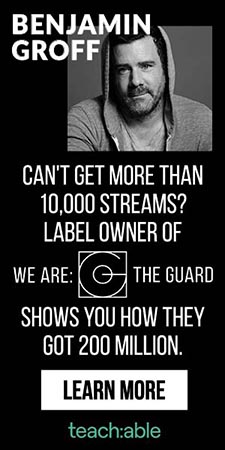 J. Simpson occupies the intersection between criticism, creativity, and academia. Based out of Portland, Or., he is the author of Forestpunk, an online journal/brand studying the traces of horror, supernatural, and the occult through music, fashion and culture. He plays in the dreamfolk band Meta-Pinnacle with his partner Lily H. Valentine, with whom he also co-founded Bitstar Productions, a visual arts collective focused on elevating Pop Culture to High Art.