BEST OF TIKTOK, WEEK OF 10/15
How's it goin', Guardians? How's your week going? We hope you've been enjoying the Season of the Witch to the utmost as… October's almost halfway over already!
Spooky season is all-too-apparent this week on TikTok. There's pumpkin carving challenges. There's Drake being moody (and sometimes cringey). But there's plenty of regular, evergreen TikTok goodness as well. There's some new dance challenges. There's a few viral memes floating around. And, as always, there's some good music to be heard!
So without further ado, here's this week's Best Of TikTok!
DRAKE - GIRLS WANT GIRLS
No I don't taste, yes I feel texture. My favorite texture is mush mixed with crunch.
Here's one for people who know what they want - even if that's just to spread chaos and confusion. Drake's "Girls Want Girls" already unleashed a tsunami of memes when it first dropped.
This week, "Girls Want Girls" 2.0 has been trending on TikTok, with TikTokkers using the sound to illustrate the things that they want. Or, as is often the case with trending sounds, just as a soundtrack for randomness.
The videos where someone calls two chain stores at the same time are particularly entertaining!
HENRY HALL - TEDDY BEAR'S PICNIC
uh oh what have I done (@scarlettohair made me do eet)
Looking for some unusual theme songs for your spooky season fabulousness? That's NOT "The Monster Mash?" Henry Hall's "Teddy Bear Picnic" is the perfect pick! It's cute! It's weird! It's silly, and more than a little sinister!
If you're looking for something to make your life look/sound like an old Mickey Mouse haunted house cartoon, give "Teddy Bear Picnic" a go!
JACK STAUBER - OH KLAHOMA
SPKY SZN @adamw @kingbach
We're halfway through October - of course the majority of this week's TikTok trends are Halloween-y. Jack Stauber's "Oh Klahoma" is the official theme song for one of this week's biggest challenges - the Pumpkin Challenge!
If you want to see a bunch of fools running around with pumpkins on their heads, spend a while browsing "Oh Klahoma" on TikTok!
ALY AND AJ - POTENTIAL BREAKUP SONG
Here's a TikTok native! Aly and AJ share hysterical, sarcastic, satirical electropop, like if Garfunkel and Oates were to jam with Dan Deacon or Lonely Islands writing itch, twitchy New Wave synth freakouts. "Potential Breakup Song"'s got a lot of people singing, especially Moms for some reason, who really seem to like bopping along to Aly and AJ.
Maybe they feel their breakups are overdue?
DRAKE - KNIFE TALK
2 years?
This trend is like several other of this week's biggest TikTok trends rolled into one! For one, it's yet another Drake joint (and a particularly good one at that.) And it's also being used to showcase some particularly excellent spookiness - people's best Halloween costumes and decorations, in this instance.
It's also just a good, all-around low-down banger - low, slow, moody, and tough. It's nice to remember Drake in non-emo mode or as something other than a meme.
CIARA - LIKE A BOY
How could he do this to me ##fyp ##boyfriend ##cheater ##greenscreenvideo ##greenscreen
Is there much worse than cheating? How it makes you question everything you've seen, heard, and felt for months and years on end? How it leaves you jaded, cynical, and guarded? It can really mess you up.
This week, people on TikTok have been using Ciara's "Like A Boy" as a soundtrack for talking about recovering from infidelity, as Ciara's smooth r&b vocals croon "What if I/had a thing on the side?/Made you cry?"
Don't worry, it's not all heartbreak - there's plenty of funny memes and sarcasm, as we do. Do be careful if taking any questionable advice from TikTok, though, like texting your partner that you miss being single to see how they react. There's some saying about winning stupid prizes that seems relevant here…
That about does it for another week of the Best of TikTok! Make sure to follow We Are: The Guard on TikTok as well for even more music news, behind-the-scenes hangs with the We Are: The Guard label, plus plenty of music news and good ol' fashioned TikTok goodness!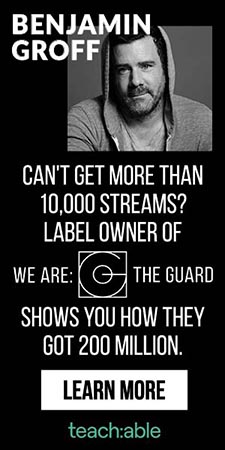 J. Simpson occupies the intersection between criticism, creativity, and academia. Based out of Portland, Or., he is the author of Forestpunk, an online journal/brand studying the traces of horror, supernatural, and the occult through music, fashion and culture. He plays in the dreamfolk band Meta-Pinnacle with his partner Lily H. Valentine, with whom he also co-founded Bitstar Productions, a visual arts collective focused on elevating Pop Culture to High Art.