THE BEST OF TIKTOK, WEEK OF 11/12
Image by Maria Shanina on Unsplash
What's good, Guardians? Everyone settling into the cold and dark yet? The spooky season is retreating ever further in the rearview, while the sparkling fairy lights of the holiday season are looming on the horizon.
This leaves us in an interesting transitory season. And TikTok is feeling the effects…
Several of this week's top TikTok hits are downright grim even if the sounds, themselves, are not. Keep some Kleenex handy when you scroll this week's trending TikTok hits! But it's not all doom and gloom, as there are also a number of excellent 70s slow jams and bangers for your elucidation.
So without further ado, here are this week's top TikTok hits!
BRUNO MAJOR - NOTHING
thank you for putting your faith in me, everything I do is to build you an empire and make you the queen
Ah, we so dearly love a native TikTok hit. TikTok was integral in introducing the world to Bruno Major's mellow, vaguely melancholic jazzy slowjam. It's only appropriate that TikTokkers have taken to "Nothing" in kind.
This last week, TikTok has been using the sparse, jazzy guitar and Major's cheesy lyrics to soundtrack ambivalent moments - about trying to find a cute outfit or whether or not you should hold their hand. It's a nice trend, as "Nothing" loops quite nicely, so you'll want to listen for an hour while you scroll.
SILK SONIC (BRUNO MARS, ANDERSON .PAAK) - SMOKIN' OUT THE WINDOW
Reply to @notslimrealshady as u wish

♬ Smokin Out The Window - Bruno Mars & Anderson .Paak & Silk Sonic
Speaking of native TikTok slowjamz, a new single from Silk Sonic, the new duo between Bruno Mars and Anderson .Paak, was guaranteed to turn some heads. ESPECIALLY when the original is like a clip from Soul Train, beamed directly to your phone in ultimate HD.
Even better, you can watch the TikTok-fluencers trying to work out, in real-time, what the trend should be. Should it be a transition? Should they focus on the "This b*tch" hook?
Only time will tell which trend will be left standing!
THE YOUNG HOLT UNLIMITED - SOULFUL STRUT
Cute things in sink ##trend ##foryou ##ducks ##pets ##makeitcinematic
Speaking of solid gold soul, here's a groove! The Young Holt Unlimited's "Soulful Strut" sounds like the theme music to the daily special portion of The Price Is Right. Or maybe a late-night infomercial, when cable TV was still a thing.
Here's your chance to make your own infomercials. Or maybe a late-70s made-for-TV movie. Or, if you're just scrollin', you'll find plenty of randomness, as is often the case with popular TikTok sounds.
ALEXANDRE PACHABEZIAN - SEE YOU AGAIN
Broken hearts heal, struggles get better (Part 1)
Has the Seasonal Affective Disorder set in for you yet? Or are you just numb, staring off into middle-distance after wave after wave after wave of disorienting global events rock us like Apollo Creed?
For many of us, we don't know how to feel. Or what we're feeling, even. If you're looking to drop a depth charge into the inky black depths of your depressed heart, the "See You Again" trend is here for you. Seemingly introduced to raise awareness around suicie prevention, you'll see the aftermath of attempted self-harm. You'll see loving testimonials to those that have passed. You'll see babies battling cancer.
Whatever you see, you may not be okay. But feeling something is always better than feeling nothing.
THREE 6 MAFIA - STAY FLY
WTF is this challenge about? We Are: The Guard legitimately cannot tell. It's compelling viewing, that's for sure.
Videos using Three 6 Mafia's "Stay Fly" seem to have a running theme of trusting your intuition, but many of them end up like mini-horror movies. Be thrilled as you see reenactments of creepy Tinder dates; of being left bleeding in dark woods; of ominous confessions.
Maybe somebody should make some of these short clips into feature length films?
MONSIEUR PERINE - NUESTRA CANCION
How is this song so powerful? DC: @April and @Joshua Madora
It seems like every week, at this point, that we mention what a delightful source of non-English sounds that TikTok is. Traditional radio and media and, frustratingly, even independent playlists are too often segregated. This means you have to go out of your way to seek out musica en espanol, which is really a shame, as there's a ton of great stuff!
This week, Monsieur Perine's "Neustra Cancion" has got to be one of the most charming, light-hearted sounds on display. The lyrics may be in Spanish, but the music is far more in line with Parisian jazz from the 1920s.
So whether you're looking for something to make you tango, or jitterbug, "Nuestra Cancion" has you covered.
BUDDY HOLLY - EVERYDAY
15 sec whirlwind. ##kitchendecor ##kitchenbeforeandafter ##kitchentransformation ##kitchendiy ##kitchenremodel ##kitchendesign ##kitchendecorinspiration
Buddy Holly's lighthearted, innocuous rockabilly sweetness is built for TikTok challenges - with its chorus of "everyday/itsa gettin' closer" making the perfect response to any old question you can think of - with hilarious results!
The light, chiming music box innocence just adds an extra layer of ennui and madness.
That about does it for another week of TikTok hits! Make sure to follow We Are: The Guard for even more music, memes, and behind-the-scenes hangs with the We Are: The Guard label!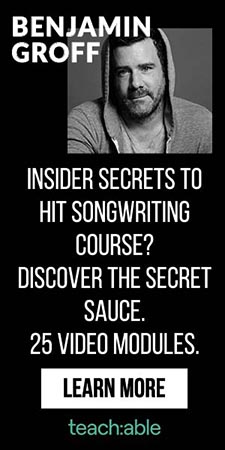 J. Simpson occupies the intersection between criticism, creativity, and academia. Based out of Portland, Or., he is the author of Forestpunk, an online journal/brand studying the traces of horror, supernatural, and the occult through music, fashion and culture. He plays in the dreamfolk band Meta-Pinnacle with his partner Lily H. Valentine, with whom he also co-founded Bitstar Productions, a visual arts collective focused on elevating Pop Culture to High Art.