BEST OF TIKTOK, WEEK OF 12/10
Image by Solen Feyissa on Unsplash
What's happening, Guardians? HAPPY HOLIDAYS! We hope you've been having a blissful holiday season, so far. It's about to get even better, as we've got a ton of TikTok goodness for you this week!
From the shade-worthy "ABCDEFU" to the aggressive eye contact of Frank Sinatra's "Let It Snow! Let It Snow! Let It Snow!", here's this week's top TikTok hits, for your pages and your duets and dance challenges! 
GAYLE - ABCDEFU
Happy 19th it's gonna be a GOOD day #Sing2gether
"Abcdefu" is a song that is tailor-made for the TikTok environment, like it's evolved to thrive in the ecosystem. In the case of Gayle's "abcdefu," it fills the niche of an epic clapback like some top predator of spite.
"abcdefu, and your Mom, and your Sister, and your job, and your broke-ass car and that shit you call art," shouts Gayle over a monumental bassline. It's the perfect soundtrack for mayhem, as some have taken up "abcdefu" as an invitation to throw paint, smash plates, and just generally go ballistic.
If you're looking for a soundtrack to tell someone to ABCDEF-themselves, this is it.
JOSHUA BASSETT - CRISIS
@joshuatbassett are you okay?? #joshuatbassett #crisis #oliviarodrigo
Much of what we hear in pop music is senseless, nonsensical - it just sounds good. When you really pull it out and scrutinize under the bright lights, it falls apart..
"Half the shit you're saying's only half true" sings Joshua Bassett with a Coldplay-worthy falsetto. Wait.. what? So does that mean that 25% of what she's saying IS true? Or is it false? It's like the world's most confusing, emotionally-devastating story problem.
The actual story is even more convoluted. "Crisis" was created in response to Olivia Rodrigo's unstoppable "Driver's License," which was inspired, in part, by Bassett. The popularity of "Driver's License" ended up taking a massive toll on Bassett's mental health, to the point where he could barely leave the house.
So maybe Olivia Rodrigo's not the hapless victim she makes herself out to be. Maybe Joshua Bassett is being spiteful. But, either way, we can't help but shake our heads when the pretty, sensitive singer/songwriters are beefing like rappers.
ASTN - HAPPIER THAN EVER
this is probably my favorite one yet #fyp #billieeilish #happierthanever #rnb
Here's another sound that's custom-made for TikTok - a smooth, soulful cover of Billie Eilish's "Happier Than Ever." ASTN's slow motion r&b draws out the moodiness and melancholy of Billie Eilish's original. It's been used to make everything from making mac 'n cheese to making smores more emotional. And as is often the case with popular TikTok sounds, it gets used simply because it's popular, so you get surprisingly thoughtful videos of drinking coffee, making stir fry, to shredding broccoli…
Now that we think about it, a surprising amount of the videos for "Happier Than Ever" are about food. Got a complicated relationship with mashed potatoes? Post about it with "Happier Than Ever."
SZA - I HATE U
#ihateu #sza #szarelease #SpotifyWrapped #fyp #bingbong
"I Hate U" may be this week's most perfect TikTok trend. It's not just a meme but an original, brand-new single, bringing us back to the glory days of TikTok when rising stars like Lil Nas X or Olivia Rodrigo were forging their careers on the platform. It's a reminder of all that's good about TikTok, where you can find striking, almost startling creativity, and then see a whole ecosystem rise up around it.
SZA's new slow jam is perfect for TikTok for a number of reasons. First and most importantly, it's moody 80s r&b beat makes for infectious listening - you want to let it loop for hours. And then she does a little dance towards the end of the debut video, hinting at a dance challenge.
And, of course, its straightforward lyric "if you're wondering if I hate you/I do" is perfect for content expressing your ire. So if you're pissed the cold weather's coming, about a cheating partner, at Olivia Rodrigo for dissing Joshua Bassett, "I Hate U" is for you.
FAZLIJA - HELIKOPTER
i'm sweating … #fyp #helicopter #xyzcba #funny @clershey
This week's "Helikopter" trends combine two of our favorite things about TikTok - non-English sounds and dance challenges! "Helikopter" excels on both counts. Bosnian singer Fazlija's unique Middle Eastern club beats are reflective of Middle Eastern club music, which is actually hugely popular but not that well-known in other areas. For two, "Helikopter"'s dance challenge involves a Sufi-like spinning like helicopter blades, with four or five of their closest friends radiating outwards like some mad pinwheel.
It is, quite frankly, fun to watch. It seems like it'd be fun to do, too.
Even better, once "Helikopter" went viral it started to accumulate all sorts of randomness. So the concentric circle dancing is interspersed with beagles wearing beanies with a rainbow propeller or a white cat just plain freaking out. There's a lot of goodness to get lost in with the #helikopter hashtag.
WILL PAQUIN - CHANDELIER
wrote this like 10 mins ago lol hope you like it ##guitar ##fyp
Lo and behold, another month has come and gone. First we had the spooky hangover following Halloween, then sweater weather, the beginning of football season, followed by Thanksgiving, and then somersaulting into the Christmas spirit. What a whirlwind..
This last week, TikTokkers have been using Will Paquin's smooth, soulful "Chandelier" to showcase their November photo dumps. So if you're looking for a theme song to share pics of your friendsgivings and cute holiday looks, look no further than Will Paquin's "Chandelier."
FRANK SINATRA - LET IT SNOW! LET IT SNOW! LET IT SNOW!
HAHA WHAT
It's now early December. Let the Christmas music memes commence. Of course, you'd think Frank Sinatra's iconic Christmas classic would be used as a theme song for gift wrapping, sugar plums, sleigh rides, etc.
You'd be wrong.
Instead, we get this week's most hilariously creepy TikTok trend. First you look at your camera. Then you look at something behind your camera, causing your eyes to look like some sort of chameleon. Equally as amusing is post after post of TikTokkers staring down their smartphone cameras like some sort of aggressive junkyard dog. Talk about intense eye contact!
That about does it for another week's top TikTok hits! Make sure to follow We Are: The Guard on TikTok for even more memes, music news, and behind-the-scenes hangs with We Are: The Guard artists!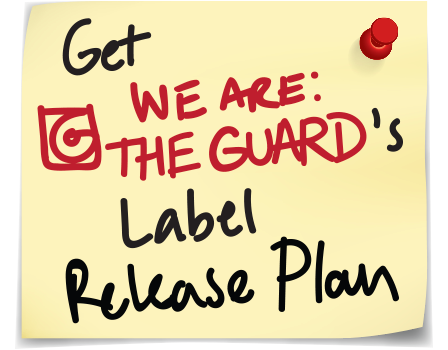 J. Simpson occupies the intersection between criticism, creativity, and academia. Based out of Portland, Or., he is the author of Forestpunk, an online journal/brand studying the traces of horror, supernatural, and the occult through music, fashion and culture. He plays in the dreamfolk band Meta-Pinnacle with his partner Lily H. Valentine, with whom he also co-founded Bitstar Productions, a visual arts collective focused on elevating Pop Culture to High Art.