CURATOR DUFFSTER'S 8 EMERGING CANDY PICKS - WEEK 36
I don't know about you guys, but, the only headline here in the UK is Kate Bush, the first woman to have EIGHT albums in the Official Albums Chart at the same time. Her return to the Hammersmith Apollo is getting rave reviews, which of course means you'll need $1000 for... half a ticket!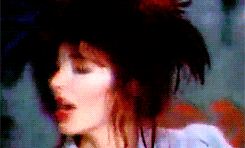 As great those shows may well be, I think we'll just roll with our daily fix of Emerging Candy. We have no fewer than six debut tracks here, including SEYR, MORLY, RAGE on GOLD and Lily The Kid.
RAURY - AMOR
If there was one album Emerging BitCandy could get all hyped over, right now, right here, this is it! Okay simmer down, the difference being that Raury is a HUGE talent, not just another overnight cog within the hype machine. His Indigo Child debut LP is pretty fucking immense; this work cements him as an artist on the cusp of potential global recognition (yeah really). Apparently we'll also see him collab on Kanye's forthcoming album too. Spin "Amor" and check out Raury's website for a free download of his stellar album. 
FEVER THE GHOST - CALICO
You'll not find a better visual this week. LA psych-poppers, Fever The Ghost, put out this fuckin' fantastically trippy clip for their latest offering, "Calico," that has us hooked! The foursome release the much anticipated Crab In Honey EP later this month and after watching this clip directed by Demonbabies - you'll see just why they're contributing toward Wayne Coyne's "Sgt. Pepper" tribute. 
LILY THE KID - PEDRO
Regular readers will know this column has long been unearthing Scandi-talent, and we have another promising up-and-comer for you to get excited about. Icelandic pair Snjókaldur & Lilja Jónsdóttir, aka Lily The Kid, are a brother/sister duo and this deep bass debut, "Pedro," coupled with Lilja's fetching vocal, makes for a perfect slice of BitCandy. Their EP is due this autumn & we can't wait.
SEYR - TAINTED
SEYR are a "band of sorts," according to their social platform. They are in fact a duo creating wonderful downtempo R&B that caresses the ear. "Tainted" is taken from the forthcoming Nights Without EP. The pair will release a visual with each track. Keep your ears (and eyes) peeled for new track, "RHB," due to drop this week, and file SEYR on yer' late-night rotation playlister. 
RAGE ON GOLD - KICK FLIPS
Neon Gold rarely ever turn us on to anything but good vibez, and props to 'em for this one. RAGE on GOLD throw out some kick-ass found footage for their debut clip and although info on the London-based trio is sparse, we'll let their infectious & energetic debut "Kick Flips" prolong your summer. 
GRACE MITCHELL - YOUR DESIGN
She was only sixteen, only sixteen / But I loved her so / But she was too young to fall in love / And I was too young to know. Ahhh why the Sam Cooke lyric? Weirdly it's the verse I hear when reading that this voice behind "Your Design" belongs to sixteen year-old Portland native, Grace Mitchell. Seriously? 16! This is a special talent and if you missed Calvin's article on Grace in our Best New Tracks section - get busy, get familiar with Miss Mitchell.
MORLY - SERAPHESE
Pretty sure this an unofficial clip. It works, though, for this minimal debut offering, from the Minnesota-based female producer MORLY. "Seraphese," with its delicate beats and piano led introduction to her sound, has left us yearning for MORE, MORE, MORLY!
R I T U A L - THE FALL
We'll leave you with this soulful debut from R I T U A L. This is one of our most spun tracks from last month, and we're yet to tire of it. We also heard SOHN champion "The Fall," over at BBC too, and if you dig it, we suggest you go pre-order The Fall EP on iTunes.
About Robert Duffy
Robert Duffy is a Horticulturist. When he's not explaining a Dahlia from a Digitalis, you'll find him pursuing his passion - cultivating new music. He has a moral obligation to share great music, be that to various social platforms, the blogosphere or a random tree.