HOT NEW APP: FESTEVO
How The Festival Guy is quietly changing the way we "Festival."
So festival is a verb now? Yeah, duh!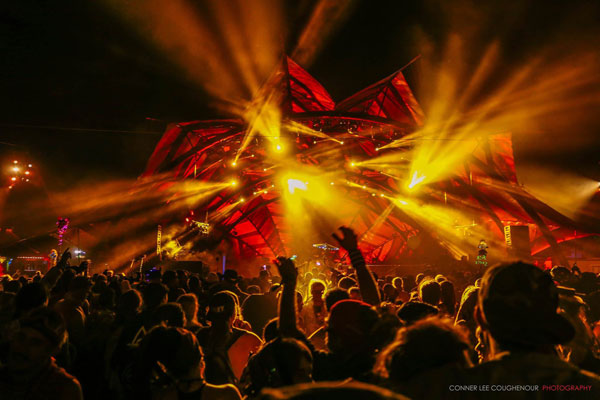 I may be the de facto festival obsessee on the We Are: The Guard writing staff but I know I'm not the only one. Who amongst you hasn't dwindled their bank account down to ZER0 to cover the expenses of a three day retreat into the jungles of society known as The Music Festival, only to come out the other end with their minds blown, their socks rocked clean off and a staunch vow to never do it again (until the next one comes around)? NOBODY? COME ON! THAT IS PURE BULL HOCKY. 
According to Billboard, which I can quote, because they're so far off from our competition that it's not even funny, 32 Million people go to at least one U.S. music festival every year. That's like basically everyone you know and everyone your friends know. If you haven't given yourself this rite of passage yet, what the hell are you waiting for? There are awesome festivals in every single state covering every single genre, from Burning Man to Emo Nite Day to Coachella lying somewhere directly in between. Grab a group of friends and a hotel room (or a tent) and try one out for yourself in 2018, because I am sure you will find out more things about yourself than you ever will sitting on your laptop refreshing our twitter (even though our twitter is dynamite, thank you very much) over and over again.
Sure our artists are so underground they're not even getting booked on music festivals yet. But what about next year? Or the year after that when they're headlining and you're like, "Damn, time flies. I remember when they were Best New Artist on We Are: The Guard and now they're headlining a major music festival in MY town." Or hell, what about artists we were pimping three years ago that you don't even remember? How are you supposed to keep track of the tens of thousands of artists that pass across this site every year? Memory? Pshaw.
That's why we've fallen in love with an app called FestEvo and we hope you do too.
FestEvo, like We Are: The Guard, is at its core a crowd-sourced music discovery platform. While we bring you hipper than hip indie rock and pop, they bring you "every artist on every festival lineup" to peruse at your own leisure. WHAT?! YOU GOTTA BE SHITTING ME. Then it's up to you to listen, rank and discover new artists before you get out to the festival and have only heard of Arcade Fire. 'Cause like us, they want you to be the hippest most well listened music fan out there. To stand on top of mountaintops and scream out: "I LOVE MUSIC AND MY FAVORITE BAND IS THE BLAH BLAH BLAHS AND I ONLY HEARD ABOUT THEM BECAUSE OF THIS COOL WEBSITE OR APP." But definitely mention We Are: the Guard first. We're the important one in your life after all.
FestEvo is the brainchild of CEO and Founder Tucker Gumber, known socially as The Festival Guy. Since 2011 The Festival Guy has attended 126 Festivals (a cumulative 10,000 hours, thanks Malcolm Gladwell). It is has been his passion over these years to not only educate and make the best FestivalGoers he can but also establish Festivaling as a legitimate outdoor hobby and unite the community as a whole. Sounds impossible, I like Bassnectar and you like Cut Copy. Well, they're both on the Electric Forest lineup. Now shut up and make friends.
FestEvo is building a platform for FestivalGoers to interact, discover music and even go shopping with partnered sites like Priceline, Spirit Hoods, Grassroots Califoria and JUCY RV rentals. Damn, didn't even know you needed that, did you? WELL CHECK IT OUT, WHY DONTHCA? We're not telling you about this because they're paying us (they're not). 
Alongside the release of the FestEvo platform Gumber will launch "The FestivalGoers Guide," an ebook that highlights his festival philosophy, best etiquette practices and festival life hacks from his peers in the field of Festivalia. Now, I know you don't want to waste that $750 VIP Coachella ticket. So why not check out this guide and learn the best ways to make the most out of your weekend?
We here at We Are: The Guard rarely curb to trends or fads, opting to discover our own corner of the internet by discovering music that's so rare that if it was a steak you'd have to send it back at the restaurant. So take our word for it when we say THIS IS GOING TO BE SOMETHING.
The platform is now live at FestEvo.com and the app is available today in the iTunes App Store and Google Play. The future of festivaling is here #FestivalBetter with FestEvo.
From deep within the murky depths of the Los Angeles River emerged a creature: 50% raver, 50% comedian, 10% Robotcop. Kurt Kroeber doesn't own a dog, operates Soundbleed (the world's only dance party comedy talk show rave), and is down to party with you. Come up some time and say "Hey dude!" But definitely make sure to casually drop the secret Illuminati password.