INDIE POP PERFECT FOR BACK TO SCHOOL SEASON
by Mary Ruth McLeay
9/9/22
Photo by Elgaard, Creative Commons Attribution-Share Alike 4.0 International License
Do you hear that? The sound of pencils sharpening and moms yelling goodbye to their kindergarteners? The sound of rolling bins moving in the freshman? The crowds at Target shopping for notebooks and planners? Hey! My name's Mary and I'm new here. These are my favourite new indie pop releases for back to school season. Put in your earphones, grab your backpack, and walk to the beat.
MAUDE LATOUR - "CYCLONE"
If you're not ready to let summer go (or your ex for that matter), Maude Latour's "Cyclone" is a brilliant sad girl summer anthem with an infectious pop beat to walk to. Maude's having growing pains this week and so am I!
THE 1975 - "I'M IN LOVE WITH YOU"
This new feel-good indie song from the 1975 will simply make you happy. The vibey guitar riff and Matthew Healy's cool "I- I- I-" will have you dancing down the street. Listen closely at the bridge and you might even hear Matthew call you a muppet. You read that right.
THE KNOCKS, DONNA MISSAL - "BANG BANG" [EDEN PRINCE REMIX]
Donna Missal is GOING to get you fired up for the school year. This Eden Prince remix of The Knocks and Donna's song will make you want to take on the world with a club beat behind you.
NAT & ALEX WOLFF - "ALL OVER YOU"
Nat and Alex Wolff had to have known they were nailing the fall-indie-movie-soundtrack vibe with this one, because this new release came at the perfect time. Listen for a nostalgic feeling and appreciate Nat Wolff's amazing range, from Nickelodeon to your favourite popular indie Spotify playlist.
TREVOR LANG - "WITH EYES DRAWN"
Trevor Lang's "With Eyes Drawn" opens up in a meditative state. When you're ready to chill out halfway through the day, this song can help you out. Trevor is a songwriter, producer, and audio engineer who will take your mind on a journey with this interesting production.
BLOOMSDAY - "JERSEY SOCCER"
I've been listening to Jersey Soccer all day. It's the perfect combination of easy listening, while also making you feel something deep. You could face every decision you've ever made while listening to Bloomsday croon over a cool guitar.
EMMA BRADLEY - "RENEW ME"
Emma Bradley can renew YOU during back to school season with this easy-going indie rock bop. Emma's a London-based musician and the fun new DIY lyric video that accompanies this song will inspire your new aesthetic this fall.
JIUBEL - "SCOOBY DOO"
Jiubel is a Miami-native influenced by Lil Uzi Vert and Juice WRLD and his new drop Scooby Doo has both a hip hop and indie feel with a beat you won't be able to stop tapping your foot to.
THE MAMMOTHS - "BLOODSHOT"
I can't explain it, but this song makes me wanna slip on a suit, put my hands in my pockets, and walk like I own the world. The Mammoths are an indie rock band currently on tour with Stop Light Observations.
This is the best of indie pop to start your back to school season off right! Add these to your new fall playlists, open up your planner, and let the music inspire your new era! Make sure to check back next week for more new music finds.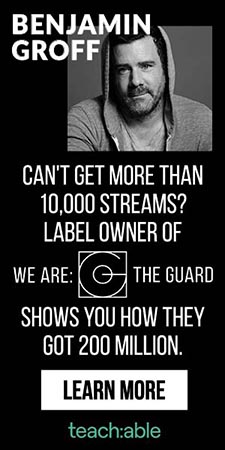 Mary Ruth is a Nebraska-native currently studying Songwriting and Music Business at Berklee College of Music. Right now, she's probably reading about the Beatles, creating her new aesthetic (with a corresponding playlist, of course), or explaining what Taylor's Version means to someone who didn't ask.