INSTAGRAM FOOD INFLUENCERS: OUR FAVORITE CHRISTMAS RECIPES
by Beca Arredondo
12/21/18
Looks like we're running short on time deciding what we're going to cook up this Christmas. But you and everyone invited to the dinner partaay should have nothing to worry about because your BFF's here at We Are: The Guard did some investigating for you. We dove in deep and reached out to some of the best Instagram Food Influencers for ideas and inspiration. You know you'll be making mama proud when you show up with something other than a bag of chips from the 99 Cents store. You don't have to have knife skills or a fancy set of pots to create a delicious plate … all that is required from you is some creativity and a killer playlist to put you in Martha Stewart mode. From appetizers to desserts to music other than Christmas carols scroll through and check out some of the best Instagram food recipes.
THE CHEESE BOARD
Influencer: Chicago Food Blogger
It's the most wonderful time of the year! Tis the season for all to enjoy Christmas with good parties, food, drinks, sweets, and music. Outside it is cold and white all covered in snow while inside of my house Jazz music playing. There is something about Jazz that keeps me warm inside of my heart. "Come Away With Me" by Norah Jones is one of my most favorite songs to listen to while enjoying a small bite from this gorgeous cheese board. Can you imagine enjoying them both on a cold night while getting cozy during the holidays? This cheese board is pretty and easy to make. You don't need to have mad chef skills to make this. It is perfect for bringing to a party or putting it together if you are hosting a party. Enjoy yourselves and have a Happy Holiday season!
You can catch more of Chicago Food Blogger's adventure here.
SPICED SPONGE CAKE
Influencer: Dev Amadeo
When I'm cooking I create my own world in my head. For me its a place where my creativity can go anywhere. There are no rules and everything counts. Every detail is the most important one. That is why while I'm chopping and whisking in my world up there, I love to have music in the background that brings to my mind the elements I want to bring up in my dishes: texture, richness, contrast, and interesting changes of pace. So in my kitchen, I'll be playing anything from loungy indie feel with lots of texture, percussion, and some good acoustic guitar. My favorite tunes come from groups like Milky Chance, Cold Play, and OneRepublic.
During the holidays though, I love to embrace that Christmas feeling with some party music. Puerto Rico has the longest Christmas in the world, ending during mid-January with a Mardi-Gras like festival at Old San Juan. That's a lot of time to celebrate with different kinds of holiday booze such as coquito and ron cana, or my favorite sweet confections like this brown butter spiced cake full of ginger, cardamom, and cinnamon. For a real Christmas music treat, I'll go back to the 80s and hear again and again a lovely album called "Controversia" from local singer Danny Rivera. It's like hearing music straight out of the mountains of the island. Every song has such beautiful lyrics and the music it's so full of Christmas nostalgia.
You can get Dev Amadeo's sponge cake recipe here.
STUFFED SWEET POTATOES
Influencer: Sailor_Bailey
I really like cooking listening to Hippie Sabotage, Milky Chance, and Glass Animals (to name a few of many!!!)  and here are two recipes to choose: Stuffed Sweet Potatoes and for dessert Blueberry Coffee Cake.
HOLIDAY BROWNIE CUPS
The Foodiesaur's feed screams yasss on so many levels!
Influencer: The Foodiesaur
One of my favorite holiday treats is a simple and sweet dessert - Holiday Brownie Cups. Not only are these easy to make, but they are so cute and festive. Love making them with my sister while jamming out to Justin Bieber's Mistletoe!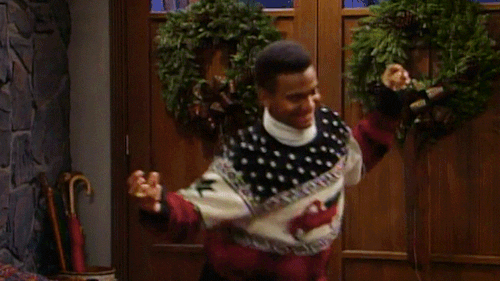 CHRISTMAS SUGAR COOKIES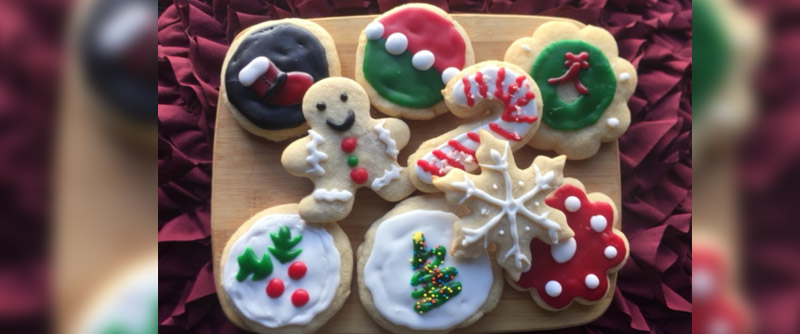 Nkechi's colorful Instagram will make you want to hit up every single joint featured in her images. From sweet treats to mouth-watering dishes, the only thing that would make her feed better is if we could scratch and lick.
Influencer: Nketchi
I love Baking Christmas Sugar Cookies during the holidays. My go-to recipe can be found here. The music artist I listen to while I bake is IloveMakonnen.
For more quick meal ideas you can always resort to The Portlandia Cook Book or one of my go-to recipe inspiration sites ThugKitchen. Or better yet reach out to our Instagram food influencers above for more food and entertaining ideas. And while your cooking, be sure to check out our Indie Christmas compilation to help set the mood.
Happy holidays and merry cooking from all of us here at We Are: The Guard.