APRIL SHOWERS BRINGING BEST NEW K-POP HOURS
Photo by Three Six Five , CC-BY-4.0
Annyeong, April and chao, chingus! The skies are clear and the weather is warm. It sucks that most of us are still stuck indoors! But you know what? This Easter, I felt something resurrect… K-pop. No, seriously. The entire music scene. This week's new K-pop hits and comebacks are literally all so mood-lifting and elevating. Essential for these challenging times! Do you guys feel it? Do you feel me? Alexa, play the songs below.
HOSHI (SEVENTEEN) – SPIDER
BREAKING NEWS: South Korea – Spider-Man was found jobless after 25-year-old K-pop Idol ended the superhero's career. Hoshi undeniably stands out as Seventeen's Performance Unit team leader, vocalist, and rapper. What can't he do? He went all out as the lyricist and choreographer for this sexy, groovy R&B, whole work-of-art mixtape. The sound is retro, yet the visuals are contemporary, steaming off a sultry vibe. Tingling Spidey senses is the perfect debut concept for a grown artist as versatile, flexible, and creative as Hoshi. I see him as the next Taemin, who has greatly influenced Hoshi's development as one of K-pop's revolutionary artists today. Congrats & Horanghae!
BTS – FILM OUT
No one can disagree, BTS' Japanese discography is a solid genre on its own. Reminiscent of "Stay Gold" and "Spring Day," "Film Out" is a mid-tempo alternative R&B ballad breaking (yet somehow healing) the world's heart today. Who broke our maknae's heart though? Co-written by Jungkook and Back Number's Iyori Shimizu, the song is an OST for Signal, The Movie Cold Case Investigation Unit and an early released track from upcoming Japanese compilation album BTS, The Best. Speaking of the best, congratulations to the renovated and expanded home of BTS, the globally rebranded HYBE Labels. The iconic Big Hit MV intro will be missed!
WENDY (RED VELVET) – LIKE WATER
ReVeluvs are thirsty for Wendy's refreshing love like water. Red Velvet's lead singer lets loose her enchanting soprano vocals for her solo debut single and album, "Like Water". The lulling ballad track is a blend of mellow K-pop and western country sound, quite homey and natural for the artist who grew up in the countrysides of Minnesota and Ontario. During the pandemic and racial conflicts our society is phasing through these days, we all need an uplifting song to hold onto. Allow Wendy to serenade and sprinkle healing fairy dust over you; let her dreamy voice tap into your emotions!
ROSÉ (BLACKPINK) – GONE
Roses are red but Rosie's gone blue. I didn't see this coming, did you? The MV footage was the very first teaser of the Blackpink member's solo debut… buuut YG Entertainment stated that "Gone" was just an album side-track. So just when we thought that Rosé would be literally gone after "On the Ground" promotions, the encore MV arrived along with a WAP challenge on TikTok! Are BLINKS being spoiled with love or what? The cutesy heart-breaking acoustic track was actually written and recorded 2 years ago. It is a blessing the hit track was not thrown away; many fans prefer this style over the lead single.
ASTRO – ONE
One of the most highly anticipated and out-of-this-world comebacks so far is from no other than the celestial ASTRO. "One" is the lead single of ASTRO's second full album All Yours, which goes Hip-hop, R&B, and Dance mode rather than their usual Pop style. Their new music is infectious. Their visuals are attacking. These six It-boys of 3rd generation K-pop are always so capricious- one day they are bubbly flower boys, and then next they are dangerously and divinely hot. The MV gained almost 10 million views in just one day. May it be acting, variety, modeling, or music, all-rounded ASTRO is going nowhere but UP!
3YE – STALKER
Sleep elsewhere, just not on the uprising girl group 3YE. The badass trio is back and rebelling traditional K-pop with "Stalker." The track is an electronic-pop dance bop with insane beats. The MV visuals are dynamic and fun! Yuji is spunky, Yurim is gentle, and Haeun is chic- all bringing a different game, but a fierce performance as one. Plus, they are rocking the sporty concept in those full racer suits! Fun Fact! You read the girl group's name as "Third Eye". How about keeping an extra eye out for the girls, I think they deserve a brighter spotlight! I'm gonna go stalk- wait no, I mean stan 3YE now. Hwaiting!
LUNARSOLAR – DADADA
Make way, more Asian beauties and talents coming through! LunarSolar teaches you and me how to feel good and party hard indoors with the new quarantine anthem, "Dadada!" The technopop dance track is accented with Latin elements, filling the house with fiesta party vibes. Honestly, these girls are underrated, and I am whipped for their powerhouse vocals and appealing rap. Their radiant smiles and duality from charisma to aegyo is to fall in love with! Respect to the stylists making iconic fashion statements out of home clothes. I'm inviting these girls over once the pandemic is over and you're all invited!
KIM JAEHWAN – I WOULDN'T LOOK FOR YOU
One of the nation's Produce 101 male picks, Kim Jaehwan is pouring out his soulful vocals in the April shower rains with his latest masterpiece, "I Wouldn't Look for You." Very different from the idol side we witnessed during his Wanna One days, this self-composed track unpredictably turned out to be an emotional rock-pop song with soft hints of Latin trumpet. The drama of the MV storyline shifts along with his enormous vocal range, intense and heart-wrenching, so I'm not gonna spoil that. The original sound that the singer-songwriter creates with his guitar is just beautiful, I'm speechless. I am adding this to my breakdown playlist.
LEE JINHYUK – 5K
Retro and Rap is a sure-hit combination in today's wave of K-pop, and it is evidently proved by UP10TION's Lee Jinhyuk in his latest hot single "5K." The rapper-actor also showcases his naturally cute singing voice and playful dance moves in the funky track. Jinhyuk being the charming and man he is, mastered the viral Tiktok "walking man" as the point dance move in the witty choreography. Another fun fact? The 24-year-old is not only playful with his moves but with words. 5K ain't about money. "5k" is pronounced as "oh-kay," as the number five is "oh" in Korean.
CHANYEOL (EXO) – TOMORROW
Exo's main rapper who entered the military last week successfully got us to miss him even more with SM Station's recent drop of an acoustic track, "Tomorrow." Unplugged, Chanyeol is a gift from the gods. His baritone voice is so heavily deep and alluring, yet relaxing. He croons about sleepless nights and thoughts of a person suffering anxiety, which is relatable and sad af. "I was so afraid of the morning. Thе night was full of regrets and worries. It was long," I guess we all have nights like these. I personally hope you get through them. Part of the cure is this soothing music, right here!
-
See what I mean, chingus? The best new K-pop we got out there are two things: Either, sympathetic with what we are going through or heartening and uplifting! Whatever hardships or fortune you are going through, the same companion to both feelings is the music. Come back next Thursday for more! Annyeong.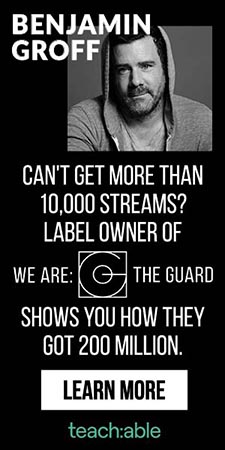 Hannah Lee is a Hallyu enthusiast from K-music to K-drama to K-food and even K-fashion. By day she takes her architectural apprenticeship, but by night she fangirls till sunrise. According to her latest MBTI test, Hannah is a perfectionist who has a lot of miscellaneous thoughts and is lazy... but passionate!